5 Best Solar Charger For Backpacking
Backpackers are increasingly using electronic devices in the great outdoors.
A cell phone is handy to have in case of emergency, but even away from cell service it can double as a camera, or provide mapping capacity. A GPS watch may have preloaded maps, track activity and more.
Some hikers even like to have their laptop along when out in the backcountry for long periods of time.
But having electronics means charging them, and when you're in the backwoods, you can't just plug into your nearest outlet.
So a portable charger becomes invaluable. A solar charger is ideal, as long as it's compact enough to throw in a backpack. And it has to do the job in multiple conditions.
So let's look at the best solar charger for backpacking, first examining what to consider when choosing one.
Devices you can charge:
You can travel with a power bank to charge your smartphone, but the life on that is also short. So a solar power charger becomes the solution to any charging needs you have.
When choosing your solar powered charger, consider what devices you'll need to charge. If you just want a solar powered phone charger, the decision may be easier than if you want a solar laptop charger, for instance. Check to see if the solar charger for a phone can also charge your GoPro camera, digital camera, laptop and more.
Battery
The charger you choose can either be a solar energy producer that charges a storage battery, or a solar panel that charges the electronic device directly. You have to be careful as those that charge the device directly may not have the circuitry to regulate the flow of electricity into your device.
It's important to check the manufacturer's recommendations, as some solar power battery chargers offer a regulated USB output that allow for direct charging.
There are two different types of chargers that include a portable solar battery. A solar panel that includes an integrated storage battery means the battery stores the power for later use as a charger. One with an independent storage battery means you can leave the panel, or power generator, in camp and take the solar battery pack with you for charging.
So it's good to understand the specifications about the solar power battery charger and the battery if applicable.
USB Charging
At one time, you had to have a different power supply for every one of your electronic devices. Now, with USB cables and ports, you can charge your smartphone, tablet or camera into any USB port.
So, a solar USB charger is the way to go, to ensure any device with a USB charger can be used. A solar powered USB charger needs to generate the 5-volt standard that is required to charge a device with a USB cable.
Size & Weight
When it comes to carrying your charger when hiking, the size of the solar charger is a factor. But the makeup of the charger can impact its power as well as its size. There are those that only have solar panels, those that have a portable solar panel with integrated storage batteries (as discussed in the battery section), or a solar panel charger with an independent storage battery.
When thinking about weight, the actual surface area of the panel obviously affects its size. But a larger panel will also collect more sunlight and convert it to power more quickly than smaller panels. On the other hand, small panels, while taking longer to charge, are easier to pack and usually lighter to carry.
A bigger surface area on the panel is also better in lower light conditions, such as in winter or partial cloud cover. Depending on the surface area and the light conditions, the amount of time it takes to charge can therefore vary.
You'll also want to consider whether you want rigid panels, or those that are flexible enough to fold or roll up. And, you may want to choose one that can be attached to your tent or your backpack.
Then there's the power rating. Solar panel output is rated in watts, with a higher number meaning more electricity will be generated.
5 Best Solar Charger For Backpacking

Anker – 21W Dual USB Portable Solar Charger
This compact product is ideal for hiking, at just 13.2 ounces in weight. It's 11 x 6.3 inches, and just 0.7 inches wide when folded, and 18.1 x 1 inches, just 0.2 inches wide when opened. It has stainless steel eye-holes on each corner that allow you to strap it to your tent, a tree, or even your backpack to power it up while hiking.
It's also durable and weather-resistant, made of industrial PET polymer panels sewn into a rugged polyester canvas holder. It's wise, however, to protect it from inclement weather.
The ultra fast charging technology called PowerIQ delivers a charge up to 2.1 amps in direct sunlight, allowing you to charge two devices simultaneously with a solar array that is over 20% efficient. There are two USB ports for charging your devices.
The technology means you can plug right into the charger, since PowerIQ discovers and replicates the original charging protocol of any device. It also has short circuit and surge protection technology.
Included with the 21-watt, 2-port USB solar charger is a 3-foot micro USB cable. It's compatible with Apple and Android smartphones, tablets and other USB-charged devices, but not compatible with the iPod nano, iPod Classic, iPod Shuffle, HP TouchPad and Asus tablets.
It's important to know that this is not a battery, however, so it doesn't hold its own charge. It's for plugging your device into for charging, so it may not charge in indirect sunlight.
Pros
Extremely portable, and can even be attached to a backpack while hiking.
Replicates the charging protocol of your device to protect it.
Can charge two devices at once.
Cons
May only charge in direct sunlight.
Not compatible with every device.
Our Take

ECEEN – Solar Charger Panel
The highly efficient solar cells on this charger convert up to 22% of solar power into energy. It doesn't have a battery, simply charging your device with the sun.
It's portable, at just 11.5 x 6 inches folded and 12.8 x 12 inches when opened. It weighs just 0.8 pounds and is 1 inch wide when folded. A zipper-pack design means you can zip it closed if hiking in the rain or other inclement weather, and then open it and use the straps on the backside to hang it, attach it to a tent, or clip it to your backpack.
The USB port is compatible with all 5-volt USB-charging devices, including iPhones, iPads, iPods, Samsung devices, Android Smartphones and Gopro cameras.
The technology adjusts to the connected device to provide the optimal charging current, but it is recommended that you use the included cord or the original cord that came with your device.
Comes with the 10-watt solar panel charger, 4 carabiner clips, and a 40-centimeter micro USB cable.
Pros
The zipper pack protects the panel when not in use.
Adapts to your device to charge as quickly as possible.
Compatible with 5-volt USB-charging devices.
Cons
Only one USB port.
Only 10 watts of power.
Our Take

BigBlue – 3 USB Ports 28W Solar Charger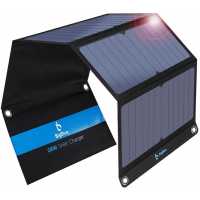 A portable, easy-to-carry charger that's 11.2 x 6.3 inches folded, and just 1.3 inches wide; it's 33.1 x 11.1 inches when opened, and just 0.2 inches wide. It's also lightweight for packing, at just 20.6 ounces.
The durable PET solar panels are sewn into polyester canvas, with eye-holes in all four corners for hanging and clipping onto trees, your tent or your backpack. The panels are water and dust resistant, and the charging ports are covered by a cloth flap and rubber cover to protect them from dust or water damage.
There are 4 solar panels with a total power of 28 watts, and a 3-port USB connector allowing for multiple devices to be charged at the same time. The technology recognizes your device to provide optimal charging speed based on the specifications of the electronic device.
Note that cloud cover may require you to unplug your device, close and re-open the panels to reset the power controller. But the conversion is efficient, as it will convert over 20% of solar power into energy.
Compatible with a multitude of devices, including iPhones, iPads, GoPro, Android and Samsung devices, Nexus and DSLRs. Not compatible with iPad Pro and some laptops.
Comes with a 50-centimeter micro USB cable, with the recommendation that Apple products use the original cable.
Pros
3 USB ports.
Compatible with many devices.
Folds to a compact size.
Cons
A break in sunlight requires a reset, otherwise your device may not charge.
Not compatible with some laptops or iPad Pro.
Our Take

ADDTOP – Portable Solar Power Bank
This charger is a power bank that provides battery backup. It can charge phones and iPads multiple times as a power bank, before requiring a re-charge. It has 4 solar panels that fold into a handheld size, about the size of a large smartphone at 3.35 x 6 inches. Unfolded and put in the sun, the power bank then recharges. Total weight is 1.18 pounds.
The solar power bank has 2 USB output ports to allow charging of 2 devices at once. It automatically stops when the device is fully charged, to protect against over-charging and overheating. It also has LED lights for night-time emergencies. It can charge most 5-volt devices with a USB port such as smartphones, iPads, cameras, and Kindles. It won't charge a laptop.
The charger is waterproof, and the USB ports are protected by a waterproof cover.
It can hang on your backpack, tent or a tree, and can be charged at home by plugging it into a wall outlet, to have it ready for the first charging on your trip. This is among the best solar power banks.
Its solar power is 5 watts. Comes with the solar charger and a micro-USB cable.
Pros
Can be charged at home to be ready for your hike or camping trip.
2 USB ports.
Compatible with multiple devices.
Cons
Does not charge laptops.
Relatively small solar panels.
Our Take

RAVPower – Solar Charger 24W
This charger has a 24-watt capacity and a charging efficiency of over 20%.
It has 3 USB ports, each of which have the ability to automatically detect the device and deliver the right charging capacity. It also distributes power evenly to all 3 devices if all 3 are in use.
Easy to pack and carry, it is 11 x 5.9 inches, and just 1.18 inches wide, with a weight of 21 ounces. It's also waterproof and foldable.
Note that it should not be set directly on a rock, sand or a heat conduction surface as this may cause overheating and reduce its ability to convert properly.
Comes with the 24-watt solar charger, 4 stainless steel hooks for hanging on your backpack or tent, and 2 micro-USB cables.
Pros
3 USB ports.
Small size with big power.
Folds up to easily pack.
Cons
Have to be careful about setting it on a surface that conducts too much heat.
May need to unplug your device and plug it in again if there's an interruption in the sunlight.
Our Take
With so many options out there, it can be difficult to choose the best portable solar charger. But we like the RAVPower Solar Charger 24W, and here's why:


It has 24-watt power, a good, strong charging wattage.


It has 3 USB ports allowing you to charge multiple devices.


Each device will get equal power, allowing for equal charging.


Good-sized solar panels to absorb a lot of sunlight.


Folds up to a light, compact size, perfect for backpacking, hiking and camping.


Comes with 4 hooks for the built-in eyeholes, allowing you to clip it to your backpack, tent or a tree.