8 Best Solar Power Bank
Going into a camping trip can be a little exhausting and tedious. That is why it is essential for us, campers, to bring some sort of entertainment when we go to the mountains to relax - including smartphones, music players, speakers, tablets, and other gadgets. We also use our phones too much as we take a lot of photos to document our fun-filled trip with our friends and family. But as we all know, these gadgets have only limited battery lives. The good thing is that power banks are a thing now!
These power banks are our lifesavers when we go to the campsites; hence, they need to be reliable and heavy-duty. Looking for the perfect power bank can be stressful for some, but fret not because this list has already compiled all the best solar power banks in the market. This guide will also walk you through each product's specifications as well as what we think of them. So, read down below, and snatch yourself the best power bank deal ever!

SUAOKI Solar Charger
Clean portable power in an easy to transport protective case. The 60W solar panel is foldable, portable, silent, splash-proof and stylish. Stores easily in your vehicle or backpack. Whenever your laptop and phone run out of juice, simply unfold the solar panel and power up your device away from the socket with an friendly way. Suitable for Tablet, GPS, Camera, iPad, iPhone, Radio, Router and other 5-18V devices. An intelligent chip (TIR-C technology) makes the solar panel charge faster and safer. It's the perfect companion for all outdoor activities. The solar panel charger generates 60W output with up to 20% high conversion efficiency under 4.0W Lux, providing enough power to charge two devices simultaneously; 5V USB and 18V DC dual output keep your USB/DC devices full of juice, without having to rely on a wall outlet, or a power bank, and brings you an unplugged lifestyle.
Pros
Foldable
Fast charging
Inexpensive
Cons
Doesn't work to direct charge all types of laptops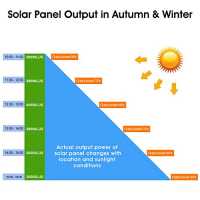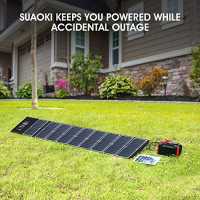 Our Take
We all know how important a power bank is when we go camping. We want to have spare battery for our gadgets so we can continue to listen to music, take photos of our experiences, and use our phones as tools such as GPS, Compass, or Clock. However, some of the power banks in the market are either very expensive or very heavy.

The good news is that there are power banks like this SUAOKI Solar Charger which is a perfect blend of price, usability, and portability. The solar panel is foldable so you can keep the entire thing inside your backpack without so much hassle. It also charges fast and is reliable. All in all, this is an awesome powerbank and I encourage you to check this out.

Jackery SolarSaga 60W Solar Panel for Explorer 160/240/500 and HLS290 as Portable Solar Generator
Stay charged with the power of the sun. Connect a Jackery Portable Solar Panel to your compatible Jackery Power Station, collect solar energy to charge your smartphones and Jackery portable power station, enjoy the benefit of power while off-grid. This has high conversion efficiency up to 23%, building up a PortableSolar-Generator System together with Jackery Explorer 160/240/500 and HLS290 power station (sold separately). Ideally suited for outdoor life and even unexpected power outages. The foldable design with TPE rubber handle weighs only 3.3lb. It is convenient to carry wherever you go. It slightly adjusts the angle with the kickstand. Equipped with 1* USB-C output port and 1* USB-A output port, charging multiple small devices at the same time, including smartphones, tablets, digital cameras and more.
Pros
Easy to use
Fast charging
Durable solar panels
Cons
The panel cannot lay flat due to a design flaw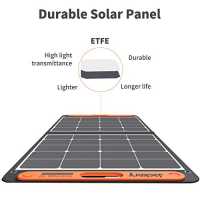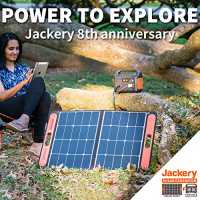 Our Take
Here's another foldable solar panel power bank which has found the perfect balance between affordability and practicality. I use the Solar Saga to charge my Jackery 240 which recharges a lot of handheld devices on a daily basis. The panel is lightweight, compact and sets up in less than a minute. While parked in your camper, RV, car, truck, etc. you can place the panel on your dashboard faced toward the sun with the 240 charging on the floorboard. This works well in sunny areas while you are shopping, hiking, and don't want to leave the panel outside. The long cord hook-up works great to allow the Solar Saga to be placed in full sun while the 240 and your devices being charged can be in the shade or inside your vehicle.

In my opinion for the size, charging capabilities, and weight, the Solar Saga is ahead of the competition and the ease of use is also a big factor.
$179.99


Rockpals 100W Foldable Solar Panel Charger for Suaoki Portable Generator
Rockpals foldable Solar Panel is made for solar generators. It is compatible with most solar generators on the market ( but not for Jackery 440 ). Adapter for Paxcess portable Power Generator), and 5V USB devices, including smartphones and tablets(iPhone, iPad, Samsung Galaxy), GPS, digital cameras, etc. The smart built-in IC chip intelligently identifies your device, and maximizes its charging speed while protects your devices from over charging and overloading. Constructed of high-efficiency solar arrays,convert up to 21.5-23.5% of solar power into free energy. And this is made from durable Oxford cloth. The solar panel is water resistant to endure all weather conditions, ideal for outdoor activities such as camping, climbing, hiking, picnic.
Pros
High power
Fast charging
Good solar power
Folds in fourths making it more compact
Cons
No device to prop the device at an angle
Our Take
In m,y experience of using this solar panel charger, I am by far impressed and amazed by how powerful it can get, especially if you have the technical know-how on how to maximize its potential. This panel is very nicely portable; the fact that it folds in fourths rather than half makes the form factor much nicer for transportation. The inclusion of various DC barrel connector sizes is nice.

At local noon on May 13 at 40.29 degrees north latitude this panel put out 73 watts according to the portable power bank it was charging. DC amps were measured at 5.6 using a clamp-on ammeter. Open circuit voltage was 19.2; didn't have a convenient way to measure voltage under load (but if you believe the watts reported by the power bank then the voltage was right about 13).

My only issue with this offering tho is that it doesn't come with an attached prop-up device to place the panels at an angle. Other than that, this is awesome!

$209.99


Renogy Phoenix 246.24Wh/150W Portable Generator All-in-one Kit
The Phoenix is an all-in-one portable solar power system specifically designed for mobile, off-grid applications and is ideal for emergencies. This compact, lightweight back-up system combines highly efficient Rangy 20W Mono-crystalline Solar panels and can expand up to 100 watts with additional paves. The Phoenix can be charged by solar, AC power, or car power and comes with a 17. 1Ah li-ion (neck) battery. The Phoenix is ideal for powering several on-the-go appliances during a weekend trip, or even in an emergency situation.
Pros
Complete set
Durable
Fast charging
High-powered charging allowed
Cons
The latches are plastic
The price could be expensive for some
Not always available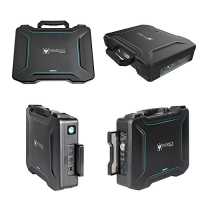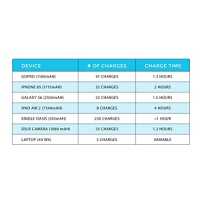 Our Take
If you are looking for an all-in-one solar electricity generator and power charger to bring to your next camping adventure, then the Renogy Phoenix 246.24Wh/150W Portable Generator All-in-one Kit is the perfect product for you!

To be honest, at first I thought that the features it advertises seems too good to be true, but I was proven wrong. : This thing is amazing; Renogy delivered. It just works. The build quality is high, and it includes a number of adapters/cables to facilitate both the charging and consumption. No matter which additional panel you get, you do NOT need to purchase a charge controller. This wasn't initially clear, and I had to do a bit of searching. The Renogy Phoenix includes an internal charge controller.

UPEOR Solar Generator Lighting System Portable Solar Power Generator Kit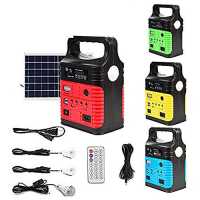 This is a rechargeable battery solar generator system with larger power capacity 8000mAh, storage solar generator power to battery and supply power to LED light and mobile phone. Perfect emergency power backup for home, travel, camping, phones, lights. Quickly be charged by a 6V solar panel(4 hours fully charged). Two methods for you to choose. The 5V output is a universal charge port, can quickly charge your cellphone, digital devices, power bank, fan etc. The multiple outlets enable several LED bulbs working at the same time. Cute and easy to handle,can easily put it in your backpack or car, take to everywhere you need power. Widely applicable to camping, hiking, fishing, expedition, hunting, outdoor activities.
Pros
Very inexpensive
A lot of features (light, radio, long chords, etc)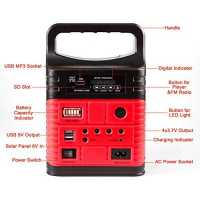 Our Take
If you are looking for an emergency or outdoor power supply that doesn't break the bank but functions well, then you have to check out the UPEOR Solar Generator Lighting System Portable Solar Power Generator Kit.

It is made majorly of plastic but it does the job really well, to be honest. For the price, this thing really has a lot of features. And it comes with a lot of extras. It is perfect for camping and emergencies. It comes with three lights as well, and they have pretty long cords. This would be perfect to keep in the car too, plenty light to help you change a tire in the dark or work under the hood. The lights have hooks so it's really convenient. The radio is loud too so that's a plus. Love having the solar panel for piece of mind. This would be a great gift for anyone, everyone needs one of these.
$51.99


Renogy 100 Watts 12 Volts Monocrystalline Solar Starter Kit
The Renogy 100W Solar Power Starter Kit is perfect for new customers wanting to get a start in solar. The Starter Kit is great for off-grid applications, such as RVs, trailers, boats, sheds, and cabins — providing many benefits, including, but not limited to, quiet power production and grid independence. Adding a polycrystalline or monocrystalline solar panel kit can extend your travels further than ever before. Includes 100W Solar Panel + 30A PWM Negative ground Charge Controller + MC4 Connectors +8Ft 10AWG Tray Cable + Mounting Z Brackets for RV, Boat. The Charge controller has been upgraded to Renogy new 30A PWM negative ground charge controller. Corrosion-resistant aluminum frame for extended outdoor use, allowing the panels to last for decades.
Pros
Easy installation
High power
Complete set
Cons
Cables are stiff
Availability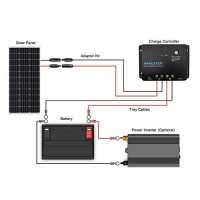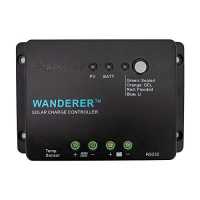 Our Take
Right off the bat, let me say that for quite some time, Renogy has already built an extremely positive reputation when it comes to the solar panel industry. That is why they will not let any of their products to disappoint. True enough, the Renogy 100 Watts 12 Volts Monocrystalline Solar Starter Kit lives through its name.

The build, quality, and finish of this kit is excellent. The multi-position points for the mounts on the panel helped a great deal without the need for additional drilling. If there was one complaint it would be the stiffness of the cables, no such thing as a 90-degree bend with these so plan for this when working out your routing. Although I knew it wasn't included, a cable entry gland would have been a welcome item in the kit so come on Renogy add it to the kit to make it complete.

All in all, I believe that this is an awesome starting kit especially for those who are just new in camping! Highly recommended.
$144.55


Jackery SolarSaga 100W Portable Solar Panel
Stay charged with the power of the sun. Connect a Jackery Portable Solar Panel to your compatible Jackery Power Station, collect solar energy to charge your smartphones and Jackery portable power station, enjoy the benefit of power while off-grid. This is built with a conversion efficiency up to 23%, generates more energy and performs better than conventional panels in hot weather. This is equipped with one USB-C output port and one USB-A output port. It charges multiple small devices at the same time, including smartphones, tablets, digital cameras and more. Designed to fit Jackery Explorer 160/240/500 power station. Building up a Portable-Solar-Generator System together with Jackery Explorer 160/240/500 portable power station.
Pros
Portable
Convenient
Highly functional
Easy to set up
Cons
Can be expensive for some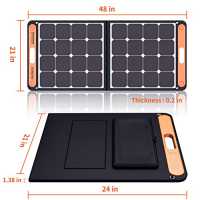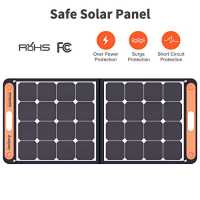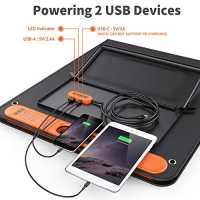 Our Take
If you are looking for a solar power energy generator that is capable of charging multiple gadgets - smartphones, tablets, digital cameras and more - all at the same time, then you need to check out the Jackery SolarSaga 100W Portable Solar Panel.

First of all, this generator can be set up fast and easy. The SolarSaga is set up in about 2 minutes by retrieving it from the rooftop cargo box, open it up, place it leaning against its legs and plugging it into the Jackery. No fuss, no muss. Works instantly. Furthermore, the charge usually stays at 100% dropping to 98-99% intermittently. When just charging this product without power draw from electronics, the SolarSaga impresses me how quickly it recovers charge percent.

All in all, I highly recommend this product as it is very portable, convenient, and highly functional.



DOKIO 100w(50x2) 12v Monocrystalline Foldable Solar Panel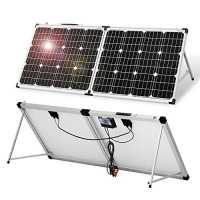 This 100 watt panel is made up of monocrystalline solar cells, which give you one of the most efficiency per space. Corrosion-resistant aluminum frame for extended outdoor use, allowing the panels to last for decades as well as withstand high winds (2400Pa) and snow loads (5400Pa). It is pre-drilled holes on the back of the panel for fast mounting and securing. RVs, trailers, motorhomes, caravans, boats, etc. Can be installed to Off-Grid Rooftops, Ground Mounted, and Residential/Rural Areas. It is easy to operate by opening up the folding solar panel, battery clips allow for simple connection to the battery, pre-installed.
Pros
Foldable
Durable latches and hinges
Relatively cheaper
Cons
The prop up stand is a little flimsy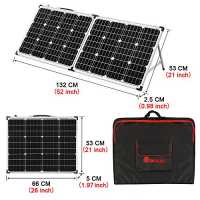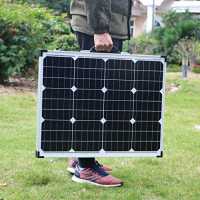 Our Take
This product is perfectly ideal for hiking, camping, ,caravan, RV, boat, Green house solar panel system, solar pump watering system ,off-grid solar panel system and a lot more. It is just very impressive.

It folds well, solid latch and hinges, the panels are actually square on the edges when folded and the handle integral to the panel is very comfortable to carry. The output of the panels are with 80% of the specifications, I am receiving about 5A per unit on average. This panel is relatively cheap on account of cost. I have several folding units and they average about $200 to 300. This unit is $150 shipped and works, couldn't be happier. They are not all that heavy, easy to deploy, and the canvas bag has a nice cargo pocket to hold extension cables.

The only problem I had was the prop up stand can be a little flimsy but it can be solved by a number of hacks, so I did not really mind it. Nonetheless, for its price, this is a great deal!