5 Best Backpacking Mess Kit
Camping, backpacking, hiking, and other outdoor activities can mean a long time away from home, leading to the need to cook and eat some grub.
That's when it's important to have a kit that allows you to prepare and eat a meal without adding a bunch of weight and bulk to your backpack. Known as mess kits, these portable kitchen kits can vary in size and the items contained within them.
Let's take a look at the best backpacking mess kit, first examining what to consider when choosing one.
Materials
A mess kit can include a variety of items, including cutlery, cooking pans and more. So the type of material may vary depending on the item and its use.
Stainless steel mess kits are durable because they are the heaviest material used in mess kits. Stainless steel is also affordable, but because it's heavier, it's often used for stainless steel camping plates and not always ideal for backpacking. The pots and pans can be prone to hot spots when cooking with them.
A titanium mess kit will provide you with the lightest material that's also durable, but it can be expensive. When cooking with it, it can be prone to hot spots and uneven heating because it doesn't conduct heat well.
A plastic mess kit will consist of plates and cutlery only, since you can't cook with plastic. When choosing plastic camping dishes, look for BPA-free plastic.
An aluminum mess kit is ideal for cooking since it conducts heat well, meaning even distribution of heat and fewer hotspots. Make sure you pack some kind of oven mitts though, because it can get hot fast. Aluminum is also mid-range when it comes to weight, durability and price.
There are other variations like metal mess kits and silicone eating products, which are often compressible and pack down to a small size.
Uses
When choosing your mess kit, it's important to consider how you'll use it before making your selection. Perhaps you simply want camping dishware, so you can eat canned goods or other items without actually heating them. Or maybe you want a cooking set, which will go with a portable stove or be used to cook food over a fire. Your choice could be between a complete camping kit or the best camping dinnerware available.
Another option is what's called a military mess kit, which is designed to be even more compact for use by the military. For instance, the best military mess kit will have lids that can be used for cooking and eating, eliminating the need to carry a cook set and the best camping plates and bowls. But choosing an army mess kit could mean that you sacrifice other features common in a complete camping set.
A scout mess kit is similar in that it has products with dual functionality and serves the needs of an individual scout. And a survival cooking kit usually includes everything you need to survive, including a means for cooking, a water canteen and more. If you need a hiking mess kit for more than one person, these individual sets may not be appropriate.
Size and Weight
There are other considerations in choosing the best camping mess kit.
How you'll be traveling is a factor in your decision. If you're backpacking for long periods of time, that's quite a bit different than staying in a camper with day hikes as part of the adventure. If you have a camper, or you're car camping (traveling by car and pitching a tent in a set spot each day), you will likely have more space and can opt for a complete camping mess kit.
If you're hiking and carrying all your gear with you, the best mess kit may have items that are multi-functional. Your cutlery may consist of a single "spork," which doubles as a spoon and a fork. The best camping plates may have high sides so that they can also serve as bowls, or be easier to eat from if you're sitting on the ground with your plate on your knees.
Size, weight and bulk will also be considerations. It might be more convenient if your dishes stack together or nest inside the pot, or the pot lid also serves as a bowl. Even in car camping, you may want a camping cookware mess kit that is compact and lightweight.
What's Included
Finally, you'll need to figure out what components you want in your camp mess kit. Perhaps you want a mess kit with utensils, or you've already got utensils. Maybe you simply want a backpacking plate, or you need an all in one camping kit with a portable stove. Do you need it all to fit in a mesh bag for storage and travel?
How many people you're cooking for will determine the number of pieces in your camping mess kits. And if you're traveling as a family, you may want a smaller set that serves as a kids mess kit.
Of course there are always ways to build a DIY mess kit. You could purchase some affordable dinnerware and pack it together with cutlery and head out on your hike.
But we're here to look at the best backpacking mess kit, to ensure you get the product that will suit your needs.
5 Best Backpacking Mess Kit

MSR – Quick 2 System Cook Set
This is a two-person set that weighs only 1 pound, 12 ounces. Compact when packed, it's about 8 x 5 inches, making it ideal for long backpacking trips.
The set includes the versatility of two hard-anodized aluminum pots, a 1.5-liter with non-stick coating and a larger 2.5-liter pot that's uncoated. There's a heat-resistant pot handle that clips onto an attachment spot on the pots. It flips open for cooking and then and locks shut over the larger pot to hold the set together for packing.
There's also a strainer lid, 2 deep dish polypropylene plates, and 2, 12.5-ounce insulated mugs. The plates and mugs are color coded so each hiker gets their own set. Everything nests inside the larger pot for travel, and you always have the option of only taking part of the set depending on the size of the group or the length of the trip.
Pros
Ideal for couples.
Versatility of two sizes of pots with different coatings.
Color-coded plates and mugs so each hiker gets their own set.
Cons
Doesn't include cutlery.
Good only if there's 1 or 2 of you - not for families.
Our Take

Light My Fire – 8-Piece BPA-Free Meal Kit
This 8-piece kit is intended for use as eating utensils, not for cooking, and to use for stowing food and serving food. All the contents of the kit store compactly inside the bowl and lid.
The set includes a lid that serves as a plate and a plate that is also a bowl. Everything in the kit fits into these two pieces, that are held together by a harness for travel and storage.
There are also two waterproof food storage containers known as a "SnapBox," one that holds 5.7 ounces of food and an oval one that holds 10.8 ounces of food. There's a pack-up cup that expands for drinking hot or cold liquids and then collapses for packing. There's a strainer/cutting board and a "spork" – a fork on one end and a spoon on the other end.
This set is made of foodsafe 100% BPA-free polypropylene plastic that doesn't soften at high temperatures, meaning you can heat water and make oatmeal in the bowl, for instance. It's also dishwasher and microwave safe.
Pros
A complete kit for eating with versatile components that serve more than one purpose.
Perfect for camping or in lunch kits.
Made with BPA-free plastic.
Cons
This is for eating only, not for cooking.
It's intended for only one person.
Our Take

MalloMe – Camping Cookware Mess Kit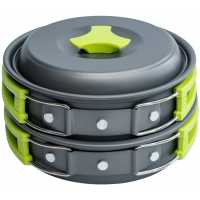 This is a full cooking set with pots made of FDA-approved, non-toxic, anodized aluminum, and BPA-free plastic eating ware. Ideal for one person, it's easy to clean and collapses into a small package for travel and storage.
Here's what's included: a 1-liter aluminum non-stick pot with a fold-out handle and a pot cover, a non-stick pan with a fold-out handle, 2 BPA-free plastic bowls and soup spoon, a folding stainless steel "spork", a wooden spoon/spatula, a cleaning sponge, and a nylon drawstring pouch for travel, storage, or clipping onto a backpack.
Everything fits together into a collapsible design that's small and lightweight, at 6.6 x 6.3 x 3.8 inches and just 1.17 pounds.
Pros
Has everything you need for cooking, eating and cleaning up.
Compresses into a small size for backpacking or storage.
Has the versatility of a pot and a pan.
Cons
The handles are plastic, so the pot and pan shouldn't be used over an open fire or on a large cookstove.
You'll need additional cutlery if there's more than one person camping.
Our Take
Now that you know the options available, it can be difficult to choose the best backpacking mess kit. But we like the MalloMe Camping Cookware Mess Kit, and here's why:


It has everything a hiker needs to cook, eat and clean up.


Includes the cooking versatility of both a pot and a pan, both with handles, and a pot lid.


Includes bowls, a spoon and a "spork" for eating.


Quality material, with cookware made of FDA-approved, non-toxic, anodized aluminum, and eating products made of BPA-free plastic.


Compresses into a small size for backpacking or storage.


Lightweight.


Includes a nylon pouch for travel and storage.



Terra Hiker – Camping Cookware
This all-in-one kit combines cookware, eating ware and a teapot to provide everything one person needs for backpacking.
There's a pan and a pot with a pot lid, made of non-stick, non-toxic aluminum, and an aluminum kettle/teapot. The pot and pan have thermally insulated plastic, heat-resistant handles with an anti-slip design. There's a plastic bowl and a serving ladle made of food-grade plastic. There's also a bamboo spatula/spoon and a cleaning sponge.
Everything packs away into the pot and fits into an included nylon mesh bag making it easy to pack and carry. Its folded dimensions are 7.2 x 5.1 x 7.2 inches and it weighs 1.34 pounds.
Pros
Includes everything you need for cooking.
The kettle is handy for boiling water.
Has the versatility of a pot and a pan.
Cons
Doesn't include cutlery.
Ideal for one person unless you purchase more cookware.
Our Take

G4Free – Camping Cookware Mess Kit
This is a complete kit that even includes a portable stove for cooking. The mini stove has a Piezo ignition, foldable support arms and a fuel flow valve.
The cookware includes a pot with a lid (1.2 liter capacity), and a frying pan/small pot (0.6 liter capacity), made of non-toxic anodized aluminum. The eating ware includes 3 bowls and 1 utensil set, which consists of a folding fork, a folding knife, and a folding spoon, with a carabiner to clip them together.
There's also a wooden spatula, a plastic serving spoon, a cleaning sponge and a carrying bag.
This is a 1-person set, but with an additional set of utensils, it would be ideal for 2 people.
Pros
A complete set for cooking and eating.
Even has a portable stove.
Full utensil set included.
Cons
Good for one person unless you add accessories.
Only good for those who want a stove.
Our Take