10 Best Camping Coffee Makers
I understand what it is like to go through a day without your daily dose of caffeine. Not only do you feel unenergized and demotivated, but you are also just pretty lucky if you do not end up with a miserable headache.
After leaving your home for a beautiful environment where you can camp in, it is a must that you get to enjoy the most out of your adventure by being your best self. For some campers, that can only be possible by having their daily brew.
In this article, we'll go through some of the recommended camping coffee makers in the market to help you start the day on the right note wherever you may be.
10 Best Camping Coffee Makers

Coleman Camping Coffee Maker
You can enjoy coffee away from home with this Coleman Camping Coffee Maker. It features a steel base that fits traditional 2-burner and 3-burner camp stoves. The glass carafe can collect up to 10 cups of dripping coffee. This container also makes pouring of coffee easy for campers. It can also fit 8-cup and 12-cup filters in its removable swing-out filter basket. The Pause 'N Serve feature allows the user to pour a cup in the middle of a brew cycle. Within only 10 minutes, your 10 cups of coffee will be ready. Measuring only 8.5 x 11 x 14 inches, this coffee maker is convenient to bring on your next camping adventure.
Pros
Convenient to use
Makes many servings at once
Time-efficient
Cons
Requires a camp stove to work
Our Take
This coffee maker offers optimal convenience for dry camping setups. You would not need to utilize any other resource than what is already in your vehicle. For a little over 10 minutes, it is true that you will be able to enjoy 10 cups of well-brewed coffee. This is ideal for those who usually go camping as a group. It saves you time and effort. Its "pause 'n serve" feature is time-efficient as you can get coffee from the glass carafe even when it has not entirely finished up the brewing cycle. This is particularly helpful when camping since multitasking is the bare minimum. You are also assured that coffee grounds will not reach your cup. However, this is not ideal for low-maintenance camping as you will need a gas stove in order for it to work. It is built for dry camping, and it will perform best in that setting. Moreover, you can use it at home as well since all you need is a stove. This makes it not just a camping tool, but a home appliance for everyday use. It is highly recommendable as you get twice as many benefits for purchasing just one product.

Wacaco Minipresso GR
If you are a light traveler who cannot afford to give up caffeine at any day, this Wacaco Minipresso is the best deal for you. It requires no battery nor electricity, which makes it eco-friendly and convenient to use at home, outdoors, in the office, and on the go. You can enjoy up to 50mL of authentic espresso anytime. It is compact and highly portable, which makes it ideal for camping. You will have no problem operating it as it is very simple to use. Scooping coffee is easy because it has an integrated scoop feature in its filter. After adding hot water and a few hand pumps, you are done! Shall you have any dissatisfaction, you are entitled to claim a refund or product replacement within 30 days.
Pros
No battery/electricity needed
Lightweight
Very portable
Produces quality espresso coffee
Cons
Brews one serving at a time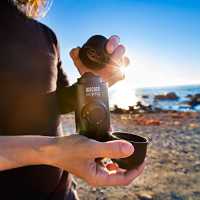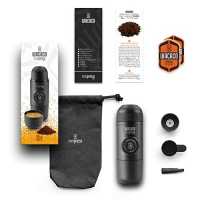 Our Take
This will be the best $48 purchase of all time. It is very lightweight and can be brought practically anywhere because it will surely fit your bag. It is just about the size of your hand. One of the things that make it stand out is the fact that it can produce authentic espresso quality without electricity and battery. This is a great product for outdoor activities like camping because it is low-maintenance. Moreover, this portable espresso maker does not produce any disturbing sounds, unlike other devices in the market. It does not occupy a lot of space, which is not only ideal for people on the go but also those who do not have much space in their homes. When used in its maximum capacity, you will be able to produce three espresso shots. The only downside is the possibility that you might be using this device as a group, and it only produces one cup of coffee at a time. If you plan on using this singlehandedly, you will encounter no problems with this one. This is worth more than the price you are paying. It is definitely worth the try as any dissatisfaction will be entertained by the company.
$47.90


GSI Outdoors Ultralight Java Drip
Ultralight Java Drip will fulfill your daily caffeine dosage while camping for less than $10. It is super lightweight and simple to use. This product is compatible with #2 and #4 filters, although the mesh it comes with sufficiently filters out most coffee grounds. This model assures a cup of great coffee while maintaining fast and easy dripping. It comes with a cup of its own, but it is versatile enough to be used with other cups of your choice. No electricity, battery, or any camp stove is required for this device to be functional. At an affordable price, you will not miss out on your coffee intake.
Pros
Affordable
Simple to use
Easy to clean
Ultra lightweight
Cons
Cannot brew coffee while on the go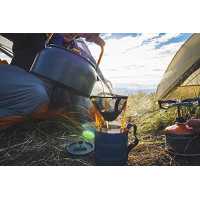 Our Take
This product is highly affordable and convenient to use. For only $10, you can have coffee on your camping trip that is just as good as the one you have at home. It is easy to use, but even easier to clean! You can use it with almost any type of cup or mug because its legs are flexible. Although it designed to be used for one cup of coffee at a time, you will not have a problem using this for group setups because of how fast it drips. If you also find it more convenient to use coffee filters for easier cleaning, you can opt with either the #2 and #4 filters as they are both compatible. This java drip is ideal for adventurous campers as you do not need any specific equipment like camping gas stoves to make this work. As long as you can boil water, you are assured of a great cup of coffee. This is very easy to pack and bring anywhere. If you take care of it well, this $10 purchase will be a steal for you!
$10.86


MYJO SINGLE CUP COFFEE MAKER
Myjo utilizes single-serve packs in making coffee, tea, or hot cocoa. Its compact design allows for easy storage and portability. This is great for people who like to go on adventures or those who do not have much space for a bulky coffee maker. One can fill the water reservoir with very hot water when outdoors. If you plan to use it indoors, you can place it inside the microwave. It features a silicone grip that is heat-resistant and slip-resistant for easy handling. Simply add a single-serve pack in its base, attach the water reservoir, place the whole thing on top of a mug, and then start pumping. It also includes a bonus refillable myjo cup, which can be filled with coffee grounds of your choice. Even cleaning this coffee maker is effortless. Grab one now!
Pros
Affordable
Versatile
Durable
No electricity/battery needed
Cons
Can produce only one cup at a time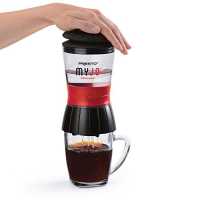 Our Take
For something very affordable, this coffee maker is a great deal! It is well designed and has a very high quality. This is very sturdy, which makes it ideal not only for indoor uses but also for outdoor activities. You do not need to purchase expensive coffee makers that require a lot of resources to be functional. All you need is hot water and coffee grounds to produce your fresh cup of coffee anywhere! It is designed for people on the go because single-serve packs are very convenient to bring. This allows for fast cleaning as you can simply dispose of the pack from the base after brewing and then rinse. If you plan to use coffee grounds that do not come in single-serve packs, you do not need to worry! The bonus refillable Myjo cup can be filled with any coffee, tea, or cocoa of your choice. The best part is it does not consume any energy at all because of the manual pumping feature. Just a little handwork, and you're done. Overall, this product is highly recommendable.
$19.08


Stanley Adventure All-In-One Boil + Brew French Press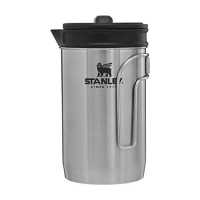 This Stanley Adventure All-In-One Boil + Brew French Press is multifunctional as it brews, boils, and cooks. You pack less gear and do lesser dishes with setup. Not only can you make great coffee, you can also cook soup with it. Its nesting design saves space, which is convenient for packing and storing. It has a melt-resistant nylon lid that perfectly seals the pot for thermal efficiency and leak-free experience. The handle hugs flat, which makes it non-bulky for storage. This French press is dishwasher safe. It is also guaranteed for life.
Pros
Multifunctional
Compact
Easy to store
Cons
The filter may be tight to remove and put back at first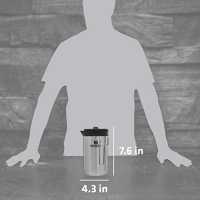 Our Take
The versatility of this product makes it stand out. You can use it for cooking, boil, and brew. This is useful for campers who are used to traveling light. With only one product, you can do so many things. It is also compact and reasonably lightweight, which is great for storage and transportation. The coffee grounds are perfectly strained. Its silicone lid, which is melt-resistant, seals the pot completely. This makes the heating time faster as heat does not escape the pot. It also ensures that whatever is inside does not spill. I am impressed with how this product is designed because it is very easy to use, and all the parts work together perfectly fine. Its handle lies flat when compressed for hassle-free handling and keeping when not in use. When pouring, the handle is easy to grip and fits perfectly in your hands. The filter may be tight to put back in when completely removed, but this is to assure that particles are filtered well when in use. Once you get the hang of it, it is easy to put back. This product can be practically used as a pot, which is a steal for its price. This is a good deal.
$24.19


Coleman Propane Coffee Maker Carry Case
Camping coffee makers will only last long if users take good care of them. This Carry Case is designed to securely transport and store Coleman Propane Coffee Makers. It is made to be lightweight and weather-resistant to effectively protect the device inside and also make it easy for campers to carry the whole thing around. The tough PVC-coated polyester material keeps foreign elements from seeping into the bag. It has a web handle to ensure comfortable and easy carrying. The webbed pouch is built to secure the standard 16.04 oz propane canister. Maximize the usefulness of your coffee maker by protecting it from potential damages.
Pros
Highly protective
Easy to carry
Water-resistant
Cons
Not completely water-proof
Our Take
The Coleman Propane Coffee Maker is a good product when it comes to brewing coffee, but it certainly cannot protect itself. Purchasing the coffee maker alone can impose a few challenges when it comes to storage and transportation. Storing it in its original box certainly will not offer that much protection. When you are planning to go camping, it is important that your devices are properly protected, so you do not end up spending more for repairs and replacement due to human-errors that cause damages. This carry case does not only protect the product from force upon impact, but it also makes carrying it easy for the traveler. Beyond that, the walls of the case are water-resistant, which helps with keeping the parts of the coffee make dry. The pouch made for the canister keeps it safe and snug inside the bag. It does not move around during transportation, so it lessens the possibility of damages. This is a great product that complements Coleman coffee makers. I will always recommend good investments and protecting those good investments so that they pay off well.

GSI Outdoors Java Drip Collapsible Pourover Coffee Maker
This Collapsible Java Drip Coffee Maker will fulfill your coffee cravings in the middle of a camping trip without even feeling any additional weight in your luggage. It has a compact design, measuring 5.6" by 5.6" by 1" when expanded and only 1-inch thick and 5.5" in diameter when collapsed. Its unique flange assures center drip cone on mugs, cups, and wide-mouth bottles. This results in a stable, spill-free brewing even when done outdoors. This drip can hold coffee grounds that can produce around 12 cups of great-tasting coffee. A lifetime warranty service comes with the purchase.
Pros
Affordable
Easy to clean
Highly portable
Lightweight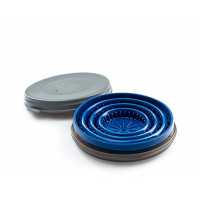 Our Take
This is highly affordable and certainly worth more than what you pay for. It is very easy to collapse and expand and fits any bag. It is true that you will not feel that it is in your bag because of how thin and lightweight it is. This is designed for people who always opt to travel light. Another remarkable thing about this drip is the material it is composed of. Since it is made of silicone, cleaning it is effortless. You also do not need to wait for it to dry, unlike java drips that are made with mesh cloth. However, you will need to use a coffee filter to make sure that coffee grounds will be filtered out well. In its maximum capacity, it can brew coffee for a group of 12 people. It is suitable for most mugs, thermoses, carafes, and water bottles with wide openings. I would recommend this as a constant drip coffee maker that stays in the car, your camping bag, or anything that you use while on the go. It is a well-designed product because its collapsed and expanded forms both serve their purpose well. Overall, it is low-maintenance, and it produces good coffee.
$14.95


CHULUX Single Cup Coffee Maker Travel Coffee Brewer
The CHULUX travel coffee brewer takes less than 3 minutes to give you a cup of coffee, anywhere and anytime. It is very safe to use as it features an automatic shut-off function. This assures that the machine will not overheat after the brewing cycle has finished. It also boils water quickly without any scalding hazard. The design it has suits most coffee pods and coffee filters. Each brewing cycle is perfect for one person. One can also use the CHULUX reusable filter which you can fill with coffee grounds of your choice. It is compact and portable, perfect for home, travel, and outdoor activities.
Pros
Convenient to use
Great safety features
Fast brewing
Portable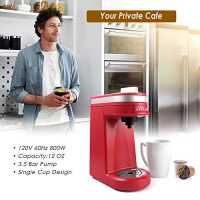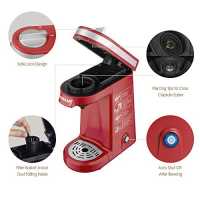 Our Take
I commend this product for how fast it makes coffee. In less than 4 minutes, a hot beverage will be waiting for your consumption. It does not take up a huge space unlike most electric coffee maker. That makes it great for dry camping, or even tiny living. The additional features it has justifies its slightly more expensive price point. For instance, it automatically shuts off when the brewing cycle is finished. This does not only save electricity, it is also an important safety feature that prevents overheating. Moreover, its surface remains at room temperature even in the middle of a brewing cycle. The user is not exposed to hot water. This is ideal when you have kids around. The cup rack can also be removed in case you plan on using a cup that is taller than the carafe it comes with. It is the best product to use when you are going for dry camping or RV camping, as it gives you the most convenient coffee brewing experience ever. For only $39, you will not have to worry about bringing a bulky coffee maker with you around. I highly recommend for you to try this out.
$39.99


Collapsible Coffee Dripper
This Collapsible Coffee Dripper allows you to brew delicious pour-over coffee wherever you are. It is made of 100% food-grade silicone that is BPA free. Therefore, it does not pass on any unusual tastes or harmful chemicals to your drink. It features a lightweight, collapsible design that makes it suitable for camping, backpacking, traveling, and the like. This is dishwasher safe and easy to clean. It works best with size #2 or #4 disposable coffee filter or a reusable one of the same sizes. A money-back guarantee is in place for any dissatisfaction.
Pros
Affordable
Lightweight
Easy to use
Portable
Cons
Might not work well for some kinds of coffee containers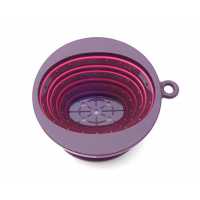 Our Take
I like this product for its simplicity. It is very useful when you want to travel because of how it takes up such minimal space. Its material makes it lightweight and durable. This is important for campers because it is likely that you will have to squeeze it in your backpack along with other pieces of equipment you need for the activity. Unlike other silicone coffee dripper products I have tried, this one does not have a chemical odor even when it first arrived. Cleaning and drying it up is effortless. The only downside is, since its base is smooth, it can sometimes create a sealing effect on the mug and the dripper. This traps air and makes the dripping process slow. You can drill two small holes on the base, or occasionally lift it from the mug to break the airtight seal. You can also change your coffee container to prevent this from occurring. Overall, this product does the job and is definitely a good deal for its price.
$14.97


Coffee Gator French Press Coffee Maker
This insulated double-walled stainless steel insulated French press keeps your drink warm for 60 minutes longer than regular glass. The 304 stainless steel is 33% thicker and only 20% heavier than other types of stainless steel containers. Its cool-touch handle ensures the safety of your hands. It also features a spring-loaded, double-screen filter for a cleaner drink. This is a heavy-duty, durable product that will not break when you drop it. The Gator press has a unique design that strains sediments but maintains the deep taste of the coffee. It always results in a rich brew that will surely satisfy you.
Pros
High-quality
Durable
Insulated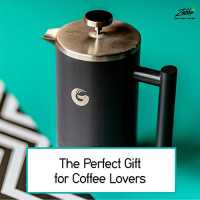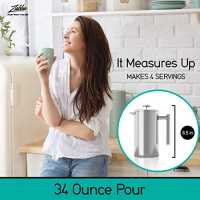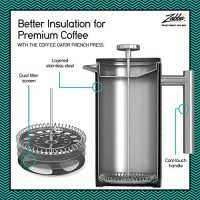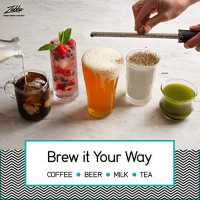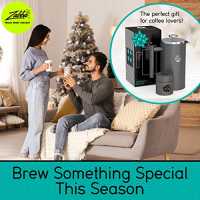 Our Take
This is a high-quality product that will impress whoever is using it. The double filter feature it has really makes a significant difference. You will surely not have any sediments in your drink. Most French press coffee makers are made of glass, which is not recommended for outdoor settings. This is because glass breaks easily, and it cannot keep the warmth. When camping, this product is ideal because it can withstand rough usage. Even its handle is welded to the body, which prevents it from falling off after being used for a long time. On top of that, the insulation feature is very useful. Remember, you will not have the comfort of your own home when camping. Therefore, you cannot simply reheat your drink anytime you want due to practical limitations. With this product, your drink will be warm for a longer time. This allows you and some other friends to have a good drink despite having other things to do in between. It is highly durable and fancy looking. This is a great investment. It could also be a great gift.
$35.99