10 Best Camping Grills
Cooking the old-fashioned way while camping certainly makes any camping experience more memorable. For outdoor adventurers, cooking over an open fire is part and parcel of any camping trip. However, this requires much time, effort, and skill. You'd have to keep an eye on your food to make sure that it cooks properly. Moreover, campfires aren't that easy to manage and can even pose hazards for the inexperienced.
This is why many opt to bring their own camping grills. The chances of ending up with charred, tasteless food is almost nil. Wet climate and damp air won't be any problem as well. Most importantly, a variety of food can be conveniently cooked with a camping grill.
Then again, with the hordes of camping grills out there, it can be confusing to choose the best one to use. Here, we'll go over a few things you should consider when buying a camping grill, our top picks, and how to take care of your grills so they last a lifetime.
Basic Types of Camping Grills
While there's a plethora of camping grills you can choose from, they all basically fall into two types according to the kind of fuel they use.
Propane grills
Propane camping grills are the quickest and most convenient way to cook while camping. Compared to other types, they're easier to light, heat faster, and able to maintain constant heat throughout the cooking process.
Liquid propane is affordable and comes in handy cylinders that don't take up too much space. Just one 16-oz cylinder can last two to six hours, depending on the BTU (British Thermal Unit) of the grill. Moreover, propane burns clean and doesn't add any unwanted flavors on your food.
The only downside to propane camping grills is that they tend to be heavy and aren't that portable.
Charcoal grills
Charcoal camping grills are often the choice of backpackers because they're lightweight and portable. They're also ideal for those who avoid gas for ecological reasons.
However, carrying a load of charcoal can be a hassle. One 16-oz canister of propane would be equivalent to about 5–10 pounds of charcoal. So while the grill itself is handy, lugging that much coal may not be that easy. Another downside to charcoal grills is that they require more attention when cooking. You need to get the charcoal hot enough, manage airflow to maintain a constant temperature, and watch the food to make sure it doesn't burn.
Nonetheless, even with these disadvantages, they trump propane grills when it comes to flavor. You can get that rich smoky flavor and unique taste of charcoal-grilled food only from using real coals.
Aside from these two types of grills, there are also those that you can prop right over the campfire such as grill grates or tripod grills. While they're smaller and easier to carry, you risk getting charred or unevenly cooked food because campfires are hard to regulate.
What to Look for in a Camping Grill
With hundreds of options available in stores, choosing a camping grill can be daunting. Before making your purchase, there are several factors to consider. Among these are:
Grate size or grilling surface
This determines how much you can cook at a time, how fast the grill heats up, and how much fuel you'll need to cook all your food. The bigger the grate size, the more fuel it needs, and the more people you can feed.
Grate material
Stainless steel types are easy to clean and rust-resistant. Porcelain-enameled ones are the easiest to clean but also require much care. They lose their nonstick ability when they get scratched or worn away. Another option are cast-iron grates which are durable and have excellent heat retention.
Temperature control
With built-in thermometers, you avoid undercooking or overcooking your food even without hawking over it while it's cooking.
Ignition button
If you prefer a gas grill, look for one with an ignition button or switch. These no-flame ignitions are easier to light up. Plus, you can use them even if you forget to bring matches.
Portability
Among the most common problems campers face is having to haul too much equipment to the campsite. You can avoid this problem by choosing a grill that's compact, lightweight, and easy to carry.
Ease of use
You don't want to waste hours of your precious camping time setting up the grill instead of enjoying the great outdoors. Get something you can set up in just around five to ten minutes.
Ease of cleaning
Avoid the stress of having to clean messy grills by choosing ones that are in stainless steel or are porcelain-enameled. Non-stick surfaces make clean-up a breeze. Removable drip trays or grease traps also shorten clean-up time.
Shelving
Space for food preparation can be limited while camping. A grill with side tables that extend or fold away can give you much needed space to prepare your food or hold your cooking utensils.
Burner power
The amount of heat that a grill fuel source puts out is measured in BTUs. The more BTU a grill has, the hotter it can get, and the faster you can cook your food.
Aside from these, there are also other features unique to individual grills. With so many features and options to consider, how do you know which grill is the best for you? You can narrow down your choices by asking the following questions:
Where will you use the grill?
If you're going to a car camp or an RV camp, you can opt for bigger grills that are highly versatile. Choose one that can also be used with pots and pans and even as an oven. Size wouldn't matter much in this case because you'd have plenty of storage space in an RV or a tailgate.
However, portability becomes an important factor if you're trekking to your campsite. For this, you'll need a lightweight grill that you can easily pack in your bag along with other essentials. In either case, charcoal grills that can double as a firepit for campfire are good choices.
How many people will you be cooking for?
It'll be cumbersome to cook so many batches on a small grill if you're feeding a squad. So, take note of the amount of food you'd be cooking, and get a suitably sized grill.
Which do you prefer, gas or charcoal?
Grills that work on propane gas are the most convenient to use. You can easily control the cooking temperature, and there won't be any ash or residues to clean up after. On the other hand, charcoal gives your food that wonderful smoked flavor and aroma. So, decide which one is more important to you: convenience or smoky flavor.
What other features do you really need?
Depending on where and how often you'll be using your camping grill, some features may be necessary while some may not. Make sure you consider how you're going to use the grill long-term and not just for the first camping trip.
How to Make Your Camping Grill Last a Lifetime
When you invest in any camping equipment, you'd want to get your money's worth and make it last as long as possible. That's why durability is among the factors we all consider when buying equipment. To make your grill last longer, here are some precautions and care you should take:
Always observe proper safety practices when using your grill.
Keep away from hanging branches. Set up your grill about 12 feet away from any hanging branch.
Ensure stable footing when setting up your grill. Stomp the topsoil into the ground. Adjust the grill legs properly to prevent it from tipping over when you load your food on it.
Clear leaves and twigs nearby.
Keep your grill clean.
Clean your grill before you use it. Any grease or dirt left on the grill can send pillars of smoke and tongues of flame into the sky.
Clean your grill after using it. Use a grill brush to remove fat. Wipe the rest of the parts clean.
Store your grill properly.
Thoroughly clean your grill before putting it in storage. Brush off leftover food scraps and grease. Soak and scrub removable burners, and clean out all debris.
Coat burners and other metal parts with cooking oil to repel moisture and prevent rust.
If you're using a gas grill, remove the propane tank, and tape a plastic bag over the opening to keep insects away from the gas line. Store the propane tank upright.

Coleman Coleman RoadTrip 225 Portable Stand-Up Propane Grill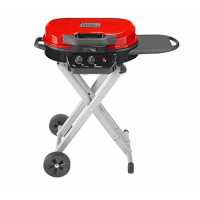 The Coleman Coleman RoadTrip Grill lets you enjoy more control when selecting the grilling temperature with two independently adjustable zones featured in this grill. This can be stored upright to fit in tight spaces until the next cookout you have. It has swappable cooktops for more meal options, cast iron grill grates that are effortlessly interchangeable with griddles for stove grates. It is easy to set-up with its sturdy quick-fold legs and wheels, and it does not require match lighting because it has a push-button ignition. This grill is ideal for campsite or tailgating use!
Pros
Smaller size, easy to transport
Easy to clean
Cons
The lid latch does not lock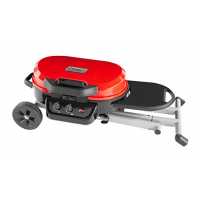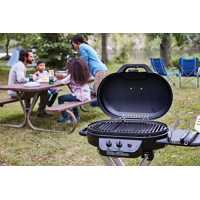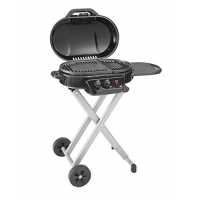 Our Take
This grill is a good one. It is suitable for most people to take while camping or tailgating because it is simple to put together with a fast set-up. This small grill has done its job correctly. The description says it is easy to clean, and it is! The grill fits down to the kitchen sink for more natural cleaning, and the tray that it comes with catches the grease when it comes out, avoiding messy cleanup and saving you from the hassle of carrying greasy stuff when you pack up. When not used, you can simply store it easily without taking up so much space. Talking about its flaws, I got some issues about it, like how the latch doesn't stay locked. Nonetheless, I would still recommend this grill!
$188.53


Coleman Gas Grill
This propane grill can be easily set up because it arrives fully assembled and can be placed on most flat surfaces. For more meal options, its cast iron grill grates are effortlessly interchangeable with griddles or stove grates, whichever works for what you're cooking. It has two temperature zones so you can enjoy more control when selecting grilling temperatures, as well. The cooking power of the Coleman Gas Grill is up to 11, 000 total BTUs and it comes with a large grilling area of 225 sg.in., making it perfect for camping!
Pros
Water pan makes it easy to use
Dual burner
No assembly needed
Cons
No dual control for both burners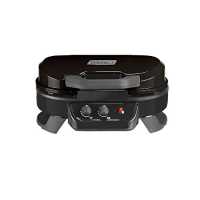 Our Take
Right off the bat, it is easy to say that this one is a great grill. It gives off a lot of heat which allows it to cook evenly. The water pan that it features also made cleaning up the grill very quick and easy, saving you from a lot of trouble.

On top of that, receiving it fully assembled makes it more convenient. There are some things that are lacking in the "how to use" instructions that come with it but it was ultimately easy to figure out by yourself. Everything came out perfect. No flare-ups. Easy cleanup. Delicious food. Plus: the interchangeable griddles are awesome and the side burner is a nice feature so you can grill and cook at the same time. Another slight issue is that it does not have two controls as it was a dual burner. However, Coleman is generally producing good, reliable, and well thought out product and this is no exception.
$163.97


Coleman Gas Camping Stove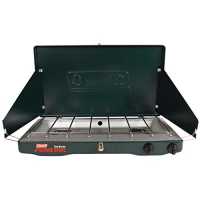 This camping stove has pressure control technology that keeps the heat steady for consistent performance even in cold weather, high altitudes, or when fuel is low. It facilitates a complete fuel combustion process, delivering more effective cooking heat to your food with less fuel consumption. The side panels shield its burners from wind and can be adjusted to fit larger pans or folded down to be used as side tables on calmer days. Also, a rotating dial lets you adjust burners for precise temperature control.
Pros
Easy to clean
Good windshield
Cons
The knobs have no variations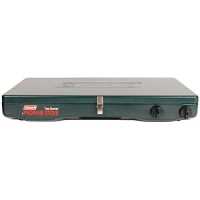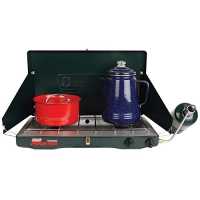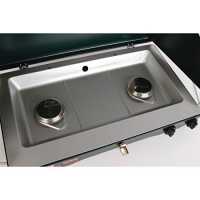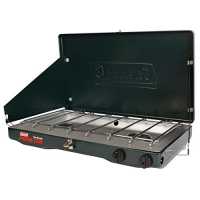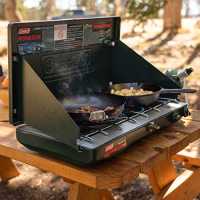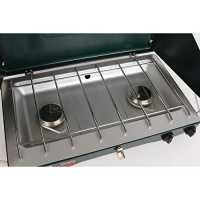 Our Take
Yet another one from Coleman, the Coleman Gas Camping Stove is a win! Setting this up is very easy, even for those who are not skilled in these kinds of things. It was well-built and can stand evenly no matter what the weather is, making it perfect for camping in the snow or hiking in windy mountains. It offers an excellent shield against the wind making it easy to cook. However, the options given on the burner is only putting it on or having a full blast, which is not ideal, but it works for its purpose.
Nonetheless, there's a workaround on this: to get the burner to anything but full power, you have to adjust the knob to the low setting very carefully and hope you don't instead end up turning it off. Other than that, you can't go wrong with Coleman. It's lightweight, straightforward to use, and easy to clean. Worth every penny spent on it!
$43.88


UCO Flatpack Portable Stainless Steel Grill and Fire Pit
The UCO Flatpack Portable Stainless Steel Grill and Fire Pit can be folded to 1.5 inches thick and fits in a backpack. It can also be used as a fire pit, and it comes in regular or mini sizes. The regular sizes feature 13 by 10-inch grilling area for up to 6 servings, and the mini has nine by 6.75-inch grilling area for up to 3 servings. The stable base is safe for grilling, the sides of the grill serve as windbreaks, and it also has a 30-second setup. This safely contains fire and keeps fire off the ground that is constructed from durable stainless steel to provide high rust and corrosion-resistant grill.
Pros
Sturdy
Foldable - can fit inside a backpack
Made with stainless steel
Easy to clean
Inexpensive
Cons
Doesn't have temperature control
Doesn't cool down fast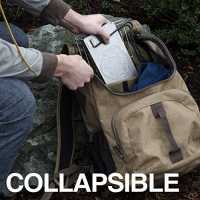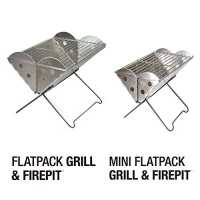 Our Take
If you are looking for a charcoal grill that works as it should without breaking your bank, this should be it. The UCO Flatpack Portable Stainless Steel Grill and Fire Pits have a straightforward yet efficient design. Since it is made to look like an inverted pyramid, it can contain as much charcoal as needed without compromising the weight and bulkiness of the product. It is also very sturdy as it is made with stainless steel and very portable as it can be folded. In fact, when folded, it can fit inside a backpack.

It may not be the most compact charcoal grill; the bottom line is that it works as well as other expensive grills in this list. That is the reason why it deserves a shout out!
$34.97


Coleman 2 Burner Grill Stove Combo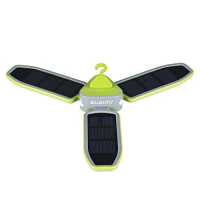 This grill is designed two-in-one so it can be used as a grill and a stove at the same time. It has wind block panels that help burners from wind or fold down to use as side tables. It also facilitates a complete fuel combustion process and delivering more effective cooking heat to your food with less fuel. Furthermore, it features a rotating dial that lets you control burners for precise temperature control as well as pressure control technology that keeps the heat steady for consistent performance even in cold weather, high altitudes, or when fuel is low. A grease tray collects the grease drippings from cooking and is removable for mess-proof disposal. The heavy-duty clasp securely latched lid closed for safe and easy transport.
Pros
It is easy to clean
Easy to assembled
Cons
No correct heat options
Grates melts in high temperature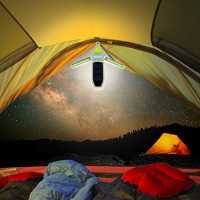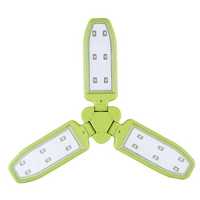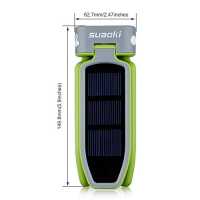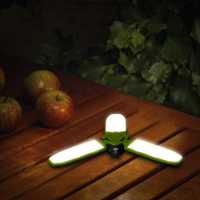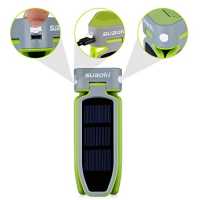 Our Take
The most impressive thing about that Coleman 2 Burner Grill Stove Combo is that the assembly is easy, and it works well. But because of its little plastic stand, it does better on a stable table or camp kitchen than it uneven surfaces, but that's only a small inconvenience as compared to the potential of this product. What is important is it does its job and distributes the heat evenly. The full screens are adequate and helpful. It is also easy to clean, especially if you put some foil at the bottom. The grilling grate has the tendency to melt, so you have to be very careful. The stove also locks fine adjustments in both burners, making it very easy to accidentally turn the stove off when trying to turn down the burner. The burners are basically on or off with limited adjustment in between.

ISUMER Charcoal Grill Barbecue Portable BBQ
This BBQ grill has four detachable legs that are designed for easy carry and storage. It is made of thick stainless steel material, allowing it to have robust and excellent abrasion resistance, anti-rust properties, no twist, and durable and long-lasting quality. The double air vents on both ends are for temperature control and create air circulation throughout the grill. It has a built-in grid charcoal frame ash catcher, which provides a hassle-free ash clean up. The non-stick grill pan is made of high quality refined iron that is high temperature-resistant. This built is especially suitable for steaks, chicken breasts, hamburgers, sandwiches, fish, and shrimp grilling and searing. This grill is perfect for camping, backpacking, picnics, tailgate parties, camping, trailers, parks, and grilling in small spaces.
Pros
Easy to set up
Lightweight
Compact and adjustable
Cons
Bottom of the grill is too thin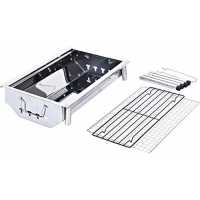 Our Take
The material is a bit on the thin side but sturdy enough for use. It is well-built and can easily be assembled in one minute. This portable grill is lightweight and compact, and the four legs are removable, and their heights can be adjusted. It works perfectly, especially if you are cooking in a small yard. The grill looks excellent quality; it fits well, it's effortless to install; it does not take much space, and is just perfect for limited space. With the very reasonable price that comes with this great quality materials, it's worth having - without any doubt!
$28.99


Weber 50060001 Q1000 Liquid Propane Grill
The Weber Liquid Propane Grill is porcelain-enameled and has cast-iron cooking grates with cast aluminum lid and body. It is fully assembled and has push-button ignition with infinite control burner valve settings. The overall design adds new aesthetics that are both functional and fun, including larger grip handle and control knobs, ergonomic side handles, sturdy front and rear cradles plus the familiar Weber Q logo branded in the lid. The split grates that come with it allow for a grate/griddle cooking combination. This grill can be used on the go as it runs on disposable LP cylinders but can also be a stationary stay-at-home grill. You can also have an optional LP adapter hose for hook up to a 20-lb. tank, which makes it perfect not only for camping but for home use too!
Pros
Well-made
Easy to clean
Convenient to use
Luxurious aesthetics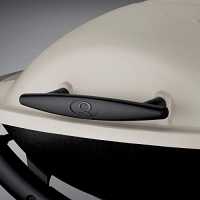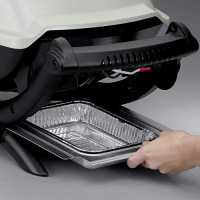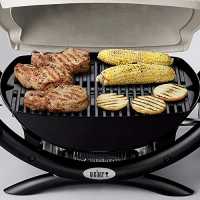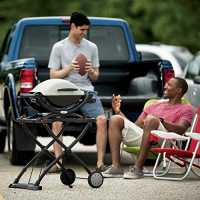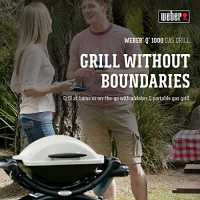 Our Take
Before anything else, you have to see how this grill looks. With its aesthetic alone, this one feels expensive and luxurious. But of course, it's more than that. This grill has actual heat control. It uses the cast grill for the primary heat source, which is an excellent thing, preventing flare ups or burning of the meat. The plates are easy to clean because they are enameled; you can easily wipe the grease off with a paper towel, and it's clean as brand new. It is very light; most of the weight is well spent in the grill racks and the very solid aluminum cover. The ignition lights immediately, adding to the convenience of this grill. The smaller size makes it more portable so you can take it easily wherever you want. Sometimes, there are heat problems, but it turns out that the regulator caused it. Other than that, this is an excellent grill, and it deserves some love!
$179.00


Coleman Portable Butane Stove with Carrying Case
On-the-go cooking just got a little more comfortable with the Coleman Portable Butane Stove with Carrying Case. With an ultra-portable design and included carry case, this stove is ready for any camping adventure and quickly sets up on any outdoor tabletop, supporting up to a 10-inch pan. You can attach an 8.8 oz. Butane cylinder (sold separately), light the automatic matchless ignition with the turn of a knob, and in no time, you're cooking with up to 7,650 BTUs of power for up to 1.25 hours. It is fitted with wind baffles that shield your flame from the wind, and a large stable base that makes stirring easy. Use your stove for years to come thanks to an easy-to-clean, durable porcelain-coated grate, rust-proof aluminum burner, and made-to-last enameled steel exterior.
Pros
Cheap fuel
Easy storage
Cleaned easily
Cons
Hard to visualize the flame on a bright day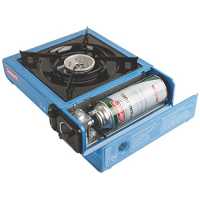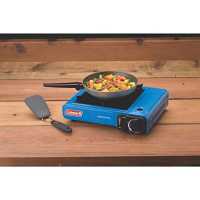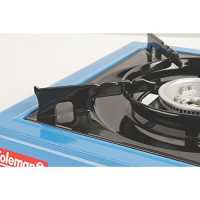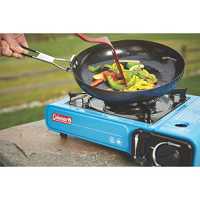 Our Take
The Coleman Portable Butane Stove with Carrying Case is an absolute must-have item for camping and emergencies. These little burners can cook meals perfectly. It is easy to use and can be cleaned instantly. Cooking can be done efficiently with these burners because it features real adjustability, reduced fuel consumption, and secure storage and handling. It's well made and has decent thickness sheet metal, assuring that the product will last you for a long time. It comes in a beautiful color and an excellent quality plastic storage case, protecting the entire stove whenever you are camping in harsh terrain or snow. The butane cylinder can be stored in the stove when in the case, too. The only issue is that it won't start up so easy in warmer weather, or the flames can't just be seen on a bright day. Overall this would probably be a decent inexpensive stove for emergencies. It is highly recommended!
$31.39


Weber 10020 Smokey Joe 14-Inch Portable Grill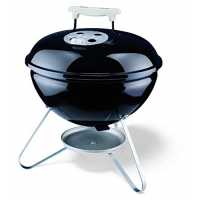 Grab your buddies, turn on the game, and throw some burgers on the grate. Enjoy the simplicity of just hanging out with good friends and the Smokey Joe charcoal grill. This portable grill can hold up to five burgers made with a Weber burger press. It is compact and lightweight for grilling on the go. This has a porcelain-enameled lid and bowl that retains heat in order to cook perfectly. This doesn't rust or peel. Dampers allow you to easily control the temperature inside your grill. It also has a durable plated steel cooking grate that retains heat and is easy to clean. The dimensions of the lid closed is 17 H 14.2 W 14.5 D inches. Grab your buddies, turn on the game, and throw some burgers on the grate. Enjoy the simplicity of just hanging out with good friends and the Smokey Joe charcoal grill.
Pros
Stable
Portable
Big cooking surface
Cons
Doesn't have handle in the grilling rack making it hard to lift on and off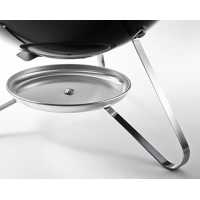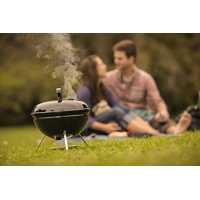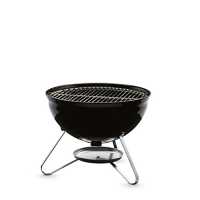 Our Take
There is really some magic if you cook in traditional charcoal grills. Beef grilled this way has a certain smokiness and char that makes it distinguishing and perfect. But if you are in a camping one major requirement for a top-notch charcoal grill is portability and stability.

That being said, This Weber 10020 Smokey Joe 14-Inch Portable Grill ticks all the right boxes. It was easy to put together (even in the dark with a flashlight) and took less than 10 minutes. It is sturdy enough to boil a medium-sized pot of water on it and large enough to cook hot dogs around the edge while the macaroni cooked. Everything is operational and I was surprised that it wasn't blown away at some points. We even used it with heavy cast iron skillets to make biscuits and cook sausage and eggs.

I think this is the perfect size for a small family, camping, tailgating, or for when you don't have power. I'm highly satisfied and I hope it lasts a long time. Highly commendable!
$34.99


Blackstone Grills Tailgater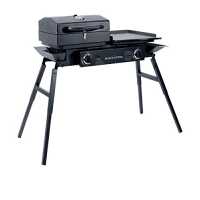 The perfect tailgater grill and griddle for any event. It has an easy portable setup, with almost no assembly required, and is ready to use in seconds. You can enjoy several different setup combinations: Utilize the grill box and griddle at the same time or easily remove both and use the two open burners for pots/pans. You can also keep the grill or the griddle on and have one free burner. Built to last, this Blackstone grill includes a heavy-duty grill box with vent, handle, and durable cast iron grill grates plus a cold rolled steel griddle plate, and the whole unit has a durable powder coat finish.
Pros
Non-stick for easy clean up
Has adjustable support
No rust issues
Cons
A little bit heavy
Requires at least two people to set up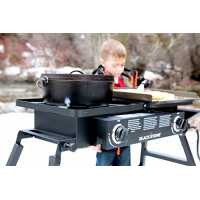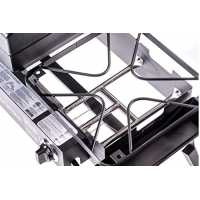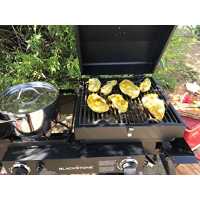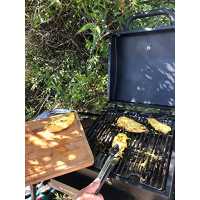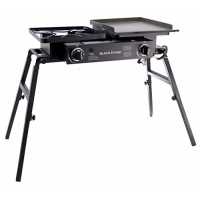 Our Take
This combo is great for camping! But the only problem is that it's quite heavy and it takes two people to get the legs down and set it up. It feels solid with no cheap plastic, and once you're set up and running, you don't feel like you're using a portable grill at all. The four adjustable legs make it easy to be stable. The versatility and durable feel made me enjoy it more. The versatility of the combination flattop and grill makes this perfect for almost any meal. Cleanup is so easy; water, steam, a scraper, and some paper towels is all it takes. The grease traps help enormously in the clean up as well. Very well made!
$229.99