9 Best Camping Percolator
There's nothing more fulfilling than a cup of good quality and freshly brewed coffee in the outdoors. To make that happen, you need a reliable and camping-friendly coffee maker to start the day. Coffee Percolators have become a staple in every camping trip since it's convenient and lightweight, yet brews your favorite coffee no matter what beans or style you prefer.
There are tons of percolators available in the market, and you might end up overwhelmed on which ones to choose. An ideal percolator should serve and target the conditions of your trip. For example, a lightweight and non-electric percolator is best for backpackers and hikers that are always on-the-go. Nonetheless, we've curated a list of recommended camping percolators for you to choose from and highlighted features that target your needs.
9 Best Camping Percolator

Coletti Bozeman Percolator
The Coletti 9-cups Coffee Percolator is an 18/8 stainless steel coffee camping pot named after the rugged city of Bozeman. It features a nostalgic approach to brewing coffee. Instead of using drip methods, which is familiar with most outdoor coffee pots, the Bozeman uses built-in extraction to provide a much fuller and richer flavor.

The Bozeman has two available variations: the 9-cup and 12-cup sizes. The product dimension is 8 x 4.8 x 7.5 inches and weighs two pounds. The percolator's handle is made of rosewood for better heat protection and a classier look.
Pros
Stainless Steel
Adequate size
Flexible; supports filtered or non-filtered coffee making
No plastic parts
Easy to clean
Cons
Expensive
Handle requires a hot pad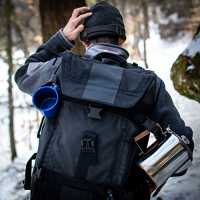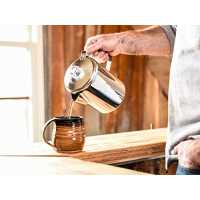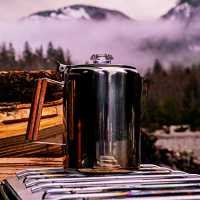 Our Take
The Coletti "Bozeman" Percolator is essential for coffee lovers exploring the backcountry. For us, coffee should be experienced in the old and classic way. And, there's nothing more fulfilling than sipping a freshly brewed coffee, just like how our grandparents used to make it.

The Bozeman is very straightforward and convenient to use. If you don't have an available stove to heat, you can merely set-up a campfire, place you're percolator, and you're good to go. It's made of 18/8 stainless steel, making it durable to handle whatever situation.

We also appreciate the Bozeman's flexibility. Sometimes, we tag along with friends who prefer a different style of coffee. With the Bozeman, you can switch from filtered to non-filtered very quickly.

Overall, this percolator is a must-have outdoor equipment. Though it's priced a bit on the expensive side, there's a sense of home just by the aesthetic and the experience this product offers.
$37.97


Farberware 50124 Classic Yosemite Percolator
The Farberware "Yosemite" Percolator is a bigger, better, and affordable coffee maker cup that's perfect for both indoor and outdoor use. It sports a heavy-duty stainless steel and non-reactive interior that keeps the product durable and maintains the quality of taste last through the test of time. The percolator measures 9.20 x 8.70 x 7 inches and weighs 2.25 pounds, which makes it convenient to store and bring along in your camping trips.

This percolator has two variations: an 8-cup and a 12-cup size -- both serve the purpose very well. This one-piece pot includes a see-through plastic knob, a tight-fitting lid, and a cold-to-touch handle that ensures safety when in use. It also has a permanent filter basket.
Pros
Affordable
Lifetime Warranty
Non-reactive Interior
Tight-fitting lid for safety
Cons
The knob is made of plastic
Our Take
This Farberware "Yosemite" Percolator is an exceptional addition to your current coffee making set-up. It's durable, safe, and efficient in brewing eight cups of coffee in not more than 25 minutes. What we admire with this percolator is its non-reactive interior that protects the coffee from unwanted scents and flavors. It ensures that you get the purest taste as possible, which is what coffee is all about.

You could never go wrong, bringing the Farberware "Yosemite" Percolator along in your camping trips. It's light, durable, and packed with safety features to ensure stress-free coffee breaks or mornings throughout your camping trip.

For its very affordable price-point, you'll get a highly-durable coffee percolator that could last you a lifetime.
$29.99


GSI Outdoors Enamelware Percolator
The GSI Outdoor Percolator is a new spin to the traditional percolators you see anywhere -- this time, speckled with an enamel finish. This GSI "Enamelware" takes portable coffee makers to the next level.

This percolator is built with heavy-gauge steel and kiln-hardened pieces to withstand the forces of nature. It features a three-ply construction to maximize and distribute heat efficiently for a better-tasting cup of coffee.

The GSI Outdoors "Enamelware" Percolator has two variations: 8-cup and 12-cup. The product dimension is 3.1 x 2.3 x 3.5 inches and weighs not more than a pound. It is highly portable and lightweight, which fits the needs of campers and backpackers.
Pros
Enamel finished
Durable
Lightweight
Affordable
Cons
Inadequate Quality Checks
Not easy to clean
Our Take
If there's one thing noteworthy with the GSI Outdoors "Enamelware" Percolator is its efficient heat distribution and sturdy finish. The unbreakable resin cup is one of the best in the market, giving you that sense of security that no matter what source of heat you're using, it will not break. It is not a powerhouse percolator, but it gets the job done decently.

There are some offsetting parts, however. The holes in the pour spout came undone. I'm not sure if its intentional or inadequate quality checks on GSI's part, but it slows the pour significantly. Nonetheless, the most important thing is that it get the job done -- in a decent and safe manner.

Coleman Stainless Steel Percolator
The Coleman Stainless Steel Percolator offers a 12-cup brewing capacity. It's made of stainless steel with corrosion resistance for easy cleaning and storing. The package includes the base, tube, basket, and basket lid. This percolator has a dimension of 9.5 x 8.6 x 6.4 in and weighs 2.3 pounds.
Pros
12-cups serving
Corrosion-resistant
Durable
Cons
Heavy
Interior is a bit difficult to clean
Our Take
More coffee means more fun and pleasant chats. If you're camping as a group, let's say more than eight persons, then the recommended percolator to prepare your hot drinks is the Coleman Stainless Steel Percolator. It serves coffee up to 12-cups capacity and boils quickly for that much-needed caffeine injection.

This Coleman "12-cup" Percolator is a beast. It's durable and corrosion-resistant, giving you that freedom to use whatever heating procedures you have. The lid is tight and secured for convenient pouring. And, the package includes all the things you'll need to start brewing coffee in the outdoors.
$26.50


Coleman 9 Cup Coffee Percolator
This Coleman Coffee Percolator has a 9-cup brewing capacity. It is lightweight and portable, with a dimension of 8 x 6 x 6 inches and 1.6 ounces. It features a bail-handling mechanism for convenient and easy pouring. The package includes all the equipment you need -- the base, tube, basket, and lid.
Our Take
On a personal note, I admire brands that target the true essence of camping. Something that is not too fancy yet captures the morals we learn from "getting off the grid," which is the simplicity of life. The Coleman Coffee Percolator exudes that message entirely. Aesthetic-wise, it's as close as to how your grandparents used to brew coffee. The bail-handling system screams tradition to me, and it feels like you're back to the 1900s, exploring the backcountry in style.

We could not think of better words to describe the Coleman Coffee Percolator. It's simple, and that's it. For people who wish to experience coffee in the backcountry with "simplicity," the one that humbles you as a person, then you should give this product a try.
$19.01


Farberware FCP240 Percolator
The Farberware "FCP240" Percolator has a 4-cup brewing capacity, with a boiling speed of 1-cup/minute. This percolator uses electricity (1000 watts) but functions similarly to the technique used in the old-fashioned way of making coffee. The FCP240 features an automatic "Keep Warm" mode that maintains the heat of the coffee inside.

This percolator has a dimension 7 x 7 x 10 inches and weighs around 2.60 pounds. Since it uses electricity to function, a power source is necessary.
Pros
Quick brewing
Stable
Durable
Cons
Not for backpackers or hikers
Heavy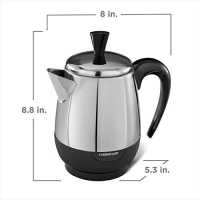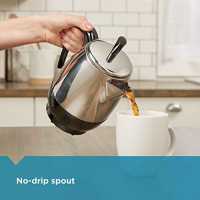 Our Take
If traditional percolators do not suite your camping taste, then you can opt for the Farberware "FCP240" Percolator for your tea and coffee. Disclaimer: it requires electricity to function; hence, a power source is necessary. [You can check our Best Camping Generators]

In terms of performance, it brews coffee the fastest compared to those traditional percolators that use natural heat. But, taste-wise, it provides a similar touch experience in old-fashioned coffee making. The entire product is very well-made. It's complete with features and security measures for safe transport and pouring. Both interior and exterior are made of stainless steel, which resonates durability and could last for a long time.

However, we can't recommend this percolator for backpackers and hikers, since it weighs about 2.6 pounds and requires a power source, which means additional load. But, for camping grounds and car camping, this percolator would do wonders.
$44.99


Presto 02822 Stainless Coffee Percolator
The Presto 02822 Stainless Coffee Percolator is one of the most efficient electric percolators in the market today. It is incredibly convenient to carry around. With its 2.6 pounds of weight and 7.5 x 4 x 10 inches dimension, it is one of the lightest and portable camping percolator.

The Presto 02822 has a unique set of features that ensures you get the value of your purchase. First is safety: it has a non-heat knob that makes pouring safe and comfortable. It has a light indicator to notify you when your coffee is ready.

Next is the design: it has an automatic keep-warm mode that ensures your coffee remains hot as long as it's plugged in. The spout is also curved in a way it refrains the cup from dripping or spilling while pouring.
Pros
Long-lasting
No Plastics
Easy to clean and assemble
Cons
No programmable brewing
Brewing must stay uninterrupted
Our Take
The Presto 02822 is a fantastic addition to your coffee making set-up -- both indoors and outdoors. It's packed with features that ensure you'll get the best-tasting coffee wherever you may go. It's very convenient to use and packs lightly.

This percolator makes one of the best in providing a consistent touch to coffee making. It brews fast and maintains heat to give you the taste of the "good life" anytime. It is best to note that this percolator does contain any plastic material -- it's all made in stainless steel for long-lasting and quality coffee-making.
$31.99


Overmont Camping Kettle
The Overmont Camping Kettle is one of the lightest and affordable coffee pot that's safe, convenient, and very simple to use. The interior of this kettle is made of hard-anodized aluminum, which makes food-grade quality.

The design of the Overmont Kettle centers on safety and comfort. It has an ergonomic handle with insulated plastic protection and a lid knob to put the kettle up and down quickly and safely. Both the lid and the mouth are rolled in a case to protect your hands from splashing boiling water.
Pros
Lightweight
Impressive Safety Features
Portable
Affordable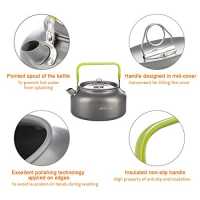 Our Take
Often, simple ones provide the most exceptional performance, and the Overmont Camping Kettle is no stranger to exceeding your expectation. This kettle is, without a doubt, one the fastest heating coffee pot in the market today. Plus, it's safe and reliable. The kettle itself is safe from harsh chemicals that could affect your health.

The design also complements the safety measures added to this product, which you'll appreciate once you're in the outdoors. We also love the lightness and portability of this kettle, which weighs around 0.5 pounds.

On a personal note, I love the subtleties of this kettle. It's safe, extraordinarily light and convenient to pack, yet gets the job done with precision.

TOPS 55703 Rapid Brew Coffee Percolator
The TOPS "55703" Rapid Brew Coffee Percolator provides a 6-cup brewing capacity with 18/8 stainless steel construction. It features a traditional "perking" process that allows precise brewing control for a better-tasting coffee experience. It includes a glass knob and Permawood handle for a classy and outdoorsy aesthetics.

The product dimension is 4.75 x 8 x 6.25 inches and weighs around 1.25 pounds. The available size variations are 6-cup, 9-cup, and 12-cup.
Pros
Excellent Brewing
Fast
Reliable
Cons
Expensive compared to other non-electric percolators
The handle is made of wood, which requires a hot pad for handling
The knob is made of glass and could break due to high heat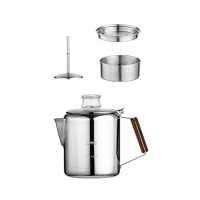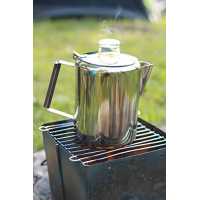 Our Take
The TOPS "55703" Rapid Brew Coffee Percolator is a new spin to the traditional coffee maker we used to know. With a dash of aesthetic upgrades that made the product appear more classy, this percolator is an excellent addition to both your indoor and outdoor coffee set-up.

However, this Rapid Brew does not rely on its appearance alone; it packs a couple of essential features that make it a reliable camping percolator. First is its traditional "perking" process. Not all outdoor coffee percolators have such focus on providing a coffee experience. In a sense, the Rapid Brew provides a precise brewing strength control that adds to the aroma and taste of the coffee.

Next, it is durable and could last you for years. The TOPS "55703" Percolator is made of high-grade stainless steel that could withstand the rugged outdoors. It's portable and lightweight, which makes it perfect for backpacking and hiking. Though, it's a little bit offsetting since the package does not include a mesh bag for quick transport. But, a simple hack could do the trick.
$35.35