5 Best Tent Stove
Camping is a universe full of wonders. Whether you're backpacking or heading for a campground, you will find a tent stove to perfectly fit your adventure. Still, getting your hands on the best tent stove is a different quest from one person to another.
The options can be quite puzzling, between the tiny but mighty folding wood stoves and the heavier, often bulkier portable wood stoves. And did you know you can even get yourself a hot tent stove? This means you'll purchase a full package rather than separately shopping for a stove that may or may not fit your tent.
The real question, however, is what do you need? Because at the end of the day, the best tent stove can set you up for a magical experience only if it fits your needs. Otherwise, it will set you up for misery. Read on to learn how to avoid just that!
Do you want your tent stove to keep you warm? Or, instead, you're after an easy way to cook? How would you like to enjoy both options in a single collapsible wood stove? Or how about a tent with a fireplace?
You can have any of it, for sure. But pay attention to the design features, size and weight included. Consider its uses, what's it made of, what kind of fuel it needs, and what type of jack and pipe it works with.
Some manufacturers will only sell you the tent stove, letting you figure out the auxiliary parts like the tent stove jack or the pipe. As you can imagine, the more accessories your stove comes with, a better choice it would make.
Now, without further ado, let's discuss some general features you should consider when researching for the best tent stove.
Parts
As mentioned, not any portable wood stove on the market will come ready to use. In some instances, you'll need to separately purchase the parts that allow the fumes to exhaust. Something like a chimney, which will get really hot, and you can't expect to simply pierce your tent's wall with it. These two essential parts are known as tent stove jack and pipe.
Tent Stove Jack
The tent stove jack allows you to extend the stove pipe through the tent's wall or roof. It is made of fire-retardant material. And depending on the type of tent stove jack kit you purchase, you might have to sew it into the wall or glue it. Either way, it must fit the diameter of the pipe.
Tent Stove Pipe
Wood stoves produce a lot of smoke and gases. The tent stove pipe, commonly sized at 5 or 6 inches, will spare you from dealing with any of it inside your tent. Suffices to attach the pipe to your collapsible wood stove and to the tent stove jack. And it will take all the smoke out.
Materials
The hot tent stove material dictates how fast your stove will get hot and how long it will stay like that. It will make the stove more durable. And it will impact its weight and portability. While stainless steel is the norm, you might find a couple of tent stoves made of cast iron or titanium. The latter will make a superior choice.
Titanium Tent Stove
A camping tent with stove made of titanium is considered premium. Both stronger and lighter than steel, titanium has outstanding heat transfer properties. Its lifespan is considerably higher since titanium won't rust if you take good care of it. So, you're going to enjoy your titanium made portable tent stove for years to come.
Fuel
When you think about the best tent stove, what needs do you specifically have in mind? If you're looking for a hot tent experience, you will want a wood-burning stove, for maximum heat output. If you're mostly expecting to have a compact stove to cook at, propane stoves might be a better choice.
Camping Wood Stove
Wood burning tent stoves can be portable and collapsible. You'll also find heavy stoves, the ones that make you feel like having a tent with fireplace. But those will most likely be less portable and more challenging to carry around. When shopping for it, pay attention at how large is the firebox is and what system it has for removing the ash.
Propane Stove
When it comes to gas-powered camping tent stoves, propane is considered the more practical option. As opposed to butane, it generates more heat. Like mentioned, a propane stove will most likely be used for cooking only. From this perspective, you will want to also consider a stove's power, portability, cooking, and cleaning capacity.
Uses
There are many tents out there serving for a lot more than camping. Just the same, there are also many tent stoves with different uses. Feel free to ponder the options and consider whether it will serve you better a military tent stove, a more compact stove suitable for backpacking, or a hunting style tent stove. What are the differences, you wonder?
Military
A military tent stove is usually designed as a metal barrel with a pipe. While you might find models with the stove placed horizontally, more often than not, it will sit upright, featuring a long pipe at its upper side. Made of stainless steel or cast iron, it's a simple and practical choice. You can use it to burn wood. And it comes with a generous burning capacity.
Backpacking
A backpacking tent stove, just like the name suggests, is smaller and compact. It can come in all forms and sizes, but what matters most is its portability. Because of that, it will be designed as a collapsible wood stove, with folding legs. Options are more varied in this category, so you should also find propane or butane powered portable tent stoves.
Hunting
A hunting tent stove can resemble, in many ways, to a military model. Because hunters usually set up large canvas tents, they also use large wall tent stoves. Stainless steel, square rather than cylinder-shaped, ready to handle large logs, this is the profile of a hunting tent stove.
Size & Weight
From small and lightweight to large and heavy, tent stoves do come in all sizes. Just because a particular model is heavier, doesn't mean it cannot be portable or collapsible or feature some kind of adjustable options!
Get ready to review products between 2 lbs and over 400 lbs, sized from 5 x 5 x 8 inches to 40 x 30 x 40 inches! But for the sake of full portability, let's take a look at those on the lightweight side.
Small Tent Stove
The size of a tent stove is also given by its utility. Stoves projected for cooking only will obviously be smaller and more compact. You can actually expect them to have a low profile, though a larger base, to fit a pan. They can be longer and wider rather than taller.
But some innovative manufacturers (like BioLite, for instance), will stand out with small tent stove designs built on vertical. As mentioned above, a small tent can be sized at under 10 inches on all sides.
Lightweight Tent Stove
A tent stove can be lighter or heavier depending, again, on its utility and operation mode. If it's a wood-burning tent stove, at 74 lbs it is considered light! If it's a gas-powered unit, you will find some stoves weighing around 10 lbs or as little as 2 lbs.
When thinking about a tent stove's weight, take into account whether you'll do backpacking or spend your time in one camping site where you get by car. Depending on this, you might have access to more options in the 50 to 70 lbs range and still consider them lightweight.

DACHEL – Outdoor Tent Wood Stove with Pipe
This tent wood stove from Danchel Outdoor features the design of heavy-duty stoves, but it weighs only 22 lbs. Sized at 15 x 15 x 18/88 inches, it comes with a 3.2-inch and a 2.7-inch chimney pipe. And you can pick it up and carry it in one hand. As a stainless-steel cube stove, it burns logs in the firebox and lets you use the upper side as a cooktop.
Portable, with folding legs and folding side racks, it makes an excellent choice for a wide range of outdoor activities. But family camping on a tent with stove jack is, perhaps, the best place to fit in this tent wood stove. Bonus points for the fire-resistant ceramic glass door! It doesn't just give a unique visual effect but also lets you see what's inside without having to keep opening the door.
Pros
Provides both heating & cooking options.
Sturdy construction with anti-rust protection.
Specifically designed for outdoor use.
Comes with accessories in the package.
Features a glass door, for tent with fireplace effect.
Cons
Pipe is a bit narrow.
Product falls on the pricey side.
Our Take

Winnerwell – Fastfold Titanium Tent Stove
Wouldn't you like an ultralight tent stove made of durable titanium at 4 lbs? If you do, Winnerwell's Fastfold wood tent stove could make an irresistible choice. Fully assembled, the stove measures 15 x 9 x 7 inches, with its firebox sized at 900 cubic inches. The chimney pipe has 3 inches in diameter and a 9-foot full length, rolling into a compact tube for storage.
Through it all, it's a small tent stove that will fit many different tents, though it is ideal for pyramid-style shelters. The fast-fold design lets you set it up in a jiffy, without requiring any hardware. And once you set the walls in place and use the clasps to secure it, you have an ultralight firepan that you can even shove in your backpack.
Pros
Durable and with excellent heat transfer efficiency.
Effortless design, easy to set up.
Extremely lightweight and compact.
Extra-long pipe that rolls down as needed.
No loose parts, convenient to assemble in any environment.
Cons
Won't heat very large tents.
Using its damper takes some learning curve.
Our Take

Camp Chef – Alpine Heavy Duty Cylinder Stove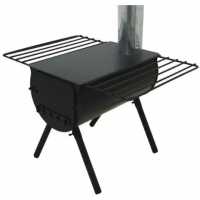 Camp Chef's Alpine cylinder stove is neither too large, nor too heavy. It has a decent heating capacity. And it was designed as a portable wood stove to cook on. It weighs 74 lbs and measures 24 x 20 x 22.5 inches. The package includes a five-inch pipe, accessory shelves and spark arrestor.
At the bottom of the stove there's a fire grate, to prevent its base from overheating. And it has removable legs for hassle-free storage and transport. The ton of practical and useful design details is making it an excellent option if you're looking for a camping tent with stove.
Pros
Full package with all the necessary parts included.
Light and compact, though heavy-duty construction.
Designed with practical, multi-purpose accessories.
Easy to transport and with adjustable setup options.
Provides great value for the money.
Cons
Requires an initial firing process to cure the paint.
Ash removal can be a bit of a hassle.
Our Take
Without a doubt, the winning product for the best tent stove category is the Camp Chef Alpine Heavy-Duty Cylinder Stove. It is very easy to assemble, provides good value for the money, and it is sturdy and durable. It is also highly versatile, as it will both heat your tent and cook your food.
While you clearly cannot consider it for backpack camping, it is excellent for weekend camping. In any campground where you can get with your car, this wood tent stove from Camp Chef will serve you well.
Here's a roundup of all the great features you'll be getting for the more than reasonable price you should pay for it:


Full package with everything you need to light up the fire in your tent.


Smart design that allows you to fit all of the pieces inside the burner, for easy transport.


Sits on a heavy-duty steel construction and still has a decent weight to be portable.


Removable and adjustable legs, for appropriate leveling on uneven ground.


Protects the base from overheating, with a bottom fire grate.


Generously sized cook top with large, flat cooking surface.


Allows drying clothes, dishes, or other accessories on side racks.


Allows mounting a standard wood stove water heater.


Large door damper for easy heat control while cooking.


Comes with drilled hole for pipe damper installation.


Comes with a wire spark arrestor.



Coleman – Portable Butane Stove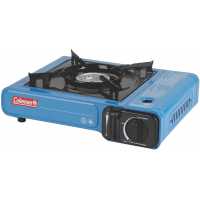 Coleman's portable butane stove weighs less than 5 lbs and measures 20 x 12 x 4 inches. It is an ultra-portable model that comes with a dedicated carry case in the box. It works with an 8.8 oz butane cylinder. And the low profile makes it easy to use on any outdoor tabletop.
The base itself is very stable, which will allow you to handle the pot and stir without worrying it won't stand the pressure. Whereas the mix of enameled steel from the exterior of the stove, along with the aluminum burner and porcelain coated grate make it both durable and easy to clean.
Pros
Ultra-portable design, lightweight, and with a large, stable base.
Runs off butane, with a very easy to hook canister.
Made of durable, rust-proof parts.
Turns on with a knob switch.
Easy to use and to clean.
Cons
The fuel can metal doorway feels a bit flimsy.
Butane won't work well in freezing temps or high altitude.
Our Take

BioLite – Wood Burning CampStove
BioLite's tiny stove truly is outstanding. It weighs only 2 lbs at 5 x 5 x 8,3 inches. At its core, it is a burn chamber sitting on foldable aluminum legs, with a honeycomb heat mesh. But it also features an on-board battery with smart LED dashboard. And a scalloped pot-stand at its top, for cookware.
You burn wood inside of it, and the BioLite patented technology converts heat into electricity. With that electricity, it serves a USB charging port and a fan that injects air into the burning chamber to boost combustion. It lets you control the fan speeds, which makes the flames almost smokeless. Thanks to it, you'll be breathing cleaner air and cooking much faster.
Pros
Super small, lightweight, compact & portable.
Multiple functionalities, USB charging included.
Burns wood with a clean, almost smokeless flame.
Comes with accessories in the package.
It is easy to use and to clean.
Cons
Limited spread of radiant heat.
A bit on the pricey side.
Our Take