9 Best Camping Cot
The fun and comfort in camping depend on how you approach and prepare for the adventure. If you prefer a more holistic approach towards "getting off the grid," then a sleeping bag or a hammock could offer that atmosphere you're yearning. But, if you're aiming for a much relaxed and laid back setup -- car camping or campgrounds, for example -- then these camping cots are a worthwhile investment.
Camping cots are made to provide campers with that extra sleeping support and comfort. You can easily set them up, whether inside or outside your tent, depending on the activities you've planned to do with it.
On this page, we've reviewed the top-recommended camping cots for your next backcountry adventure. We've highlighted features and practicalities that could help you get through that buying dilemma.

Alpcour Folding Camping Cot
This deluxe camping cot gives unparalleled comfort and support for both adults and children. If you have this, there is no need for a mattress pad, sheets, and hard to pack pillows. It weighs just 13 lbs. and comes with a sturdy nylon carry bag. This cot is easy to store and carry. It can support up to 300 lbs. of weight. The soft, breathable material is made of a double layer 600D Polyester. Its durable steel tube frame and joints are easy to fold. The inclination of the cot is gentle to your back and neck. The product has built-in extras such as a Large Organizer pocket for storing your cell phone and a matching pillow for head support.
Pros
Excellent construction
Has side pockets
Folds easily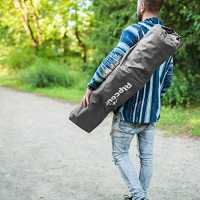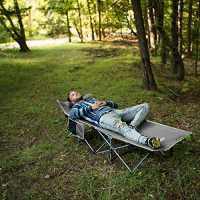 Our Take
This camping cot is easy to setup. It can also be conveniently taken in and out of the bag without any hassle. That is because the bag is big enough to leave some space for movement inside. The construction of this product provides good stability. Unlike other cots that have the tendency to fall, this one is well-balanced and pretty sturdy.

There is no metal bar across the area where the body lies. That makes your sleep very comfortable, regardless of your weight. Even at around 250 lbs., you are guaranteed to have an amazing rest. The pillows add comfort, but they are not very firm. You can easily swap them with your preferred ones if you are not comfortable. The side pockets help a lot because you can keep your valuables near you without the risk of falling.

However, this cot is not lightweight. It is ideal for car camping or campsite camping. The comfort it gives justifies the weight, but it is not suitable for backpacking.
$69.95


REDCAMP Folding Camping Cots
This improved version of the REDCAMP Folding Camping Cot has thicker elliptical shape tubes on the cot legs that offer better stability and carrying capacity. It can support up to 500 lbs. This is ideal for tall and heavy individuals who have a hard time looking for heavy-duty cots. The dimensions of this cot when wide open is 75"x28"x15", one inch longer than before. Weighing just 17 lbs., this is easy to bring and store. With its no assembly requires feature, it takes 10 seconds to set this up. A one-year limited warranty covers this product.
Pros
Easy to fold
Comfortable to sleep on
Comes in different sizes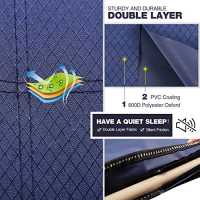 Our Take
This cot is very sturdy as it is made out of thick canvas material. Because it is wide, you will have a lot of room to lay down on your back. If you have an average size, you can even move around as you will have enough space to do so.

I like this camping cot because you do not feel any rods protruding through the fabric, making it a comfortable product to sleep on. It has a gradual incline that enables a sleek headrest. This way, it does not cause any discomfort when you sleep on your side. It is also a long mattress, so even taller people can get the same comfort.

This is an amazing product. My only suggestion is, you need to find the right size that can cater to your needs. The features are great enough to give you comfort as long as you take the right size.
$79.99


Coleman ComfortSmart Cot
This Coleman ComfortSmart Cot features a thick foam that offers superior support. The durable steel frame is built to last. This camping cot can support anyone that weighs up to 300 lbs. and 6 ft. and 6 in. tall. It has dimensions of 69 x 25 x 15 in. Bringing this anywhere is not a problem as it is foldable and first inside most cart trunks. Coleman offers a one-year limited warranty for this product.
Pros
Extra comfortable
Comes in different sizes
Sturdy
Cons
Not as foldable as other models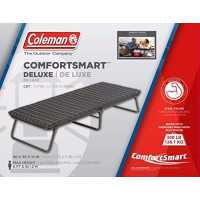 Our Take
This Coleman ComfortSmart Cot comes with a pad on top that makes sleeping extra comfortable. The canvas portion underneath gives a lot of support, making the whole combo feel like an actual bed.

Moreover, this model comes in different sizes. If you are on the bigger side and you struggle with looking for cots that can support your body, this cot is for you. It can carry up to 300 lbs. and can accommodate heights beyond 6'2". The width is also wide enough to give you space for minor movements. Its strength is reliable. You will not have to worry about it holding up the entire night.
When it comes to portability, this cot is lightweight and can fit in the trunk of most cars.

However, it is not as foldable as other models. This will do well for car camping. The comfort it gives makes it highly recommendable.
$76.99


BYER OF MAINE Easy Cot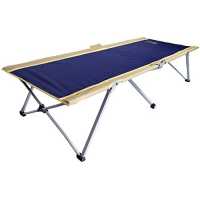 This camping cot is incredibly strong and accommodating for big and tall individuals. With the dimensions of 78"x31"x18" and a carrying capacity of 330 lbs., you will never have to sleep on the ground again. It is made with 600 Denier polyester fabric and a strong welded steel frame, making it a heavy-duty product. No end rails are in place so that tall users will remain comfortable. It is easy to set up and fold down even for beginners. A carry bag with shoulder straps comes with the package for easy transportation.
Pros
Portable
Collapsible
Comfortable
Accommodates most sizes
Our Take
This camping cot offers a great deal for campers. Firstly, it is big enough to accommodate most people. Even if you are beyond 6 ft. tall and more than 200 lbs., this cot will still be able to accommodate you. To optimize the comfort this brings, you can use a pad on top of it. Although, you will still be able to have good rest even without one because the canvas material is of high quality. It still gives ample comfort to put you to sleep.

It is also remarkable that there is no steel bar that travels across the canvas, making the cot comfortable in any position. Regardless of your weight and height, you will feel the same comfort as no metal will touch your body. It is designed not to have any end rails so there will be no protruding edges.

I like this camping cot because it is collapsible and folds into a bag just like another camping chair. This makes portability a benefit, not an issue. This is suitable for any kind of camper.

$89.95


TETON Sports Outfitter XXL Camping Cot
The Outfitter XXL Camp Cot by TETON Sports offers a quick and easy setup. It has a pivot arm that is easy to handle to make the process convenient. The all-steel S-leg design offers optimum strength. Its innovative rubber bushings are designed to absorb shock and add firm support. For a comfortable sleep, the oxford cot top pulls the fabric tightly into place. This cot is longer and wider than a twin bed, making it ideal for resting and sleeping well. It can support up to 600 pounds easily while just weighing 26 pounds. The whole thing folds up for easy storage and transport.
Pros
Easy to setup
Very wide
Built for big people
Sturdy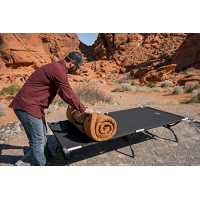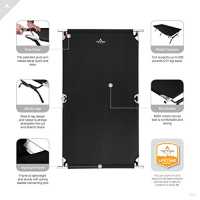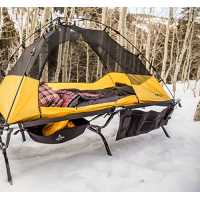 Our Take
Firstly, this XXL camping cot is very easy to put up. The pivot arm that is has contributes a lot to this. You almost would not expect it could be this easy because of how wide it is. Since it is very well made, the cot folds up easily and fits inside its carrying bag effortlessly. It sits 19 inches off the ground, so you will not have any problem getting up. Indeed, it is larger than a twin-sized bed. This is not just a camping cot, but it can also act as an extra bed for your guests at home. Two children can sleep on it comfortably.

It is designed for big people, making it a reliable thing to sleep on. It takes away your concerns because as soon as you lie on it, you will feel how sturdy it is. Overall, it is a good product for camping. It is wide, so you will need a wider tent. However, the comfort it gives makes the space consumption worth it.
$139.16


Coleman Camping Cot with Side Table
This Coleman Pack-Away Camping Cot takes camping to a whole new level. It features a removable side table that makes drinks, lanterns, and other essentials one reach away. The roomy design fits campers up to 6 ft. 6 in. It has the dimensions of 80 x 44 x 17 inches to give more room for movement. Its mighty steel frame supports up to 300 lb. a carry bag is included for secure storage. A one-year limited warranty covers the product.
Pros
Has a side table
Packs easily
Good size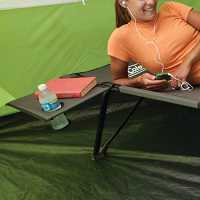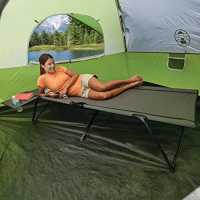 Our Take
This camping cot has a perfect size. It is 80" long and sits 17" off the ground. With this, you can sit on it without having to go too low that you struggle with standing up. It is also sturdy enough to hold 300 lbs.
A remarkable feature that makes this cot easy to work with is the crossed metal legs. They fold out and fold in easily, making packing convenient. On top of that, the folded version fits into the case effortlessly. This saves up time and effort.

What sets this cot apart from everything else on this list is the side table that it comes with. You can place your sleeping necessities here and other equipment. Putting your valuables beside you without them falling is also beneficial. For 20 lbs., this cot is even lighter than most models, yet it gives you a sleeping area and a small table. You have to try it out.

$59.99


TETON Sports Universal Camp Cot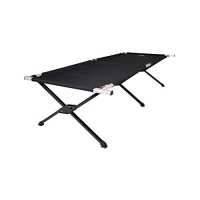 The TETON Sports Camp Cot offers a quick and easy setup. It has a pivot arm that is easy to handle to make the process convenient. The X-leg assembly made of reinforced steel offers strength and stability. Each frame connects easily with attaching pins that perfectly fit other parts without hassle. This cot is longer than a twin mattress and can support up to 400 pounds easily while just weighing 24 pounds. It is easy to fold and store inside its sturdy carry bag that comes with the package.
Pros
Easy to assemble/disassemble
Comfortable
Comes with a carrying case
Portable
Cons
Bolts will eventually need adjustments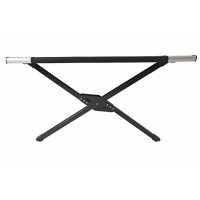 Our Take
Just like its bigger models, this camping cot is effortless to assemble and disassemble. The main body just folds up into itself and all that is needed for assembly is to insert the cross-braces at the head and foot of the cot. Even beginners will not a hard time with this one. When it comes to packing, it slides smoothly into its carrying case. This case is made of thick canvas and comes with a durable shoulder strap for easy transportation.

This is designed for people who have an average body size. It works best with a pad on top, but on certain instances like camping for a night, it will do fine by itself. The mat is tight enough to give your back a great amount of support without sagging. There is also no metal in the middle that interferes with your body when you are lying down.

In the long run, the bolts may need readjusting. It is a low maintenance repair, and it will help extend the useful life of the cot. It is a great option for its price.
$116.38


Disc-O-Bed Youth Kid-O-Bunk with Organizers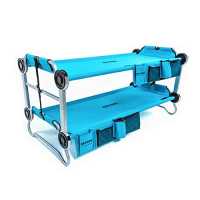 This Youth Kid-O-Bunk by Disc-O-Bed has a robust, anti-rust steel frame that can take on uneven ground without any hassle. It has a carrying capacity of 200 lbs. each. The patented Kid-O-Bunk is designed to have no third leg or center beam. Instead, a high-grade 600D Polyester is used to cater to your body shape for better comfort resulting in the best sleep. Its mat is water-resistant and makes cleaning simple. This cot comes with two matching side organizers that are easily attachable to each deck. It can store your personal belongings, including a water bottle, flashlight, keys, and other necessities.
Pros
Versatile
Attractive to kids
Easy to setup
Convenient carrying case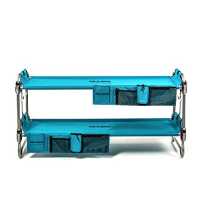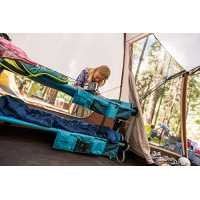 Our Take
This cot is well thought of and made especially for children. Firstly, they come in exciting youthful colors that attract children. Most parents say that it makes children excited to sleep. That gives this product bonus points.

On the technical side, this product makes everything easy. The travel bag it comes with has a compartment for each and every piece. Not only does that make everything organized, but it also makes it easy for parents to keep track if anything is missing. This makes the preparations and packing for camping easier. When it comes to setting up, everything comes together quickly. The instructions are not hard to follow, and you will master them after a few practices.

It fits a child on each deck comfortably, but it can accommodate up to three in total if they can fit. The side pouches are useful especially when the kids brought toys and stuff. It has a space for water bottles too. You can put a flashlight, a compass, and other camping necessities inside. More than all this, the product is also suitable for home use. It is easy to set up and pack away. Overall, its versatility makes it a good purchase.
$289.99


Kamp-Rite Oversize Kwik Cot
The Kamp-Rite Oversize Kwik Cot is an astounding camping partner spacious enough to allow plenty of movement due to its large bed size.

600D fabric is used for the bed canvas. The frame has a powder-coat finish that won't chip off easily.

The Kamp-Rite Oversize Kwik Cot is a folding cot that packs to a small size for easy storage.
Pouches on both sides allow the storage of valuables. Overall, this cot is a nice tool for spending a day or two outdoors.

Pros
Spacious
Great price
Sturdy
Easy to use
Our Take
The Kamp-Rite Oversize Kwik Cot is humongous, which is both a good and bad thing. Even those who have a medium-sized build enjoy the spacious bed, because there is ample space to sleep from the side.
We're impressed with the rigidity of the whole structure, as one of our 250-lb friends took a nap in it. The cot survived, with flying colors. The pouches were great for organizing small items.

Earlier on, we mentioned the cot's size being a bad thing as well. For small tents with low roofs, the cot either doesn't fit or eats too much space. Otherwise, this cot is perfect for use in large areas.