9 Best Camping Hammock
Hammocks have become one of the go-to hangout gear for most American campers. For some, it's ideal due to its ease, portability, and convenience, while others see it as a much affordable option compared to tents.
The popularity of hammocks is not merely justified because of its price point -- it's the adventure that comes with it, creating a whole new perspective when it comes to sleeping outdoors.
Through the years, hammocks had advanced as technology progressed -- adding features that solve problems commonly faced by campers. And, with the market becoming too saturated with products that may or may not serve you well, deciding what to purchase could be challenging. Hence, we're here to help you choose a hammock that's right for you -- tackling the essential factors you need for your outdoor adventures. Without further ado, here are our top picks for the Best Camping Hammocks this 2020.

Wise Owl Outfitters Hammock Camping
Garnering a 4.8 out 5 stars, the Wise Owl Outfitters Hammock is one of the highly recommended hammocks on the market. This hammock is made of 210T Parachute Nylon that creates a smooth yet durable foundation. It includes a tree strap and carabiners for quick and easy setup.

The Wise Owl Outfitters Hammock has two variations: the SingleOwl (1-person) and the DoubleOwl (2-person). The SingleOwl measures 9ft long by 4 1/2 ft wide while the DoubleOwl measures 10ft long by 6 and 1/2 ft wide. This hammock is very lightweight and compact for easy transport, weighing 16 ounces and 26 ounces, respectively.
Pros
Soft and Durable material
Satisfaction Guarantee
Lightweight
Extra Line for Adjustment
Quick Setup
Cons
Straps are not pre-knotted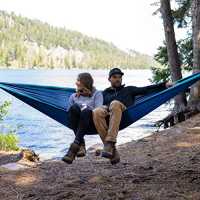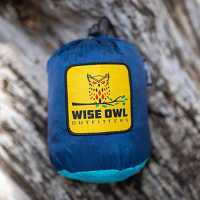 Our Take
The Wise Owl Outfitters Hammock is a joy in every outdoor adventure. It's comfortable, lightweight, and durable -- allowing you to seize the moment outdoors.

This hammock ticks all of the boxes when it comes to being an ideal hammock for camping. It has a great size to accommodate up to two-person and includes all the gears you need to keep your day and night dry and comfortable. These gears are made of high-quality materials that are on par with the big brands available in the market today.

One of the best selling points of this product is the availability of straps. These straps are of 9ft long, and, if in case that's not long enough, it comes with five separate loops in which you can use to adjust. There's no need to buy an additional line to set up your hammock on where you want it to be.

Lastly, the price point of this hammock is very competitive. It's not too pricey for such added support. You're getting top-quality materials that ensure comfort and safety, all at a very affordable price. No wonder this product is Amazon's Top 2 for Outdoor Hammock category.
$28.95


HONEST OUTFITTERS Double Camping Hammock
This double camping hammock from Honest Outfitters is perfect for backpackers who wish to travel light yet comfortable. The foundation of this hammock is made of 210T nylon that could support up to 500 pounds. The package includes a double-sized camping hammock with 118L X 78W inches of space, two 10-feet long straps, and two solid steel carabines.
Pros
Budget-friendly
Package includes straps
Lightweight
Durable
Cons
No extra straps for adjustment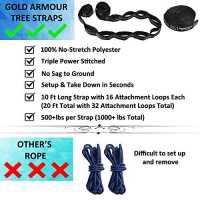 Our Take
If there's one thing noteworthy about the Honest Outfitters Double Camping Hammock, it's the price. For $25.49, you're getting top-tier material that can compete against the likes of ENO, Fox Outfitters, and much more. The support this hammock offers is undeniably one of the best when it comes to the outdoor hammock market. It's smooth and durable due to its 210T Parachute Nylon fabric, which can also support up to 500 pounds of weight. The quick and easy set up also makes this hammock the ideal go-to accessory for camping. The straps work perfectly well, making every moment stress-free. This hammock is, indeed, one of the best in the market today.
$31.99


Gold Armour Camping Hammock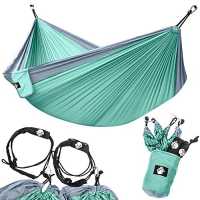 If you're looking for more space and strength, then this Gold Armour Camping Hammock will serve you best. This hammock measures 125 x 79 inches in width and could fit up to two people without the feeling of overcrowding.

The Gold Armour Camping Hammock features one of the most advance straps in the market. The hammock's strap design guarantees a breaking strength of 1000 pounds. Each strap is built with 16 attachment loops to provide much more robust support. Plus, the foundation is made of 210T Parachute Nylon fabric and No-Stretch Heavy Duty Triple Stitched Seams to add to the hammock's overall strength. This hammock is also ultralight and compact, sewn conveniently into the hammock for fast folding and unfolding.
Pros
Aftersales Support
Durable
Heavy-Duty Straps
Affordable
Cons
The package-size might be too large for first-time campers.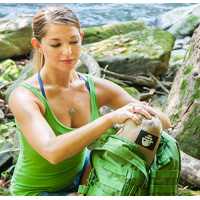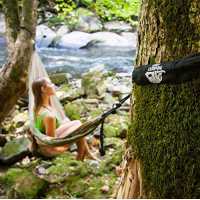 Our Take
"The best hammock for a very affordable price." The Gold Armour Camping is thin, yet durable. It's lightweight and very convenient to set up, making transport from one location to the other a breeze. We couldn't ask for anything much better; this hammock tick all the boxes we're looking for an outdoor hammock.

It's spacious, and I could stretch while lying down comfortably. Often, I do get that feeling of falling since I'm sleeping on an elevated surface. The Gold Armour Camping Hammock took that worries away, keeping me safe and secure while I take a rest. The heavy-duty straps and carabiners add to that feeling of security. It's powerful, to the extent winds don't face the foundation. This hammock is, indeed, a 5-star rating.
$29.97


Double Hammock by Legit Camping
Whether you're camping out in the wilderness or partying at Coachella, this Double Hammock by Legit Camping is the perfect outdoor partner you'll need. It's made of military-grade 210T Nylon fabric for smooth and durable texture, with up to 400 pounds of support. This hammock is very convenient to pack, and it's lightweight, giving you the mobility to move from one location to the other.

Durability is never a question -- this hammock could last you a lifetime. Not only that, it focuses on longevity, but Legit Camping also ensures that its hammock could withstand the rigors of windy days, rainy nights, and the wear and tear the outdoor environments bring.
Pros
Lightweight
Durable
Budget-friendly
Longevity
Complete Package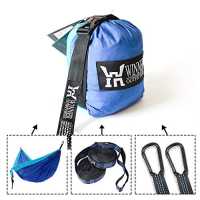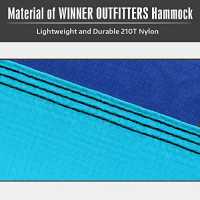 Our Take
Legit Camping Double Hammock has become a household brand for families and millennials that enjoy the wonders of the outdoors. This hammock serves all demographic -- tall or short, thin or plus-size, young or old -- giving a complete set of support that focuses on comfort and strength.

We've used this hammock for various occasions -- including cross country road trips, bonfires, or music festivals. All we can say is it serves its purpose very well, providing the comfort we need at a very affordable price.
$23.99


Winner Outfitters Double Camping Hammock
Winner Outfitters is another brand that focuses on portability. This Double Hammock enables backpackers, hikers, campers, and outdoor enthusiasts to move and relax anywhere without any heavy loads.

The Winner Outfitters is a competitive manufacturer within the hammock niche. Its product introduces top-of-the-line features and materials, such as 210T Nylon Fabric, heavy-duty straps and carabiners, and lightweight packaging.
Pros
Lightweight
Portable
Durable
Cons
No extra loops for adjustment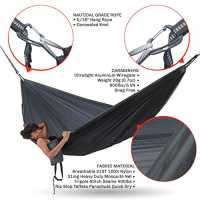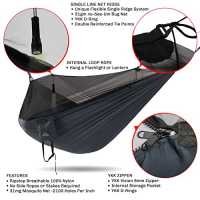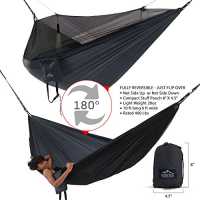 Our Take
What makes an excellent hammock is its ability to allow you to move freely without feeling unease. It should be lightweight, compact, and easy to set up for you to enjoy every moment you'll encounter outdoors. And, the Winner Outfitters Double Hammock does that entirely. Simply, unfold your hammock at your desired location and attach the straps and carabiners, and you're good to go. And, if you're off to your next adventure, do the reverse and explore -- easy peasy!

On a personal note, what I admire the most is the material. You can feel the strength and durability of this product. There's that feeling of security just by touching the fabrics, gears, and the overall look of the hammock. You'll know that it's good and could keep you safe and comfortable while you're facing the challenges of the outdoors.

Everest Double Camping Hammock with Mosquito Net
Everest is one of America's most popular outdoor brands. Everest Active Gear focuses on quality and practical setups that ensure comfort when exploring the outdoors. Its hammocks are made of 100% 210T Taffeta Parachute and quick-dry, diamond-weave fabric for durable yet breathable, lightweight, and high-tensile support. The package includes an integrated mosquito mesh that's compatible with most rainfly setups.
Pros
Integrated Mosquito Nets
Complete Set
Lightweight
Cons
No Storage Pockets
No tie out on the sides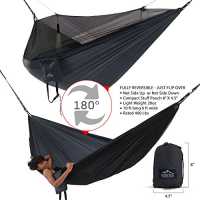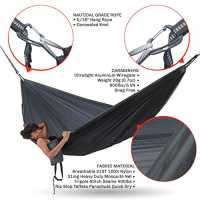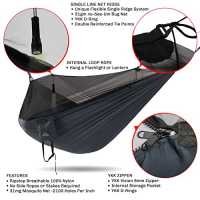 Our Take
The Everest Active Gear Double Camping Hammock has a unique set of design that ensures comfort for all shapes and sizes. Its 10ft X 6ft dimension could fit one to two-person without feeling claustrophobic while sleeping inside. And, since the material of the hammock is highly durable, you can even bring your dogs with you. The YKK double-tap zip and triple-stitched edge seams also add a great deal of support system.

Another selling point for the Everest Active Gear is its complete, all-in-one package that appeals to outdoor enthusiasts. There's the quick and easy setup, complete with sturdy straps and gears for convenient installation. Further, it includes a top-quality No-See-Um mosquito net that's compatible with other rainfly for a bug-free and comfortable stay.

The Everest Active Gear Double Camping Hammock is one of Amazon's most recommended and highly-reviewed products. Since it's an all-in-one package, with an unmatched comfort system, we highly recommend you try this one out. And, it has a 30-day money-back guarantee if you're not happy with it -- a win-win purchase!

MalloMe Camping Hammock
MalloMe is a relatively new company that creates affordable family products for outdoor use. Since their core focuses on family-oriented products, most of its outdoor gears -- such as hammocks -- are best used with a companion.

The MalloMe Camping Hammock is one of the most comfortable hammocks available in the market today. It has an extra-large dimension of 320 x 200 cm (126 x 79 in) that could comfortably fit two persons. Similar to manufacturers that centers on outdoor enthusiasts, this hammock is ultralight and compact. The stuff suck is conveniently sewn right into the hammock for quick installation and dismantling.

This luxurious double camping hammock from MalloMe offers one of the most robust foundations in the outdoor hammock market. Its unique strap design sports a whopping 1000 lbs. of breaking strength and its premium 210T Nylon fabric material adds an extra layer of support.
Pros
Great Dimension
Durable Materials
Impeccable Breaking Strength
Affordable
Cons
Getting in and out is a little bit challenging
No bug protection
Not ideal for one person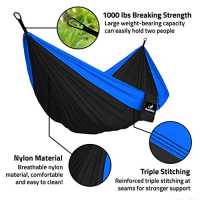 Our Take
The MalloMe Camping Hammock is perfect for outdoor enthusiasts who prefer exploring with a partner. There are a handful of products that says it could fit two people inside, but nothing comes close to the comfort MalloMe offers.

MalloMe's selling point is the luxury of space in its hammock. The dimension alone could convince many outdoor enthusiasts. Not only it offers unparalleled comfort, but MalloMe also ensured that the foundation of the hammock matches the requirement everyone looks for: durable and comfortable.

Although the color variation might be a little offputting, especially for men, there's a great sense of value even at first glance. The package includes all the things you need to set up the hammock: straps, carabiners, and ropes. Overall, the hammock is very lightweight and is perfect for any kind of adventure.
$18.99


ERUW Camping Hammock with Mosquito Net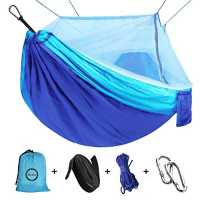 The ERUW Camping Hammock with Mosquito Net is parachute-grade nylon fabric that is both lightweight and durable, making it ideal for backpacking and other kinds of outdoor adventure. Although it may be ultralight, this hammock is strong enough to withstand up to 440 lbs. It's an all-in-one package -- including ropes, straps, carabiners, and a pouch.
Pros
Attached Mosquito Net (Removable)
Lightweight
Quick and Easy Installation
Affordable
Cons
Prone to tearing
Netting may touch your face or skin
Our Take
The ERUW Camping Hammock offers a satisfying blend of comfort and sturdy foundation. Whether you're camping indoors or in an unpredictable location, this hammock has all the support you need.

ERUW Camping Hammock provides a comfortable and breathable place to relax after a long day of hiking. Its high-quality fabric enforces a smooth sleeping surface while the attached mosquito net -- which you can remove if you want -- ensure a bug-free sleep.

It has strong, durable hooks and straps to well-secure the hammock. However, for safety, make sure that the straps are strung around the shunt of a strong tree over a flat surface and should sit no more than 3 feet from the ground.
$26.79


Kootek Camping Hammock
The Kootek Camping Hammock is a decent option if your primary concern is the price. Although it appeals as a budget-friendly option, it possesses all the goodies seen on expensive brands. It's made of 210T Parachute fabric material with anti-fraying, anti-tearing, and dirt resistance. All of the materials used in the Kootek Camping Hammock are ultralight, which makes it perfect for hiking and backpacking. The package includes 10 feet long straps with 18+1 loop that are tree-friendly and easy locking carabiners for quick adjustment and comfort.
Pros
Budget-friendly
Lightweight
Adjustable Straps
Quality Materials
Quick Drying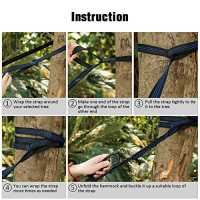 Our Take
The Kootek Camping Hammock is a great way to enjoy the outdoors without breaking the bank. This hammock focuses on simplicity, comfort, and adjustable webbing suspension straps that you commonly see on top camping brands.

Regarding its dimension, it provides a much spacious interior compared to other expensive brands. The material used in the hammock are of excellent quality and feels expensive. One to two persons could conveniently fit in the hammock without feeling cramped.

The adjustable straps also add to the convenience the Kotek Hammock offers. Often, we can't foresee the conditions of the outdoors, especially if it's our first time exploring the area. And, setting up your hammock on places where trees are situated at far extremities, an adjustable strap could come in handy.

Kotek Camping Hammock is the perfect choice if you're looking for quality without spending too much.
$21.99