10 Best Camping Pillow
After a long day of hiking, a good night's rest is exactly what you need to prepare for another day in the backcountry.
That won't happen if you don't have a comfortable pillow, and you probably won't be carrying the one from your bed through the woods. So, a camping pillow that's easy to transport and still a dream to lay on is a must.
Let's look at the best backpacking pillow, starting with what you should consider when making your choice.
When you're selecting your backpacking equipment, you want the convenience of gear that's easy to pack and lightweight enough to carry. When it comes to the best camping pillow, you also want comfort.
Types
Camping pillows come in different types, so you'll want to consider what's best for you.
An inflatable pillow for camping is usually the lightest in weight, and it holds its shape well because it's firm when inflated. The best inflatable pillow will also provide good height and support for those who sleep on their side, but some find them wobbly because they are filled with air. Some people also find them too firm.
A compressible pillow is made of materials that can compress and expand, such as memory foam or shredded foam. Some even like a down camping pillow, as long as allergies aren't a concern. They will take up more space than a blow up camping pillow.
A hybrid of the two combines an inflatable pillow with a layer of foam or other insulation on top. That makes them heavier than an inflatable pillow but can also be more comfortable.
Finally, a stuff sack is simply a pillow cover that uses a jacket or other type of soft clothing, stuffed inside, to create a portable pillow.
You can also find some sleeping bags with pillows attached, which can be convenient if you haven't yet chosen your sleeping gear.
Weight
Pillows are usually fairly light, but when it comes to choosing a packable pillow, you may even want to opt for an ultralight pillow. Those could weigh as little as 1 ounce. Either way, check the weight to ensure you choose a light backpacking pillow.
It's also important to ensure you're comfortable, so it might be wise to carry a little extra weight to ensure you get a good night's sleep. For instance, a stuff sack pillow may be very light, but if you need to wear your clothes at night, or air them out instead of stuffing them in the pillow, you won't have a pillow!
Compression
A similar consideration to weight is the ability to compress the pillow to pack it. If your backpacking pillows have to fit into a small pack and be carried long distances, you'll want one that compresses to a small size. If your pillows for camping will be used exclusively for car camping, you can choose one that isn't quite as small when compressed. But you'll probably still want a quality smaller pillow, as you have to get from the car to the campsite, and you don't want to camp with your home pillow and risk it getting wet or dirty.
Washability
The best camping pillows will be somewhat resistant to water and dirt, but there's still a good chance that your pillow will get dirty when you're living in the woods. So the ability to wash your pillow may be an important consideration for you.
Some have a camping pillow case that can be removed and washed. Depending on the material, some entire pillows can be washed. Memory foam, foam chips and down can probably all be washed, but require special care. Plastic, inflatable air pillows for camping can simply be wiped clean.
Temperature
If you hike in the backcountry during cool weather, you may want to choose a hiking pillow that insulates your head and face from the cold. An inflatable pillow, for instance, may allow the coldness from the ground below to penetrate through the pillow and transfer to your face. Adding a barrier of insulation like a camping pillow case, or choosing a hybrid pillow that comes with a bit of insulation, would be a better choice than a plastic-covered inflatable.
The same is true if you hike in hot weather. A plastic pillow could lead to a sweaty sleep, so adding a barrier that will wick away sweat and keep you cool is a good option.
Material
While the material of a backpack pillow is a factor in some of the other considerations, such as compression, washability and temperature, there are additional components of material that could impact your decision.
For instance, light sleepers may want to avoid the ultralight pillows that have a "crinkly" fabric exterior such as Dyneema or plastic. The noise made when you shift positions at night may wake you or your camping companions.
Similarly, some pillows slide out from under your head, which leads some to choose a sleeping bag with an attached pillow. Or, look for a pillow with tabs or zippers that be used to secure the pillow to your sleeping pad or sleeping bag. You could add two-sided tape to your pillow, or you could look for an inflatable one that allows you to adjust the inflation, allowing you to "squish it down" so it doesn't slide.

Rugged Camp Camping Pillow
The Rugged Camp Camping Pillow is an ergonomically designed inflatable pillow that is perfect for camping and other outdoor activities. This compressible pillow only weighs 2.75 ounces and inflates to a comfortable 16 x 12 x 4-inch sleeping pillow. It provides sufficient neck and head support without taking a lot of space in your luggage. It is also puncture-proof so you don't have to worry about it getting deflated when you sleep. The inflated pillow evens out your sleeping surface so you don't feel that rocks and debris on the ground that could affect your sleep. It is made of waterproof knitted cotton. Whether it's snow or rain, the reliable camping pillow can handle anything the outdoors has to throw at it.
Pros
Non-slip
Puncture proof
Ergonomic design
Inflatable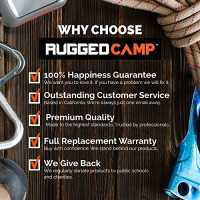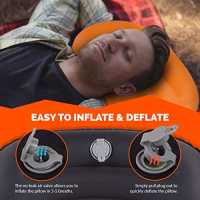 Our Take
Pillows are very important, especially when you are travelling long distances or while camping. Normal cotton pillows, however, are impractical to carry around because they are bulky. That is why it is really awesome that inflatable pillows like the Rugged Camp Camping Pillow are available for us to take to our weekend camping getaway.

This inflatable pillow is awesome. It is very durable and puncture-proof so you don't have to worry about it deflating while you sleep. When deflated, it fits in a tiny pouch which is smaller than your typical smartphone. And on top of that, it is non-slip so you don't have to worry that it will move around during your nap. All in all, this camping pillow is made with high-quality materials and comes with multiple colors. Highly recommended!
$15.99


Rest-A-Camp Inflatable Camping Travel Pillow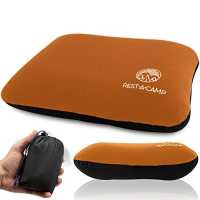 The Rest-A-Camp Inflatable Camping Travel Pillow is perfect for camping and frequent travelers. With only 4oz in weight and 5x3 in. (deflated) in size, this pillow is an outstanding portable camp pillow for backpackers to take anywhere. Sleep comfortably on a specious 15x12x4.5 in. (inflated) and fold it up when you wake up. It is made with high-quality TPU fabric guarantees and is fitted with a secure valve to prevent deflation and air leakage.
Pros
Has a cotton padding
Inflatable
Easy to inflate and pack
Cons
Some seams may start to leak air over time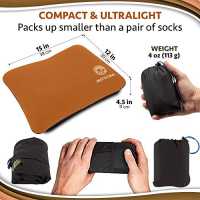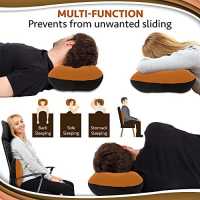 Our Take
If practicality and comfort are the golden standards of camping pillows, then the Rest-A-Camp Inflatable Camping Travel Pillow is probably one of the best. This inflatable pillow is very comfortable to sleep in thanks to the thin layer of cotton padding that makes it feel like a normal pillow. This small detail actually improves the quality of sleep because you will not be able to tell its difference with cotton pillows that you have at home. On top of that, the secure valves in this pillow are very durable and they don't go off even if a heavier person is using it. Also, it is very easy to inflate. It can be done with only two blows and that's really awesome. And the best part is how light and small it packs; perfect for your next camping trip. I highly recommend this product for anyone having doubts!

Wise Owl Outfitters Camping Pillow
The Wise Owl Outfitters Camping Pillow is a comfortable compressible pillow that has cushion support with a soft micro-suede cover that provides a truly supportive rest for the neck and the head. It is a 5-inch thick pillow that can be compressed down into a 9" x 6" stuff sack, 10 ½" x 6" in the medium size & 12" x 7" in the large size that fits easily into a backpack. The small size expands to 12 x 16 (9 oz.), the medium 14 x 18 (11 oz.) and the large 16 x 23 (13 oz). It is also machine washable and dryer friendly.
Pros
Has suede covering
Very comfortable
Very compact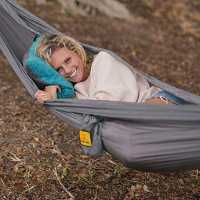 Our Take
Pillows are supposed to be soft and cuddly. That is why the Wise Owl Outfitters Camping Pillow is one of the best in the market. It is so soft and comfortable and using it feels like you are lying on a premium memory foam pillow. It has a micro-suede cover so it doesn't feel like your head is rested on plastic or rubber, which contributes to the total quality of your sleep. It is also very small when deflated so it's easy to carry around especially if you are camping, traveling, or hiking. With a little effort you can roll it up and put in the stuff sack it comes with. With a little extra effort, you can even roll it a bit smaller than the stuff sack. The most amazing thing about this pillow is that out of the stuff sack it blossoms into a soft, firm pillow that is SEVERAL inches thick. And that's the most important thing.
$16.95


TETON Sports Camp Pillow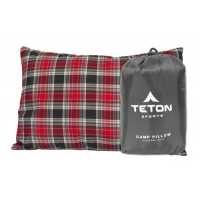 The TETON Sports Camp Pillow is a set of pillow and pillowcase that is completely compressible and washable, perfect for campers and frequent flyers. It provides an excellent support for both the head and the neck as it was designed ergonomically to fit the needs of adventurous people and outdoor enthusiasts. This pillow is not inflatable so there is no need for you to blow air before using it. All you need to do is to take it off its carrying pouch and it will bloom to a full-size pillow that you can use for a good night's sleep or a restful nap at the campsite. You can also wash the pillow and the pillowcase separately, making it easy to clean for maximum comfort and good hygiene.
Pros
Compressible and not inflatable
Pillow and pillowcase can be washed separately
Soft and fluffy
Cons
The compressed state is bigger than most in the list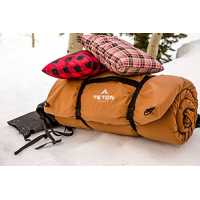 Our Take
This is an excellent pillow. What sets this one apart is that the pillow and the pillow can be separated from each other, allowing you to change the pillowcase without washing the entire thing altogether. The compressible nature of this camping is also beneficial. Since it is not inflatable, unlike most in this list, you will not have to worry about deflating it during your sleep. It also prevents rocks or other sharp objects from cutting through it and rendering it unusable.

In terms of size, the expanded pillow can grow up to the size of a double-sized bedroom pillow, which is perfect if you are the type of person who needs to have a right pillow during your sleep. The caveat, however, is that since it's quite big, compressing it will only make it slightly smaller. The compressed pillow is only shrunk to a medium-sized pouch that can't fit in most backpacks. Nonetheless, this is an incredible camping pillow, and despite its size, it has features that are better than others. Great buy!

Therm-a-Rest Compressible Travel Pillow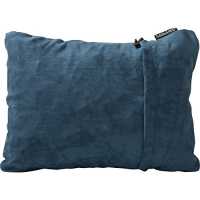 The Therm-a-Rest Compressible Travel Pillow is a soft and ultralight pillow filled with soft foam filling that packs down small, making it perfect for camping, road trips, or long airplane rides. This foam expands into a 4-inch thick pillow for head, neck, and back support in tents, cars, planes, and other tough-to-get-comfortable places. The uncompressed pillow is also very easy to pack and can fit most backpacks and bags. The cover is made with brushed polyester, which adds to the luxurious feel and comfort of the pillow. The pillow measures 16 x 23 x 4 inches (16 x 7 x 7 inches compressed) and weighs 12 ounces.
Pros
Compressible
Machine washable
Fluffy and made with a recyclable filling
Cons
Can sometimes be uneven in terms of thichkness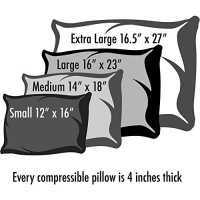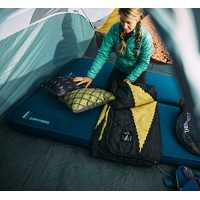 Our Take
The Therm-a-Rest Compressible Travel Pillow is a true travel essential. Ideal for anyone seeking sleep and comfort on-the-go, it offers all the support of home bedding in a small, convenient, and lightweight package for camping, plane travel, car trips, backpacking, trekking, and festivals. This pillow is easily compressible and very soft a well. In fact, it is made with entirely recyclable lofty urethane filling, which adds a sense of luxury and utmost comfort when used. Washing this pillow is also very easy as it is safe to be washed in a machine, so you don't have to go to the trouble of handwashing it. The only issue this pillow may have is that the filling can sometimes lump in one area, and it's hard to even it out, making one side thicker than the other. Besides that, there's a lot that this pillow can offer, and you should go ahead and get one for yourself!
$22.46


TREKOLOGY Ultralight Inflating Travel/Camping Pillows
This is the most compact & lightweight inflatable camp pillow on the market – folds down to 5x2 inches, which is smaller than a typical soda can. It inflates into a very comfortable, ergonomically designed pillow that weighs 2.75oz (78g), making it a perfect camping companion. The TREKOLOGY Ultralight Inflating Travel/Camping Pillows has an improved ergonomic design with enhanced neck and back support and can inflate up to s 16 x 12 x 4 inches, in a mere 3-5 breaths (approx.).
Pros
Ergonomic design that follows the natural shape of the neck
Very compact (can fit inside the packet)
Durable and high-quality
Cons
The pressure valve has some issues
Our Take
If you're having neck and backaches after your camping trips, the most probable reason is that your pillow is not ergonomically designed to prevent these body aches. So if you're looking for a pillow that could address that, you might want to check out the TREKOLOGY Ultralight Inflating Travel/Camping Pillows. This is the OG when it comes to a comfortable sleep. It is designed so that it follows the normal curvature of your neck and head, preventing muscle spasm and discomfort during and after sleep.

On top of that, this pillow is also very compact. In fact, when deflated, this pillow can shrink into a size and weight smaller than a typical soda can. Perfect for adventurous individuals who need spare space in their backpacks. It can even fit in one of your pockets! In general, this pillow is one of the most comfortable ones in the market. It is durable and it's not easy to puncture as it is made with high-quality materials. Highly recommended!
$15.99


Coop Home Goods Adjustable Travel and Camping Pillow
The Coop Home Goods Adjustable Travel and Camping Pillows are made of 40% Rayon and 60% Polyester, making it very fluffy and soft, similar to the usual pillows you have in your home. The only difference is that it is compressible into a small stuff sack that makes it easy to carry wherever you go. The water-resistant stuff sack allows you to compress the pillow to half its size to save space in your suitcase or backpack. This pillow is fully adjustable and packs all the comfort and durability of our full-sized pillow in a compact size so you can travel light and travel right. The manufacturers also offer a 100-day money-back guarantee!
Pros
Made of 40% Rayon and 60% Polyester
Compressible (not inflatable)
Feels like a normal bedroom pillow
Cons
The compressed pillow is bigger than other pillows in the list
More expensive than others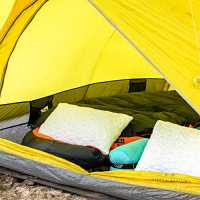 Our Take
The Coop Home Goods Adjustable Travel and Camping Pillows will remind you of the comfort of sleeping in your own bed, even if you are in a distant camping site inside a tent. That is the beauty of this one. It is made of durable and super fluff materials that make your sleep better as it doesn't feel any much different than bedroom pillows.

Carrying it is also not a hassle. It can be compressed into half of its size and rolled into a small stuff pack that makes it very easy to transport wherever you go. it is also very easy to do that and rolling it to feet the stuff pack doesn't require much effort. It is bigger than other compact travel and camping pillows in this lit, though. But despite that, this is a high-quality product with the incredible promise of comfort and durability. You should get yours.
$29.99


RikkiTikki Inflatable Camping Pillow
The RikkiTikki Inflatable Camping Pillow is a hiqh-quality and durable inflatable camping pillow that is made with durable elastic TPU fabric. It is also comprised of an internal pillow and a separate pillowcase for ease of cleaning and more comfort. The pillowcase is entirely made of soft cotton so it doesn't slide around under your head when you sleep at your sleeping pad. The small compressible bag is sewn into the pillowcase so you never lose it, too! It has a reliable valve, which doesn't let the air escape and it's easy to inflate with just three to four deep breaths. The size of the inflated pillow is 15 x 12 x 4.5 in and weighs approximately 4.5 oz.
Pros
Comes with a separate pillowcase
Can be deflated to fit into a small pouch
Comfortable and durable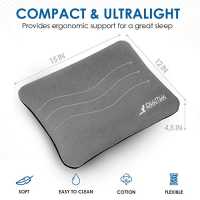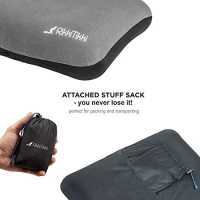 Our Take
Are you tired of having an inflatable pillow running around your head when you sleep because the material is a little slippery? If so, then this inflatable pillow is perfect for you. The RikkiTikki Inflatable Camping Pillow is definitely one of the best inflatable pillows in the market because it comes with a separate pillowcase that is attached to its stuff pouch that you can use to simulate the pillows you have at home. The fabric pillowcase also prevents your head from sliding while you sleep because it's not slippery. These features allow you to sleep comfortably and at peace.

In terms of quality, this pillow seems like it is very durable and high-quality. It has pressure valves that prevent the air from leaking out and allow you to adjust the thickness of the pillow. The pillowcase that it comes with is well made and serves as an additional layer of protection from puncture, preventing accidental deflation while you sleep. So if you are looking for a perfect inflatable pillow for your next camping trip, you should definitely check this one out!
$29.90


TETON Sports ComfortLite Self-Inflating Pillow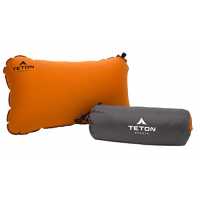 The TETON Sports ComfortLite Self-Inflating Pillow is a self-inflating travel and camping pillow that is very lightweight at only 12 ounces and can be packed into 13x3.5x3.5 inches (33x9x9 cm) to fit your travel luggage or camping bag easily. It is made with a microfiber top that is so smooth that your face won't feel any sort of irritation. It is also completely washable, and cleaning it simply requires a solid damp cloth wiping. Since it is a self-inflating pillow, no blowing or pumping needed to get it to its optimal state. It can be inflated just by twisting the valve and waiting as it automatically fills the entire pillow up with air until it reaches the right size of up to 18x10x4 inches (46x25x10 cm) in minutes.
Pros
Smooth and soft surface made with microfibers
Easy to clean
Self-inflatable
Cons
The stuff bag is bigger than other pillows in the list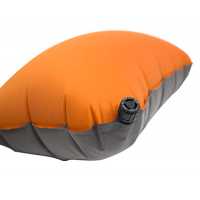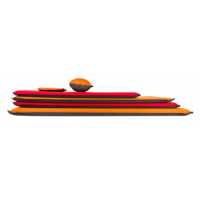 Our Take
Whether you admit it or not, pumping air into an inflatable pillow can be much of a hassle. That is why the TETON Sports ComfortLite Self-Inflating Pillow is a great alternative to them. This pillow is self-inflating so you don't need to physically exhaust yourself as you blow air inside the pillow before you can use it. By twist opening the valve, the pillow will automatically suck up the air until it fills your desired size and thickness. It's also adjustable as well!

Cleaning this is also very easy. It usually is a problem for campers as cleaning inflatables can sometimes be hard especially if they are not machine wash compatible. But no need for that. You can simply wipe this pillow off with a damp cloth or a wet tissue and you have a clean and hygienic pillow again. The top covering, where you lie your head unto, is also lined with super smooth microfabric so it's very comfortable and non-irritating. Overall, this is a highly recommended pillow, especially for campers who are always on the go!
$19.34


Klymit Luxe Pillow
The Klymit Luxe Pillow is a one-of-a-kind travel pillow that combines air with the cushioning of polyester fills to give you absolute comfort and durability during your camping trips. It is designed in such a way that it cradles your head for supportive and stable sleeping combined with a soft outer material that simulates a padded cushion for maximum sleeping comfort. When inflated, this pillow is almost as big as your bedroom pillows, but it only weighs 6.2 ounces and packs surprisingly small (3" x 7") for something so luxurious. It inflates in just 3-5 breaths and comes with a stuff sack and a lifetime warranty.
Pros
Has hybrid cushioning (air + polyester fill)
Comfortable
Seams are durable
Cons
Kinda big even when deflated
Our Take
For a luxurious sleeping in your camping trips, you need to check out the Klymit Luxe Pillow. Not only that, it is inflatable with air, making it very fluffy, it also comes with polyester fill that serves as a support in case the pillow accidentally deflates as you sleep. You don't have to worry about it collapsing because even if it gets punctured and the air leaks out, it still has enough cushioning to guarantee a good night's sleep.

This pillow is very comfortable. It has a smooth outer material and durable seams, so you don't have to worry about leaking air through them. It is also a considerable pillow when inflated, so it's perfect for campers who always crave for the comfort of their bed while out in the woods. In conclusion, this pillow is something you should try to believe. It's totally worth it, and it's highly commendable!
$24.99