6 Best 5 Person Tent
Camping is meant to be a joyful experience. One that you will want to share with others. Unless you're an avid solo mountaineer, group camping is something you want to try. Either with your small family or with a group of friends. And that's where the fun begins, as you encounter the challenge of picking up the best 5 person tent!
Why a 5 people tent, you wonder? Just so it happens, a 5 person camping tent is a versatile choice. It can host small families of two to four persons, and provide some extra room for the gear. Two couples can also share it comfortably, especially if it comes with a two-room design. But any group of two adults and up to three children will get comfy inside of a five person tent.
These tents offer generous floor areas. They are usually built with a tall profile. And they come with the welcomed perk of a large awning. This means you can use it to set up a small shelter where you can enjoy your family meals. So, if you pick the right model, you can stop stressing about not having a porch tent. Because you won't be needing one!
By now, you should be more than curious about this option. As always, we've put together a comprehensive guide on picking the best 5 person tent you can find. As you can expect, not all the products carrying this label will give you the maximum benefits.
So, let us show you what to look for. Also, we'll be giving you specific examples of 5 people tent that bring great value. Everything you need to make an informed choice. Are you ready to learn some new, exciting things?
Size
As long as you're looking to accommodate more than one person in a tent, size is particularly important. What makes things so challenging with larger tents is that you cannot always trust an advertiser. When they claim that a tent would fit x persons, that number may not be accurate.
The reason we're talking about the number of persons when you're interested in size is simple. You can hear as many numbers as you want. But size-wise, you will always want to know how many people will fit inside. More specifically, if your five person tent really is sized for 5 persons.
The number of persons that manufacturers advertise rather indicates the sleeping capacity. If you use it to a maximum, there will be little room left for gear or living. If you're looking for a 5 people tent, but there will only be four people staying in, you can pick any model.
But here's how to correlate size with the living space and sleeping capacity. The best 5 person tent should have a floor area around 120 x 95 inches. If you're getting an 85 inches peak height, you're looking at an outstanding option.
Weight
A 5 person camping tent should be a large tent. As expected, the larger the tent and the more complex its structure, the heavier it will be. Can you expect a generously sized 5 people tent to be lightweight? Hardly, though it is not impossible.
Just look at the options currently on the market. Some will, indeed, weigh as little as 12 lbs. Whereas the heavy-duty models can jump over 100 lbs. Is there any way you can narrow your searches towards lighter models? Of course, and it implies picking a fiberglass pole structure.
But should you go for the lightest model you can find? Perhaps it is not always best to make compromises on weight. Why? Because extra weight gives your large five person tent enhanced stability. When camping in a windy area, you'll be super happy with a tent on the heavier side.
Long story short, if you like the tent, but you're worried about its weight, don't be. Try and see if you can plan a car travel. Making it to the camping ground by car will allow you to get the best 5 person tent without letting its weight pull you back.
Design & Materials
You can expect certain standard features when it comes to the design of a 5 person camping tent. For once, many manufacturers prefer the dome design with a freestanding structure. The simplest layout would include a main sleeping area, one room, and two windows.
That's not entirely encouraging, but keep searching. You should also find models that come with a built-in divider. This means you'll be able to turn the main room in two distinct areas. Two doors and three windows should come along with these two-room tents.
Material wise, you'll be looking at the common polyester with waterproofing coating. Most tents have a 1500mm coating, but a five person tent with 2000mm will make a superior choice. Most likely a three-season tent, you can expect it to have a double-layer structure.
The rain fly is mandatory, for extra weather protection. Go for a roof-only rain fly if you're planning on camping in the hot season. Or consider a full rain fly for the cold weather. And don't forget to look at how much mesh you're getting. The more of it, the more effective the ventilation will be.
One more thing on your list of desirable design and fabric details? Research the add-ons! Storage pockets and gear lofts, in particular, will make your time spent in the tent more comfortable. If the floor comes with a footprint or a tarp, as a second layer of protection, even better!
Weather Protection
Unless you'll camp in extreme weather conditions with your 5 people tent, weather protection is moderate. As mentioned, 1500mm to 2000mm of waterproof coating is the norm. And large rain flies with water, wind, and UV protection should also be available.
Are you concerned about water infiltrations? Suffices to look for a tent with a bathtub floor design. If it has factory sealed seams, you have more reasons to believe it will keep moisture away from your belongings. But just so you know, you can always buy spray coating and apply it yourself.
The denier ratings you're seeing listed by the manufacturer of your five person tent? Those indicate the density of the synthetic fibers from the structure of the fabric. The higher that rating, the denser the material.
So, a dense, heavy-duty tent material ensures enhanced weather protection. It also has a lower water permeability. And it adds weight to the structure. So, don't you fret about the weight, and rather celebrate having a sturdier tent that will better face winds.
The best weather protection comes with a 4 season, 5 person camping tent. Yet offers are limited in this category. So, focus on finding the best 5 person tent. Weatherproofed, 3-season, and, ideally, with sturdier, aluminum or carbon fiber poles.

Browning Camping Big Horn 5 Person Tent
The Browning Camping Big Horn 5 Person Tent sports a tall design that helps maximize the space, allowing for more gear inside.
Ventilation isn't a problem with this tent, as there are windows all around and a mesh roof to optimize airflow.
Tent leaks can really be a problem when it comes to camping, but not for this one. All of the tent's seams are appropriately sealed to keep water from seeping inside. Browning Camping Big Horn 5 Person Tent got you covered, literally!
Pros
Fiberglass poles and steel uprights provide additional strength and stability.
There's an extra protective awning over each door, giving extra weather protection over the entranceways.
It has six large windows and a mesh roof, creating great ventilation.
It includes a polyester rain fly.
There are storage pockets to keep smaller items organized.
Cons
A bit heavy
The divider is not removable.
Our Take
The best 5 person tent is the Browning Camping Big Horn Tent. The freestanding design with a center height that will delight even the tallest campers truly stands out. It is a bit pricey compared to the alternatives. But let's just recap all of its strengths, and you'll instantly want to try it out. Here's what the 5-person tent from Browning Camping has to offer you:
Designed and built to offer a truly comfortable experience for a group of 5 campers.
Smart layout, freestanding, and with straight side walls that give you extra space inside.
A welcomed door-mesh-roof-three-windows distribution for adequate ventilation.
Excellent combo of steel uprights and fiberglass poles, for a stable but light structure.
Reliable fabrics, with factory sealed seams and superior 2000 mm waterproof coating.
Easy to set up, by simply clipping snaps over poles, that even one person could do it.
I got this tent a couple of months ago, and it is a simple and easy to set-up tent. Even if one person set this tent up, it wouldn't be a problem. It only took me around 10 minutes to pitch this up, which is pretty good!
This tent was my buddy during our base camp, and it did rain during that time, but I didn't experience any leaking. The tent was waterproof, and the floor is well sealed. I also set-up a tent cot inside this tent, and it fits nicely. Moving around and stand up wasn't a problem; there was a generous space for the headroom.
The only thing I noticed is that this tent supposedly stated to fit a group of 5 people. It may seem to be a little small for its stated capacity, as for my opinion. Nonetheless, it was still a roomy tent with side storage.
I forgot to say, if you're not a fan of a heavy tent, this tent may not be of your liking. It's a little bit heavy, but if you use it for camping out, this is still a recommend tent! This tent will be really cool to use in summer or your next campout!

Eureka – Tetragon HD
This 5 people tent from Eureka! features a tetragon design. A classic model with a neat look, it doesn't necessarily stand out by its color. But wait until you see its features. This 3-season family tent for the occasional camping weighs only 13 pounds. It boasts a 108 x 108 inches floor area and a 6-feet peak height. Plus, it nicely combines full walls with breathable mesh, for adequate ventilation.
Sitting on fiberglass poles and relying on a ring/pin corner assembly system, it is easy to set up. There is just one room for the entire family to share. But with the manufacturer's E! Media Center built-in, nobody will want a separate room. And if you choose to purchase the Eureka! Camp Comfort tent floor, sleeping in will be comfortable.
Worried about the bad weather keeping you inside? If it does rain heavily, the entire waterproof construction will keep you try. Count on the all-weather rainfly, bathtub floor, and the fully seam-taped construction! Otherwise, having to use it as a living space is a joy, given all the entertainment you can set up inside.
Pros
Facilitates effortless setup.
Boasts a nice peak height.
Features waterproof construction.
Includes an entertainment hub.
Designed for maximum airflow.
Cons
Only one room.
Rain fly stops 16-inches from the ground.
Our Take

Wenzel – Pine Ridge Tent
The Pine Ridge tent from Wenzel is a dome construction ideal for smaller families. They call it a 5 person camping tent. But you should know that a group of two adults and two to three children will feel most comfortable inside. And if you want, you can instantly make it a two-room construction. The 80 square feet sleeping area offers a built-in hanging divider curtain.
The tent weighs 11 pounds and measures 10 x 5 x 8 feet. It sits on shock-corded fiberglass poles. The walls are made of Weather Armor polyester. And the floor is welded polyethylene. The distribution of its three windows and two doors, with all the mesh (including on the roof) makes it highly breathable and well ventilated.
As a special touch, it comes with Wenzel's revolutionary Lite Reflect technology. And so, it helps you enjoy the time spend in your tent when the dark falls. Lite Reflect is just a way of making your source of light act as if on steroids. Whatever flashlight or headlamp you attach in the gear loft, you'll get a brighter light, evenly distributed throughout the entire tent.
Pros
Features an interesting Lite Reflect technology.
Designed to facilitate proper ventilation.
Versatile construction with hanging divider and two doors.
Sturdy polyester constructions with waterproof coating.
Easy set up with shock-corded poles and grommet attachment.
Cons
Door opens only halfway.
Setup requires some rehearsal at home.
Our Take

Wenzel – Shenanigan 5 Person Tent This eye-catching tent is easy to find at a campsite or festival with a unique blue pattern adorning the lower part of the sides.
This is a single layer tent, which is quick and easy to assemble. Simply stake out the edges, and then add the central pole to raise the tent. There are three windows with roll back covers and a large inverted T style door with flaps that can roll back out of the way to allow air to circulate. Staking out the two vents near the floor allows cool air to enter the tent, and warm air can exit through the three vents at the peak of the teepee.
The tent can sleep up to five people, but it's a more comfortable experience if you use it to sleep three people. The central ceiling height is 7.5 feet giving plenty of space to stand up inside.
The construction is polyester, with a polyethylene floor, and inside there are a few useful mesh storage pockets.
Pros
Unusual design makes it easy to find in a crowd!
Quick and easy assembly.
Good ventilation with floor and peak vents.
Generous central ceiling height.
Cons
A tight squeeze for five people.
Our Take

E-Z UP – CC10ALSP
With the E-Z UP CC10ALSP camping cube tent accessory, you can instantly set up a shelter to serve as a 5 people tent. The set up really is instant, and taking it down takes almost just as little. The package contains a tub-style waterproof flooring, a carry bag, and a 2 x 8 feet entry point footprint. Once you purchase the shelter, you're ready to have a wonderful time.
Just keep in mind that the cube tent will fit 10 x 10 angled leg shelters. And it will probably require some extra rope to secure it. But otherwise, you'll be looking at a highly attractive camping accessory. It features an oversized entry door, large mesh windows that let the air in, and even a pet portal with wet weather flap and heavy-duty zipper.
As you'll probably easily notice, the manufacturer's attention to detail is outstanding. So, you're guaranteed to be pleased with all of its storage pouches and inner zippers. You also have o-ring attachment points for hanging lanterns or whatever and a power pocket. Lots of accessories, not included in the camping cube, can be purchased separately.
Pros
Instant set up and super easy take down.
Great peak height for comfortable stand up.
Waterproof and bugproof design.
Facilitates excellent ventilation.
Highly attractive 3-year warranty.
Cons
Could use a sturdier floor.
Shelter is not included.
Our Take

ALPS Mountaineering – Meramac 5-Person Tent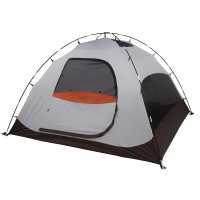 Here's an interesting choice from ALPS Mountaineering, a versatile tent that can easily accommodate up to 5 people. The Meramac weighs 14 pounds, with a peak height of 72 inches, and a base sized at 8 x 10 feet. It comes with a 75D poly taffeta floor and a 75D 185T polyester fly. And it does its best to keep you dry with 1500 mm coating and factory-sealed seams.
Want a fully equipped five person tent, with a practical design, easy to set up and conveniently organized? Try this freestanding structure with a two-pole design. The light fiberglass poles, shock-corded, make the setup simple. Plus, you have the guy ropes and steel stakes to secure it properly.
The awning-covered doorways have their specific charm. But the inside will also lure you with its generous size that lets you stand up. The large side mesh panels and the two zippered windows make a great team for perfect ventilation. And the storage pockets and gear loft will allow everyone to settle comfortably.
Pros
Practical, free-standing design for quick setup.
Provides great weather protection.
Features dual doors with zippered mesh.
Rain fly also serves as awning for entrances.
Tent fabric ensures UV protection.
Cons
A bit on the heavy side.
Tent bottom could be sturdier.
Our Take