5 Best 6 Person Tent
In this guide, I will be taking you through my top 6 person tent reviews.
One of the first things I think about when investing in a new tent is quality. During my early camping years I made the mistake of being taken in by appearances, and learned the hard way that there are important factors to look for in a tent if the trip is to go smoothly. After all, who needs a sagging, damp tent to retreat to at the end of a day exploring in nature?
These days I won't settle for less when it comes to camping comfort and I can say with confidence that I know what to look for in my camping equipment. Gone are the days of battling high winds and rains, snapped tent poles, cramped conditions and being baked in my sleep. I'm here to share my findings so that you make the best possible choice in 6-person tent for a successful group camping trip.
What Factors Should You Look For In A 6-Person Tent?
Space
Space is a very important factor. Any seasoned camper can tell you that 6-person tent doesn't always mean that 6 people will be comfortable sleeping together inside. Not everybody wants to sleep in a single sleeping bag, so if you sleep best on an airbed, be sure to consider the dimensions of the tent, number and dimensions of airbeds and position of the poles. Sometimes a central tent pole (as in a teepee style tent) can limit the sleeping positions too.
Storage Capacity
It might not always be convenient to leave luggage and valuables in a car, so before forking out for your tent, check out the storage space. If you've got 6 people in your group, that might mean 6 sets of luggage. Some tents are well equipped for this, with porches, screen doors and even storage space in the roof. Those who tend not to travel light will definitely need to take this into consideration.
Even a simple tent should have a little extra space after sleeping areas are designated. Lastly, does the tent have storage pockets for valuables and those bits and pieces you need easy access to? I personally find it tedious to have to rummage through bags and piles of belongings looking for things. Storage pockets make it easy to stay organized.
Quality Of The Tent Poles
Tent poles come in various materials, but the most common are fiberglass and aluminum. You can also get steel poles or air tubes. Joints and poles are often profiled for easy pitching; this also helps to increase the pitch of your tent walls for more space inside. Look out for color-coded poles, which makes pitching a lot easier. If a manufacturer has gone out of their way to do this, it's generally a good sign.
Fiberglass poles tend to break more easily than aluminum or steel, but they can be repaired and as they are lightweight, spares are easy to carry. Aluminum poles are strong and sturdy, but heavier and more expensive. Steel poles are also strong and sturdy, but even heavier, more expensive and more prone to corrosion. Air tubes are light and convenient, but they can puncture, lose air and need a lot of monitoring. Personally, I recommend going for fiberglass (and carrying a repair kit or spares), or aluminum.
How Waterproof Is The Tent?
I recall one camping trip when we were inundated with rain for the entire weekend. That was when I found out that my 'top quality' tent wasn't quite up to the job after all. 6 of us huddled inside to escape the heaviest downpours, and about then the tent gave up. This was mainly due to the quality of the rainfly. Back then I didn't know to consider the ergonomics, and the angle of my rainfly meant that rain was directed onto the tent door. As the zippers weren't adequately covered, rain leaked in. The floor wasn't a 'tub' floor (bathtub style) and the seams weren't properly waterproofed. The result: camping game over.
Here's What To Look Out For:
Is the tent made from nylon or polyester? If so, it's a good start. It might be made from canvas or poly cotton coated with PVC, but that wouldn't be my first choice. Ideally, your tent will be polyester coated with polyurethane.
The groundsheet should be properly sewn in rather than separate, and ideally in a tub shape so that the seams are not on the ground.
Your rainfly should extend past the tent walls and direct the water towards the floor, rather than down the tent walls. This is an exaggerated analogy, but you can think of it as like a mushroom, where the tent body is the stalk. Your rainfly should also be fixed in place with guy lines so that winds can't shift it.
The seams and stitching should be sturdy, and seams would ideally be double-stitched. If you can see through the seam to any degree, it's not going to be waterproof. To be sure, I always coat my tent seams with a silicone seam sealant.
Does It Get Plenty Of Air?
The last thing you want is to be sweating inside your tent, whether that's due to hot sun rays or humidity. When buying a 6-person tent, I always look out for number of windows and quality insect-proof mesh. I go for tents that have a mesh inner door so that I can still have a closed door while getting air, plus at least one mesh window. If it has smaller vents near the floor, all the better, and you can't go wrong with roof ventilation. It's pretty tough to sleep in a humid tent, so don't miss this factor.

Coleman 6-person Dome Tent
This dome tent is very waterproof, with WeatherTec™ System patented welded floors and inverted seams. It is spacious inside, and you can stand up in it even if you're 6ft 1" tall. The pole sleeves are well made for easy set up and the rainfly is adequate. Internal storage pockets keep your gear organized and an E-port makes it easy to charge your electronics.
The tent is windproof and comes in pleasant colors – you can get one with LED lighting or dark room technology.
Pros
There's no fear of water leakage thanks to the WeatherTec Polyester construction.
The tent has an awning for shade from the sun and storage.
Simple and sets up quickly and easily – it should be up in 10 minutes.
It is well ventilated with floor vents and large windows.
Lightweight.
Cons
The awning is on the small side and doesn't close.
It can be a little tricky to get back in the bag.
Replacement poles are not available so you'll need a repair kit.
Our Take
To conclude, my firm favourite is the 6-person Coleman dome tent. I love the LED lighting and dark technology options, and the tent is of very high quality. You'll never get wet and winds won't take it out without a fight; it has reasonable space (and height), lots of storage.
It is well ventilated and won't break your back or your bank – it should be affordable for most budgets. Best of all, the warranty means you're covered for any issues for at least a year.

Kelty Acadia 6-person Tent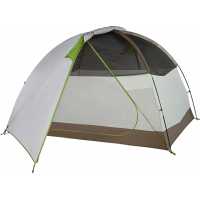 This Kelty Acadia tent does the job if you like simplicity. This is not the cheapest tent around but the quality is high and it should last through many camping trips, whatever the season.
It has good ventilation and two doors, plus two vestibules for storage of your belongings. Fiberglass poles are good quality, The tent packs easily up into a neat and compact carry bag when you're done. The tent comes in a one-color – grey and brown.
Pros
It handles most weather conditions well and doesn't leak in heavy rain.
It feels spacious inside.
It's very quick and easy to set up.
The rainfly rolls back to expose roof ventilation mesh and the night sky above.
Fiberglass poles are color coded for easy set up.
Cons
It's heavier to carry alone at around 9 kg
It's pretty basic with no room dividers or storage pockets.
The stakes could be stronger – you might need spares.
Our Take

Wenzel Evergreen 6-Person Tent
This aesthetically pleasing 6-man tent not only looks the part; it is excellent quality too. Made from Weather Armor polyester fabric with a polyurethane coating, there is no fear of water getting in. The tent can be divided into two rooms for privacy, and its three closable mesh windows and roof make for perfect ventilation. "D" style doors give you two convenient entrances, plus zippered windows.
There is also an E-port to charge your electronics. This tent weighs just over 8kg, and comes with a storage bag. It comes in a khaki green color.
Pros
It can handle tough weather conditions.
You can divide it into two for privacy and/or storage
It has a gear loft.
Shock-corded fiberglass poles with fast feet for quick set up.
Guy ropes are pre-attached, saving you time.
It has a 10-year manufacturer's warranty.
Cons
There is no awning to sit outside in the shade or store muddy boots.
The rainfly is a little close to the tent door.
Plastic feet may be prone to breakage.
Our Take

Eureka Copper Canyon 3-Season Tent
With a room capacity of six people, the Eureka Copper Canyon is a good choice for a family camping trip. It's a cabin style tent that's spacious enough for a small family. With a center height of seven feet, it provides ample room even for tall people.
The frame is a combination of fiberglass and steel. The tent itself is made of heavy-duty double-wall fabric. The outer wall is made of polyester coated with polyurethane for protection from the elements. Keep in mind though that the Eureka Copper Canyon is a 3-season tent. It was designed for use during summer, not for withstanding heavy rain and extremely cold weather.
Huge windows and an all-mesh roof provide plenty of ventilation. However, there is only one door which limits access.
For those who can't keep away from gadgets during trips, the electricity port can be a nifty feature. Of course, it only becomes useful when there's electricity available at the campsite.
While the Eureka Copper Canyon can be stored into a very compact bag, it's quite heavy to bring on trips that require long walks or hikes. Over 20 pounds can be a challenge to carry on long distances. Another downside to this tent is that it has no vestibule for storing gear.
Pros
Windows on all sides.
Good ventilation.
High ceiling.
Cons
Not reliable during heavy rains.
No vestibule.
Too heavy for hikes or backpacking trips.
Our Take

Slumberjack 6-Person Trail Tent
The Slumberjack is a simple and functional tent with an overall high quality. The wall, floor and guy lines are of a thick constitution making the tent truly weather-proof. It has a full coverage rain fly and two vestibules for storing your gear, and the 75D Polyester Mesh keeps insects at bay while ventilating properly.
The tent comes in a brown/white, green/white color or khaki green.
Pros
It holds internal heat well even in snowy conditions.
It withstands wind and rain without issue.
The color-coded clip construction and side-release buckle ten-fly connection make for easy set up.
It has internal storage pockets.
It never sags and is very spacious thanks to the ridge pole geometry.
Cons
Fiberglass poles can be flimsy – carry spares or a repair kit.
The waterproof coating isn't very thick – you may want to recoat with silicone spray.
Our Take