7 Best Beach Tent
Tell me what beach sun tent you choose, and I will tell you how much you'll enjoy your time on the shore. Knowing that there are plenty of options out there won't help you much. After all, there are also just as many details that can make or break your getaway.
For once, you should avoid tents that are difficult to pack, carry, or set up. At the same time, beware of the models that are too small or not sturdy enough for wind. But there are many other aspects to take into account when looking for tents for the beach.
Features and specs are just as important as the design. And so, we've compiled a thorough list that will help you choose wisely. If anything, keep in mind that even the most beautiful shade tents for beach can prove useless unless they fit your needs and expectations.
Throughout this guide, you'll encounter some of the make-it-or-break-it points for a beach shelter. And you'll also get the chance to take a closer look at the 7 best beach tent options currently on the market.
In the end, you should be able to make a perfect choice. Do you think you'll share our opinion on the winning product?
A beach shade tent should be lightweight, roomy, and easy to handle. Sun, wind, and water resistance are also important features to have at hand. But other than that, there isn't a right or wrong choice. The best beach sun shade is the one that would genuinely fit your camping style, preferences, and needs.
Below, we will highlight 9 main categories of features you might want to consider. We will discuss them in subsections and give you specific examples as taken out from the reviews of the best portable beach tent models we could find.
By going through all this valuable information, you'll get a clearer picture of what you need. Let's dive in!
Size
Without a doubt, the best beach sun shade must offer shade to everyone joining you! And so, size translates into how many people will fit inside. But, also, into the comfort that they will enjoy.
Can you sit up? Can you bring in the beach chairs? Do you have to sit on the floor so that you won't hit the top with your head? What is the peak height, and how much floor space do you have?
Large Beach Tents
Large beach tents are usually family tents. They should easily accommodate three to four persons. And beach chairs fitting in shouldn't be a luxury, either. If you can find a beach shelter with, let's say, a 7-feet peak height, it is undoubtedly well worth your attention.
Small Beach Tents
Small beach tents are more like for one, maximum two persons. Height won't necessarily be a problem. But you must expect for a tighter floor space. And as you'll see below, the type of beach shade tent can also play a significant role in how it is designed and sized.
Type
There are many different types, from one-to-two-person umbrella-style models to larger shade tents for beach or pop up tents. A simple classification would sum it up to canopy, cabana, and pop up tents. But go ahead and take a look at the following subtypes. For inspiration, and just so you can better pinpoint what it is that you need.
Beach Tent Canopy
A canopy is rather a tent frame than an actual beach sun tent. You get a structure and a cover to protect you from the sun. And that may be everything you need. Do not worry, it can still collapse to a portable size.
Such a model has the advantage that it usually offers you a more generous peak height. Also, depending on the design, you can have two or even three full, mesh, or semi-transparent walls.
Pop Up Beach Tents
A pop up product is one of your best beach tent options. You simply unpack it, set it down, and watch it pop up into a full-sized tent. More often than not, it comes sized for two persons. But you will find versions to accommodate more than that.
Just so you know, this type of portable beach tent can be a breeze to set up, but a pain to take down. It takes a learning curve for the latter.
Baby Beach Tent
Heading to the beach with children might require a special setting. Depending on the children's ages, you could look for general baby beach tents, but also for a toddler beach tent, or an infant beach tent.
A baby beach tent can be any small shade tent. Usually, you'll find a three-sided tent with a large frontal opening, and you'll consider it perfect to protect your baby. If you have a toddler or an older infant, any larger tent where you can put in a small inflatable pool and some toys will work well.
Family Beach Tents
Family beach tents can mean anything, from one family to another. Extra-large versions are usually labeled as such. If it's just you and your spouse, a two-person tent can be your best family beach tent. Long story short, most products tagged as family tents should comfortably accommodate 3-4 persons.
Dog Beach Tent
Dog beach tents are usually made of weather-resistant materials and feature a pop-up design. As much as people want to spoil their pooches, nobody wants to spend extra time setting up a dog tent. So, just focus on the dimensions, because they do come in all sizes. The pop-up, fold-flat design should be a part of the offer.
Weather Conditions
The best beach sun shade must offer you UV and wind protection. You're expecting weather to be sunny and occasionally windy, so you want top protection against these conditions. You cannot expect it to stand up under heavy rain, but it is certainly a big winner if it does.
UV Protection
Some tents for the beach are made of UV protected materials. Others are just treated with some UV blocking chemicals. With an SPF protection of 30+, sometimes even 50+, you can expect to benefit from some kind of UV protection.
An SPF30+ will block about 96% of the radiation, whereas an SPF50+ will block around 98%. So, the difference isn't that big, and there is certainly no beach tent with 100% UV protection out there. As a special tip, the darker the tent's color, the more UV rays it will absorb.
Wind
Most shade tents for the beach are designed to repel wind, to some extent. The average products won't put much emphasis on it, however. This means that a tent that truly withstands wind should offer protection from winds of at least 20 mph.
This capacity depends on the strength of the fabric. But, also, on how you secure the tent and what type of structure it has.
Weight
The bigger your beach sun tent, the heavier you can expect it to be. The extra fabric is just one reason for it. But you can also blame it on the structure, the additional stakes, the larger carry bag, and so on. Some portable beach tents out there weigh less than 3 pounds. Others go well over 8 pounds. Lots of options, so to say.
Lightweight
Want to get the best beach tent size without compromising on a lightweight design? There is a winning combo: breathable polyester with fiberglass frame. The frame is sturdy but flexible and lightweight. The fabric is super lightweight and water-repellent. Such a structure could weigh around 4 pounds.
Pricing Range
Just like with any other camping equipment, there's a wide range of prices you get to choose from. Contrary to your expectations, a cheap beach tent can still offer you plenty of the options we discussed above. Sometimes, the brand will raise the price tag more than you'd want, but that's something you would expect.
For your reference, the pricing range for a two-person beach tent can go from $30 to over $100. Usually, a $50 product isn't necessarily a cheap beach tent. Still, it is certainly one that packs lots of valuable features. And if you're getting this price after a discount, you have even more reasons to look into it!
Beach Tent Stakes
You'd think it cannot possibly be too complicated to secure a beach shelter. But if it's your first experience of this kind, you should know that regular stakes won't do well in sand. They move and your tent can even be blown away. So, you'd have to use special beach tent stakes.
Those are custom sand tent stakes and may come in more or less different designs. Some stakes look like screws, but that detail isn't mandatory. What matters is that they are long and thick enough, because you want heavy-duty stakes.

Sport-Brella – Vented Beach Canopy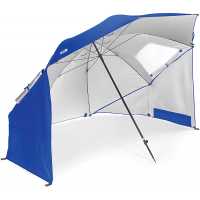 The name of Sport-Brella Vented Beach Canopy says it all. This beach canopy certainly makes an interesting choice with an outstanding design between a tent and an umbrella. It weighs a little under 9 pounds and measures 54 x 4 x 4 inches. It is super easy to assemble, very portable, and flexible with its steel ribs and stretcher.
Think of this beach shelter as to a large beach umbrella with side flaps. The telescoping pole gives stability. And it also requires ground stakes and tie-down cords. The lateral flaps have windows, and there are wind vents at the top. What's more, the entire fabric offers UPF 50+ sun protection and water and wind protection.
Pros
Features both UVA & UVB protection.
Facilitates good airflow and ventilation.
Sturdy structure made of steel ribs & stretcher.
Designed with dual canopy and top wind vents.
Ensures maximum protection with side flaps.
Cons
Not exactly a tent design, more like an umbrella.
Won't fit full-size chairs underneath the umbrella.
Our Take

Coleman – Beach Shade Shelter
This beach shade tent from Coleman weighs a little over 6 pounds and measures 23.5 x 4.5 x 4.5 inches. It is designed with a 7.5 x 4.5 inches footprint, displaying a welcomed 57-inch center height. The package also contains a floor mat, a dry line, extra-long stakes, sandbags, and a practical carry bag.
Whenever you feel the need for some privacy, zip the two doors. You'll turn it into a changing room on the double. Feel free to store the things you want within any of the 4 inner hanging pockets. And other than that, enjoy your time at the beach. You'll be sitting underneath a beach sunt tent with an SPF 50+.
Pros
Package includes lots of handy accessories.
Fabric boasts reliable UV guard protection.
Offers generous storage spaces inside.
Designed with a good center height.
Can serve as changing room with zippered door.
Cons
Not a twist and pop up design.
No side windows.
Our Take

Shade Shack – Beach Tent
Shade Shack's best beach tent is super lightweight and easy to set up. It weighs as little as 4 pounds, and it requires no assembly, thanks to the pop up design. Available in Blue or Red, it also comes in two sizes, Large and X-Large.
You'll probably want the bigger one, sized at 102 x 58 x 57 inches. And you'll be able to use it anywhere from the beach to the backyard, picnic, or park getaways.
Somewhere at the intersection of a half-dome style tent and a beach shade tent, this tent is truly unique. It features three full walls with side windows and external side pockets. So, it takes as little as throwing in a few handfuls of sand to secure it.
Underneath its zinc-coated fabric, you'll benefit from UPF30+ protection. For sure, it's a tent you can easily carry around, literally taking it anywhere.
Pros
Allows instant set up with pop up design.
Super lightweight and portable.
Material features a zinc coat for solar protection.
Allows proper ventilation through its side windows.
Super easy to secure.
Cons
No zipper stop on the zipper.
Packing it up takes a small learning curve.
Our Take
The best beach tent is the Shade Shack pop up X-Large model. If you want something you can easily carry around anywhere and that sets up instantly, this is your go-to option. You're going to love it, for all the following reasons and for many others:


With up to 30% bigger than similar products on the market.


Weighs as little as 4 pounds, which is impressive, given its size.


Two adults with two kids can easily stay underneath this shelter.


Features two side mesh windows, for good ventilation.


Back wall also opens up, for easier access from both sides or for more air.


Comes with zinc-coated UPF30+, protecting you from 96% of the harmful UV rays.


No-floor design, great toddler or infant beach tent when placed on top of children play areas.


Very easy to set up and even easier to secure using the side pockets.



Neso Tents – Grande Beach Tent
The Grande Beach Tent stands out as one of the best beach sun shade options. It comes from a commercial sewing and fabrication shop. And so, it boasts an elegant design that catches the eye.
Consisting of 9×9-inch sheers of Nylon and Lycra blends, these tents from Neso are available in many different colors. But they all feature patented reinforced corners and rust-proof aluminum poles. To top it off, they are 7-feet tall!
Even though it isn't a pop up tent, it is a portable beach tent. And you'll hardly find it difficult to assemble. It comes in its own carrying back, and it includes a fancy cooler pocket. It weighs 6.5 pounds, it is water repellent, and it features an UPF 50+ protection. Portable, lightweight, and with sand anchors, it is designed to easily protect 4 people in their chairs at its shadow.
Pros
Sleek and elegant design with 14 color choices.
Made of high-quality fabric.
Easy to set up and to secure.
Lightweight, portable, and versatile.
Design facilitates a great height.
Cons
A bit on the pricey side.
Edge stitching could be better quality.
Our Take

iCorer – Quick Cabana Beach Tent
iCorer is well-known for its offer of tents for the beach. This particular model weighs only 2.2 pounds, self-expands in one second, and folds down in about 3 seconds – once you learn how to do the latter.
Anyway, it's an innovative pop-up design with a flame-resistant nylon fabric coated in silver. Everything you need for a 50+ UPF protection, with good resistance to wind.
The package includes, aside from the pop-up beach tent, a full-size carrying bag (the shoulder strap model), sandbag pockets for the side panels, and six metal ground stakes. Nicely sized at 65 x 59 x 43.5 inches (L x W x H), it is excellent for one person, though two persons can also snuggle inside.
What's more, the large mesh windows allow just the kind of ventilation you'd expect from shade tents for beach.
Pros
Easy to set up, without requiring assembly.
Features a patented, strong structure.
Fabric boasts a special silver coating for UV protection.
Designed to enhance ventilation and withstand wind.
Lightweight but sturdy, with double type b dense interwoven mesh.
Cons
Could have used a slightly larger inner space.
Takes a learning curve to break it down in seconds.
Our Take

Texsport – Calypso Quick Cabana Canopy
Texsport is a renowned outdoor gear manufacturer. It sized this Calypso Cabana at 48 x 84 x 48 inches. As a particularly enchanting beach shade tent, it weighs 2.5 pounds and boasts a joyful, brilliant blue – rainbow stripes design at the top.
It is structured around a three-pole, ping and ring frame with shock-corded poles. And it makes a convenient option not just for the beach, but also for the park or sporting events.
The beach shelter is made of heavy-duty polyurethane, with silver coating on the outside, and no-see-um mesh on the side windows. Fret not, you're also getting zippered storm flaps on the inside, so you'll be in full control of how much and when to enjoy ventilation. For your comfort, you're also getting a rip-stop polyethylene floor.
Pros
Ensures UV protection, and it is flame retardant.
Comes as a complete package, stakes & sandbags included.
Designed for wind resistance, with shock-corded fiberglass poles.
Features a floor and no-see-um mesh windows for extra protection.
Provides a great maximum height.
Cons
Can take a few minutes to set it up.
A tad difficult to make it fit back in its bag.
Our Take

NEMO – Victory Sunshade
If you're looking for a strikingly simple beach sun tent design, this elegant Nemo Victory Sunshade shelter won't go unnoticed. It weighs 6 pounds and covers a 90 x 90 inches floor with only 56 square feet for the actual covered floor area. The peak height is 68 inches, and it boasts a slim structure with aluminum poles covered in 75-denier polyester.
Somewhere at the line between a beach umbrella and a sun tent, it has one full wall and two mesh walls on the sides. You can set it up using its simple pole clips and secure it with locking end tips. You will have to come up with a solution for the floor, deciding whether to use chairs or buy their Victory blankets. But other than that, you're good to enjoy a great time underneath one of the best tents for the beach.
Pros
Extremely simple and lightweight design.
Relatively easy to set up, with pole clips.
Provides shade and ventilation without obstructing the view.
Offers you a safe place inside, to store some miscellaneous.
Designed to allow you to secure grommets or Victory blankets.
Cons
Doesn't come with a floor.
Only one size available.
Our Take