10 Best Camping Tents
If you're looking for tents for your camping trips out in the market, it's undeniable that there are plenty of options. We've all had wrong decisions in life, and you'll definitely don't want one when it comes to choosing your camping tents.
There are certain factors you need to assess in choosing the perfect tent for your outdoor trips. First is the weather; you need to ensure that the tent you're choosing can withstand the challenges of the location you are after. Second, how many people are you tagging along. It's best to ensure that everyone is well accommodated. The last thing you'll want is a frowned face to start your day with mother nature.
In this article, we'll help you choose the best camping tents for all of your outdoor adventures. Whether you're going solo or with friends or family, here are the recommended best camping tents that would make your trips an unforgettable one.

MOON LENCE Compact Camping Tent
The MOON LENCE Compact Camping Tent is a 2-person tent that is easy to store and easy carry features. It has all-around protection, providing up to 2000mm of water and UV resistance. It's complete with a rainfly and a double layer that ensures it can withstand the harsh weather.
Pros
Easy Setup
Top-notch Protection
Money-Back Guaranteed
Cons
The entrance is a bit small.
Not well designed to accommodate an airbed.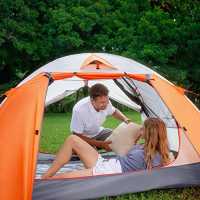 Our Take
What makes this camping tent from MOON LENCE as one of our top picks is its resistance and space, which is primarily the essential support we're looking for. If you're going solo, this tent will accommodate you in the best way possible. First, it's pretty easy to assemble. Second, it's stable, eliminating all that worries brought by the harsh weather. And, lastly, it's built with top-notch protection features that would make your nights safe and comfortable. However, if you're planning to go outdoors with a friend or a family member, let's say for two-persons, you might want to pack lightly. Although this tent specifically says it can fit two pax, your stuff could take a lot of the extra spaces.

Bessport Camping Tent
The Bessport Camping Tent is another 2-person tent that focuses on comfort and satisfaction. This tent is spacious enough with two D-shaped doors and two vestibules that could comfortably accommodate two people. It features an impressive water resistance that creates an impenetrable barrier against rain and leakage. At the same time, it includes an elevated welded floor design to keep you away from wet grounds. It has an easy setup feature that comes with a 7001 Series Aluminum Alloy Stakes and reflective guyline for durable, free-standing setup.
Pros
Aftersales Support
Water-resistance
Elevated Floor Design
Easy-setup
Durability
Variations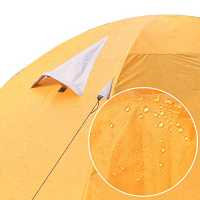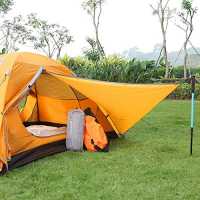 Our Take
If there's one thing that best describes this tent from Bessport Camping, it's satisfaction. First, the tent is built with impressive support to give you the most comfortable interior. It is spacious enough for two people to enjoy the calmness of the night with heightened features that protects you from wet grounds, rain, and leakage. Next, it's not suffocating due to its ultralight weight no-see mesh walls. Lastly, it's powerful enough to withstand the harsh environment with its wind-resistance features.

For starters, the Bessport Camping tent is perfect since it supports an easy-setup feature; you can set this tent up by yourself very conveniently. There's no complicated installation to think of -- giving you that peace of mind outdoors.

Coleman Sundome Tent
The Coleman Sundome Tent has a 2-person capacity and measures 7 x 5 feet with 4-foot center height. It has a 75 Denier flysheet and a rainfly awning for better shade and rain protection. The dome of the tent is customed to fit two people, packed with a spacious interior for comfort. The tent features a WeatherTec System that enables superior protection from wet environments through its patented welded floors and inverted seams. This tent retails for a starting price of $38.22 to $205.99, depending on the sizes.
Pros
Perfect for humid locations
Size Variations
Quick Setup
Easy to set up in 10 to 15 minutes.
Large windows with an air vent for ventilation.
Durable carry bag.
Affordable.
Cons
Not perfectly fit for cold weather.
Cannot withstand strong winds and heavy rains.
Heavy.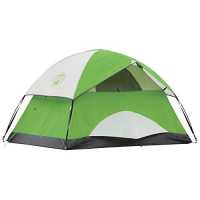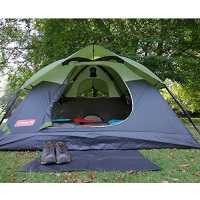 Our Take
If you're someone who prefers locations with tropical weather for your outdoor trips, then this Coleman Sundome Tent is a perfect choice. First, it has large windows and a ground vent for superior ventilation. Second, it's dome is spacious enough to enable you to move with ease. However, if you do encounter a little bit of rain, this tent got you covered since it also features incredible protection from wet environments. What makes this tent special is its intention to maximize comfort. You got a storage pocket placed systematically to prevent annoyance while going in and out of the tent. And, its E-Port section creates easy access that does not compromise the tent's ability to protect the interior from getting wet. This tent is one of Amazon's Top Choice, which surely explains why you should get one.
$107.37


Coleman Cabin Tent with Instant Setup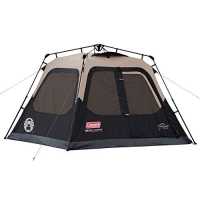 If you're looking for more space to accommodate more people, this Coleman Cabin Tent is a perfect fit. This tent is designed with a spacious interior, enough to fit one queen-sized bed. Similar to other Coleman's tent, it features the WeatherTac system and 150D polyester/taped seams that help in preventing rain and leakage from entering the interior. Plus, it includes a Rugged Polyguard that ensures reliable and long-lasting use.
Pros
Ventilation
Thick Fabric
Spacious
Weather Resistance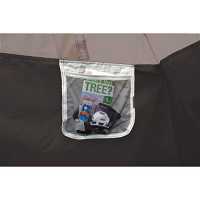 Our Take
The common struggle faced by people who explore outdoors in groups is the unforgiving coldness of the night. Imagine a tent that ables to circulate ventilation when the sun is up and offers warmth at night -- that's the Coleman Cabin Tent. It's durable to withstand the harsh environment of the outdoors and keep it comfortable while you're relaxing under the sun.

The WeatherTec System works wonders, especially for a tent that could accommodate four people at once (they also have size variations). The inverted seams and thick fabric adds an extra layer of security, day and night. Further, its integrated vented rainfly creates an impressive airflow that maintains the temperature under the sun.

This tent is one of our top picks. And, if you're currently canvassing for cheap, yet top-notch performance and quality, you should give Coleman Cabin Tent a try.
$141.79


V VONTOX Camping Tent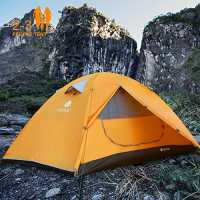 The V VONTOX Camping Tent is a lightweight, backpacking tent that could fit two to three persons. It has incredible weather-resistant features that ensure no rain, dust, or leakage could get into the tent's interior.
Pros
Great Ventilation
Perfect for Backpacking
Weather Resistance
Spacious (perfect for two people)
Lightweight (easy to carry)
Made with Durable Materials
Cons
Fragile Zipper (depending on usage)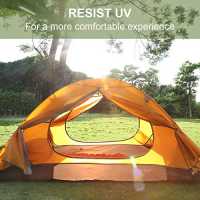 Our Take
This V VONTOX Camping Tent is dubbed as a 3-season tent for a reason. It has impressive weather resistant support that creates an impenetrable barrier against rain or leakage. The seams are taped to ensure your nights will stay warm and comfortable. It is constructed with 201T Polyester and PU 3000 coating that offers optimum resistance from wet environments. Its flooring is made with 150D Ripstop Oxford to present a durable and not easy to wear base.

This tent could withstand even a downpour. It's fully seam-taped construction, and rainfly offers a great deal of security during unpredicted weather. Opened or closed down, it provides excellent ventilation and keeps the weather outside, giving you the best comfortable nights outdoors.

V VONTOX Camping Tent is perfect for backpackers who are always on the go. We highly recommend this product for its guaranteed satisfaction.

CORE 9 Person Instant Cabin Tent
If you're looking for a tent that could fit up to nine people with ease and comfort, then this cabin tent from CORE is a perfect choice. Physically, this tent is spacious to accommodate a group. It includes a sizeable T-Door fixture that makes entry comfortable. Inside, there's a Room Divider that acts as walls for much-needed privacy and a 14ft x 9ft floor plan that could fit two air beds.

For tropical locations, this tent has an advanced venting system that maintains cool air inside and a removable rainfly that acts as a protective layer when needed. This tent features an H2O Block Technology that keeps the water from getting inside while maintaining a durable fixture that can withstand the harsh weather.
Pros
Spacious Interior
Water Resistance
Customizable and Quick Setup
Includes a Room Divider
Large Entry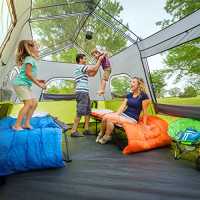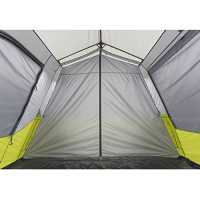 Our Take
Let's break down why this tent from CORE is the perfect go-to cabin for group outings. First, you can't deny the amount of space you'll get for a cabin tent. Second, the science behind keeping the tent cool during hot weather and dry when it pours. This tent features an H2O Blocking Technology that ensures zero leakage. Further, the seams of the CORE Cabin Tent are heat-sealed from the rainfly down to the flooring to guarantee optimum protection. Third, there's an added feature called Advance Venting that maintains the circulation of air. That's a perfect feat when camping in locations with scorching temperatures. If you want to enjoy the sunny day, it has a removable rainfly that gets you to enjoy the views of the sky. And, lastly, the interior design. Yes, the room is spacious enough to accommodate a group of people, but it also features a unique design that caters to your privacy.
$269.99


Coleman 8-Person Tent for Camping
This tent from Coleman offers an 8-person capacity with easy setup for relaxing and stress-free camping. The Coleman tent provides all the best features you're looking for a tent: excellent waterproofing system and spacious interior.
Pros
Quick and Easy Setup
Waterproofing System
Hinged Doors
Spacious Interior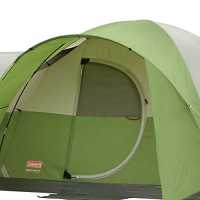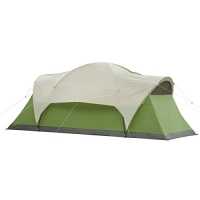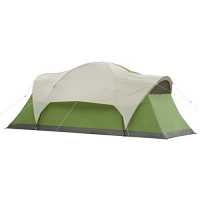 Our Take
For the price of $129.79, Coleman's Montana Tent is a go-to option for most campers -- both new and professionals. You're getting top-notch features that could serve you best even in the toughest situation like rainy days. It's built on a foundation that will, for sure, keep you dry and safe. As mentioned previously, Coleman's WeatherTec system ticks all boxes when it comes to waterproofing technology. Through its inverted seams and welded floors, comfort has never been much guaranteed.

Personally, the tent's setup is giving you beyond-standard support. The swinging doors work perfectly in ensuring that the rain or wet environments stay outside while keeping a comfortable entry. One thing I noticed as well is that the hinged doors help in regulating air, aside from angled windows placed on the tent. Its spacious interior is also another selling point. You can put three queen-sized airbeds to make each night comfortable. Plus, you'll get storage pockets that are systematically placed inside the tent. Further, setting and downing the tent is easy, with a guaranteed 5-minute setup. Now, that's value.
$167.69


Coleman Dome Tent with Screen Room
The Evanston Screened Dome Tent is another six to eight-person tent from Coleman. It includes similar features with the Coleman Montana: the WeatherTec System, spacious interior, storage pockets, wind-strong frame, protected seams, and zipper protection. But, if you're looking forward to a beautiful sunny outdoor trip, or somewhere near lakes and ponds, then the Evanston is a perfect choice since it offers screened rooms. The Evanston Screened Dome Tent provides one of the most trusted bug-free loungings while maintaining excellent air ventilation. Also, it has Window Awnings that improves the circulation of air further and protects the interior from rain.
Pros
Screened Rooms
Waterproofing
Engineered wind-responsive frame
Excellent ventilation
Cons
Minimum rain-proofing (highly recommended to buy an additional Waterproof Camping Tarp).
Our Take
Knowing the conditions of the location you're camping is the first assessment you need to do to know in choosing the best tent that will work. If you're planning to camp near lakes, ponds, or places with tons of creepy crawlers, then this Coleman Evanston Screened Dome Tent is a must-have. Well, obviously, it is because of its screened room protection, giving you a bug-free lounging. There are tons of screened room tents available in the market. Still, the Coleman Evanston earned the trust of millions of American campers, including myself, because of its quality and added support. It's not just about answering the question, "does it work?" It's more about the complete set of features that guarantee support in whatever situation the outdoors might bring.

The Coleman Evanston sports waterproofing system -- taking pride in its trademark support, such as inverted seams, waterproof flooring, and WeatherTec system. Whether you're in a wet or dry location, this tent from Coleman got you covered. If it's a hot, sunny day, you'll get incredible air ventilation from its screened rooms and awning windows. When it's windy and rainy, the tent could withstand harshes weather through its heightened and well-engineered structures. Hence, if you're looking for tents that serve you more than one purpose, the Coleman Evanston is highly recommended.
$139.99


OT QOMOTOP Camping Tent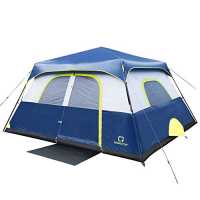 The OT QOMOTOP Camping Tent is a 4/6/8/10-person tent that is customizable depending on the activities you seek during camping. It has a spacious interior that could fit one to three queen-sized beds depending on the size. The tent's flooring and the fabric are made of 125gsm P.E. and 68D Polyester, respectively. This structure ensures strong support to withstand the harsh weather of the outdoors.

This tent has the most excellent ventilation compared to other products in the market. It has windows from all sides and a ground vent for that extra air circulation. Also, you can attach or detach the rainfly depending on weather conditions.
Pros
Excellent Ventilation
Customizable
Spacious Interior
Cons
Not highly recommended for locations with frequent heavy rains.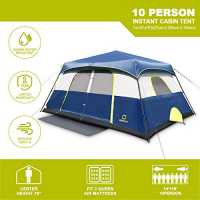 Our Take
Most people enjoy camping because of the sirene and majestic beauty of the night sky. We always look forward to stargazing and reflect on life, in general. Personally, this is why this tent from OT QOMOTOP is worth investing in -- its two-in-one support. You can customize the tent on how you want or what you're after. You can remove the rainfly and enjoy the night sky and attach it back to protect you from rain when its bedtime.

Meanwhile, on a hot and sunny day, it has excellent ventilation; you'll get screened windows to ensure bug-free lounging and ground vent for added air circulation. Setting this tent is not too complicated; all it needs is a good 60-seconds of your time. However, if you got an 8 or 10-person tent, you might need some assistance. In terms of the overall critique, this tent is a must-have. We highly recommend this tent for families who are wishing to go camping with their little kids.
$119.97


Clostnature Lightweight 2 and 3 Person Backpacking Tent
This tent from Clostnature is the perfect camping tent for backpackers or hikers. Its lightweight, meaning you can transport it with ease and comfort. In terms of interior, the tent offers a decent amount of space. It can host up to 3-person with a size of 7'3" x 4'11" x 3'10". Since it's perfect for people who are always on the move during their outdoor trips, it features a unique quick setup with free-standing and two aluminum poles for easy pitching.
Pros
Waterproofing
Lightweight
Perfect for on-the-go campers
Excellent Ventilation
Lifetime Warranty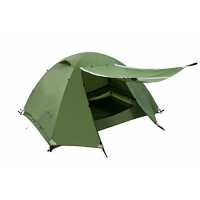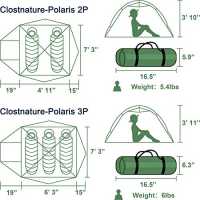 Our Take
For people who jump from one location to another while camping, the Clostnature is a highly recommended tent to use. It's lightweight and quick to set up, making pitching convenient wherever you are. Aside from the tent's accessibility, it's packed with top-of-the-line features that could make camping for backpackers, hikers, kayakers, and so on comfortable. First is the tent's design. It's spacious enough to accommodate two to three-person with extra space for luggage. The interior includes mesh walls for added ventilation and 2 D-shaped doors and vestibules on the side for quick entry and exit.

Next, it's waterproofing system. Since you're always on the go, and there is uncertainty over your resting locations, it's highly recommended to bring a tent with incredible waterproofing. This Clostnature tent packs a durable and trustworthy waterproof system to ensure protection from the wet environment. It's rainfly, groundsheet, and bathtub is made with 210T Polyester and 5000 PU coating for a firm and durable foundation. Further, the seams are factory-sealed to keep you dry in all weather conditions.

Personally, this tent serves on-the-go people best. Hence, if you're outdoor trip requires you to change location regularly, you should sort to tents as portable as the Clostnature.
$74.99