6 Best Cold Weather Tents
Have you decided you can't wait until the spring arrives to go out camping? That's great, because you don't need to! There are so many cold weather tents and accessories meant to keep you warm. And so, 3 season or 4 season camping is perfectly doable. And it can be enjoyable, provided you make the right choices.
Are you looking to face blizzards at the top of the mountain? Or do you prefer the more laid back, still freezing countryside wilderness camping? A good tent will serve you well. In this guide, you'll be looking at how to go through the gazillions of cold weather camping tents on the market. And you'll get to see the highlights of some of the warmest tents for camping.
If these choices are good enough for the winter, you can rely on them for late autumn or early spring. Let's break the ice!
3 Season or 4 Season Tents
3 season tents are a good choice from early spring to late fall. Unlike extreme cold weather tents, they are designed to offer protection from rain, wind, and bugs. All without putting too much strain on your pack. They have lighter fabrics with more mesh. And they aim for excellent airflow and high breathability.
But for ultimate protection, pick a 4-season tent. Such a winter tent is designed to face extreme weather. Frigid temps, strong winds, heavy snow? You should stay dry and warm inside. Sure, a sub zero tent will have a more rigid shape and allow various pole geometries for enhanced stability. It will have less mesh. Yet will focus on limited condensation and strategic ventilation.
4-season snow tents come in bright colors to stand out in stormy weather. They open up with a vestibule, where you store gear or just shed the snowy clothes. And could also boast a bit more space in the room. All these extra-features come for an extra price, yet we've looked for the best budget 4 season tent. And we actually selected a few affordable options.
Insulation
Winter tent insulation applies to the waterproof coating. But, also, to the design details of the seams, zippers, and floors. Winter camping tents are usually made of waterproof material. Or at least have a polyurethane coating. Yours doesn't have it or you just want extra protection? You can always buy and apply your own waterproofing coating. Otherwise, most tents do come with sealed seams, factory sealed zippers, and insulated bathtub floors.
Some of the warmest tents for camping on the market have a patented insulated design. Thanks to it, they do a great job at keeping the heat in. You'll see exclusive technologies that protect campers from extreme weather. And you have the ripstop polyester fabric, considered a good, sturdy choice. The best materials combine durable water repellents with polyurethane, silicone, and PTFE.
Material-wise, most extreme cold weather tents are made either of polyester or nylon. The fibers are tightly woven together to provide good insulation and weather resistance. Are you curious about the differences? The polyester is known for its ability to keep water and ultra-violet rays outside. Whereas the nylon is known to resist wear and tear better.
Cold Weather Tents With Stoves
Hot tents for winter camping are not that easy to find. Are you planning on using a stove in your winter tent? If so, it is best to buy a tent specifically designed for this purpose. The offer is more limited, compared to all the other products that feature no stove room. But go research some models with built-in stoves. You'll benefit from maximum performances and safety features.
The best cold weather tents with stoves must have heat-resistant materials. Some have a chimney, ideally made of stainless steel. Its parts must be projected with care, to avoid the hot pipe directly touching the structure of the tent. And some stoves are surrounded by a protective convector to prevent hazards.
Given these handy, practical, and protective features, tents with stoves are more expensive. But it is always better to pay more for the warmest tents for camping, than trying to figure out the stove part separately, all by yourself.
Weather Resistance
Strong winds make low temperatures even harder to bear. So, the wind is one of the most significant concerns when it comes to snow tents. You'll want your sub zero tent to be strong enough to face anything from strong wind and snow blows to blizzards. Which means you need a low-profile tent with an aerodynamic shape.
For extra protection, you should have different stakes at hand. You'll decide what anchors to use depending on how much snow you have where you pitch your tent. So, your winter backpacking tent should be designed with strong tie-downs or guy lines. Aluminum or carbon fiber are the toughest poles. And the more poles you get to intersect, the more stable your tent will be.
Once you know your tent can withstand blizzards, check its snow-shedding ability. You wouldn't want it to allow snow to build on the ceiling and make it collapse. To avoid this, look for a winter camping tent with a round shape, known as geodesic or semi-geodesic design. A good alternative would be a tent with steep walls.
Weight & Design
The best tents for winter camping have a more solid structure. That structure – made of carbon fiber or aluminum poles – will add up to the overall weight. But what you get will also depend on the design of the tent. A small detail like considerably less mesh can make the tent heavier.
What's more, winter tents have many other design details that add up weight. You want a vestibule to keep your mountaineering gear safe. And you want your tent to come with a snow-flap. This one will attach to the vestibule, as extra protection against blowing snow.
Speaking of vestibules, snow tents should have at least one. Some have two, and the size of the sleeping area can vary a lot. A double layer, two-person tent can be as lightweight as 6 pounds. And would make an excellent winter backpacking tent.
At the opposite pole, a luxury, spacious three-person tent can weigh as much as 66 pounds. The heavier it is, the more it will make a great option among the cold weather camping tents for the base!
6 Best Cold Weather Tents

The North Face – VE 25 Tent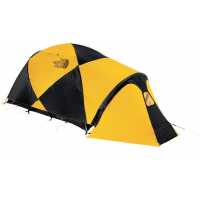 The VE 25 tent from The North Face is created for extreme cold. It is an ideal sub zero tent with little to complain about. Sure, it has an above-average price tag. And it has a somewhat heavier design compared to similar tents. But it is a fantastic three-person winter camping tent. Inside of it, you can withstand severe winds and temperatures of up to -60«F!
It weighs 11 pounds and features a dual-door, poled-front vestibule. It totals a 48 square feet floor area. From which the vestibule area takes 11 square feet (front vestibule) and 5 square feet (rear vestibule). The tent is made of polyester, with No-See-Um mesh for the canopy and nylon ripstop for the fly.
The material is treated with a water-resistant finish, a 1500 Mm PU coating. The floor is made of 70D nylon taffeta, with 10,000 Mm PU coating. Fully taped, it boasts a practical bucket design. The construction relies on DAC stakes and pull cords, snow stakes, reflective guy lines, and glow-in-the-dark- zipper pulls. And with its high-low venting system, lodging in severe conditions with it will be a breeze!
Pros
Outstanding strength-to-weight ratio.
Spacious three-person tent for cold weather.
Reliable insulation, with fully taped bucket floor.
Features lots of venting options.
Designed with dual doors & dual-entry front vestibule.
Cons
Moderate ease of setup.
A bit heavy for short hiking trips.
Our Take

Hilleberg – Jannu 2 Camping Tent
This compact dome tent from Hilleberg is built for the harshest weather conditions. It is backed by 9mm poles covered in Kerlon 1200 fabric. It features a self-supporting structure. And it has just one entrance and vestibule. Easy to set up, it relies on a short sleeve and clip pole system. Put together, it gives you two linked tent parts, inner and outer, that can be separated.
At 133 x 55 x 39 inches and only 6 lbs, it is an outstanding winter backpacking tent. The vestibule takes up 12.9 square feet and the floor 34.4 square feet. Behind the asymmetric mesh door with large zipper flaps, there's a comfy area with adjustable vents and a high bathtub floor. For your convenience, there are also four integrated storage pockets.
A significant detail that makes it stand out among the extreme cold weather tents is pole intersection design. Thanks to it, the structure will stand still even when winds and snow batter from all sides. The ripstop nylon with impregnated silicone adds sturdiness. And clearly, it is more than reliable to be taken on any expedition.
Pros
Lightweight and versatile, suitable for all camper profiles.
Provides high stability on high winds.
Features a self-supporting structure.
Compact footprint for pitching in narrow spaces.
Offers lifetime warranty against fabrication defects.
Cons
Only one entrance.
Vestibule could use better floor sealing.
Our Take

ALPS Mountaineering – Tasmanian 2-Person Tent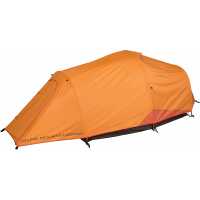 This two person tent has a free-standing pole system for quick and easy set up.
Assembly of this tent is simple and convenient, thanks to the aluminium poles which are linked with weatherproof shock cord. Simply click the poles into place and then attach the pole clips of the inner tent to the structure.
The inner tent is well ventilated with two doors, featuring zippered mesh windows to help air circulate but keep unwanted insects out. The polyester rainfly layer has a 1500mm coating to resist water and provide a shield from UV rays. The poly taffeta floor, weatherproof fly buckles and factory sealed seams also help to keep you dry inside.
The internal tent area of 34.5 foot square gives a comfortable amount of room for two sleeping bags side by side, and when the rainfly is added, a vestibule area gives another 13 foot square of storage space.
As well as the vestibule, there are multiple mesh storage pockets around the tent, and a gear hammock, to keep essentials such as your phone and flashlight close to hand.
This tent is backed by a lifetime warranty against any defects in materials or workmanship, giving you peace of mind.
Pros
Free-standing pole system allows for quick set up.
Inner layer is well ventilated for comfort in warm weather.
Vestibule creates generous storage space when the rainfly is added.
Handy storage pockets and gear hammock inside the tent.
Cons
Heavier than some items we've reviewed, at just under 8 pounds.
Our Take
Without a doubt, the winning product in the best cold weather tents category is the ALPS Mountaineering Tasmanian 2-Person Tent. Seeing the models against it competes, the following advantages truly make it stand out:


Versatile, friendly with your budget, 4-season tent.


Performs well in all four-season conditions, for camping all the way to the tree line.


Straightforward to pitch, with plastic clips and quick-to-assemble hubbed poles.


Great weight-to-strength ratio for a double-wall tent.


Provides above-average internal space with great length for taller sleepers.


Features twin hooped vestibules, one at each end of the tent.


Both the doors and the ceiling vents have mesh, for simple and adequate ventilation.


Provides great value for the money.



Big Agnes – Battle Mountain Tent
Looking for one of the best tents for winter camping that won't break your back? Try this lightweight tent relying on bomber basecamp material. The Battle Mountain from Big Agnes can take you to the top of the mountain! It is made of a durable polyester ripstop. And so, it performs superbly even during high moisture and temperature oscillations. Not to mention it also offers UV resistance.
The tent is available in two sizes, for 2 persons (at 7.65 lbs) and for 3 persons (at 9 lbs). It features two vestibule-doors, slightly differently designed. One of them is a single-zip door, whereas the other is a double-zip door. For the latter, you can pair it with trekking poles to extend it into an awning.
Speaking of flexibility, the windows, too, come with dual-zippers. You can rely on the mesh-only version, for proper ventilation in good weather. Or you can zip up the nylon layer to seal it completely. To get this winter tent standing at high-altitude, you have a straightforward system with color-coded poles, webbing, and oversized DAC twist clips.
Pros
Made of bomber basecamp materials.
Great strength & UV resistance.
Features two doors and two vestibules.
Designed with dual closure options.
Intuitive, color-coded setup.
Cons
Requires extra time for setup.
Rain fly tends to pool water.
Our Take

High Peak – South Col 4 Season Tent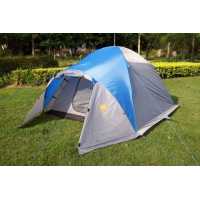 This four season tent can sleep up to three people, with quick and easy set up.
The tent has a clip pole design, with a ring and pin at the bottom of the shock-corded aluminium poles, meaning it can be assembled in a matter of minutes. The inner tent is made of breathable rip-stop polyester, and two large doors with mesh screening provide ventilation and privacy whilst keeping any bugs outside. The inner can be used alone in warm temperatures, if there's no threat of rain.
As well as the rip-stop polyester rainfly with polyurethane coating, there's also a polyurethane coated polyester floor that will help to keep you dry no matter what the conditions are outside. Seams are also taped and double stitched. For extra stability in windy conditions, you can stake out the guy ropes.
The internal ceiling height is 4 foot 5 inches, which is more generous than many of the tents we've tested. There are four gear pockets inside the tent for convenient storage of small items. When the rainfly is added, a vestibule is created which provides a useful dry storage area for gear such as walking boots and rucksacks.
This tent is backed by a one year guarantee against defects in workmanship and materials, meaning you can purchase this tent with confidence.
Pros
Designed for quick and easy set up.
Freestanding, but guy ropes can provide even more stability.
Performs strongly in wet weather conditions.
Vestibule provides useful storage when the rainfly is added.
One year warranty.
Cons
Heavier than some comparable tents (9.7 pounds).
Our Take
If you're going to buy a four season tent, you're probably looking to get the maximum year-round use whether camping in the sun, snow or rain. You need to be confident your choice will reliably stand up to a wide range of weather conditions, and not let you down in the middle of a trip. We've looked at some strong competitors here, but our pick for the title of Best 4 Season Tent is the High Peak South Col 4 Season Tent, and here's why:


Freestanding design with quick and easy set up.


Quality construction, with good water resistant materials and features.


A comfortable amount of space for two campers, with enough room for a third person.


Adding the rainfly creates a


storage vestibule for your gear, keeping the inside of the tent organised.


One year manufacturer's warranty against workmanship or material defects.



MSR – H.U.B. 8 Tent
The name of this sub zero tent from MSR says it all. As a High-Altitude Utility Basecamp, it's a top choice for anyone looking to camp with a group, in harsh weather conditions, at high altitude. It is an expedition winter tent with a tunnel, though freestanding design and a single-layer, single-room construction.
The tent weighs 10.8 lbs and measures 144 x 108 x 79 inches. It features a gear shed that adds 69 extra square feet of space. And the 7 poles that intersect multiple times make a very strong and stable structure. To top it off, they are very thick poles. This means it's one of those reliable snow tents that can take up a lot of snow on the roof.
Inside, you're looking at a removable 70D taffeta nylon floor rated with 10000mm waterproofing. The walls are from 150D taffeta polyester and 3000 mm polyurethane, combined with polyester mesh, the DWR 75D type. Prepared to accommodate so many people, it features generously sized large pockets where you can store even bulkier items. For sure, you won't be able to count on it as a winter backpacking tent, but it's a reliable choice for setting up a base.
Pros
Excellent size and height for winter group camping.
Bombproof, reliable, 4-season construction.
Provides easy access with two entrances.
Practical large storage pockets inside.
Freestanding, lightweight but stable design.
Cons
Doesn't come with stakes or guy lines.
No setup instructions.
Our Take