8 Best Glamping Tents
When you think of camping, the first thing that might come into your mind is that it's going be an exhausting weekend trip to a secluded place win the middle of nowhere. You have to build your own tents, ignite your own fire, and fetch water from the nearby river. However, little did you know that there is a growing trend in camping nowadays that debunks all of these myths. It is called glamping. It's basically a trip to a natural camping site while you bring with you everything that you need to feel glamorous doing it. Think of it as a staycation with mother nature.
Now that we're on that topic, you have to know that one of the essential parts of glamping is the tent that you set up at your campsite. You want your tent to still feel homey and luxurious as much as possible. For that reason, we have come up with a list of all the best glamping tents you can find in the market.
Each tent in this list exudes the luxury and the comfort that you are looking for in a glamping trip. They vary in features and prices, and you can check out our reviews to help you decide which ones are going to be your home in your next glamping trips with your girlfriends!

CORE 10 Person Straight Wall Cabin Tent
Stand tall and move around freely in this spacious cabin style tent. This sleeps 10 people (floor size 14ft x 10ft) and fits two queen air mattresses with a center height of 86". The Core H20 Block Technology and adjustable ground vents draw cool air in from the ground and pushes hot air out through a large mesh ceiling for ample cross-ventilation. It has a "D" style door that makes for easy entry and exit while a tough polyethylene floor can handle the high traffic. These tents use water resistant fabrics and seams that are thermally heat sealed to keep water outside where it belongs. Seals around the door and windows assure rain will run off without sneaking into your tent. Feed a cable or extension cord through the tent's electrical access port to run power to your tent. The port is fully closable when not in use. When not in use, you can keep your tent and accessories organized in the included 210D polyester carry bag. Includes tent, tent poles, rain fly, gear loft, room divider, tent stakes, and expandable carry bag.
Pros
Wide and spacious
Tall vertical clearance
High-quality materials and waterproof
Cons
The bottom cane easily get some holes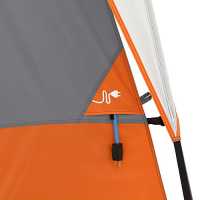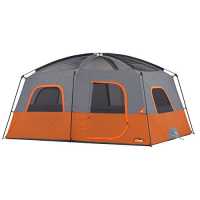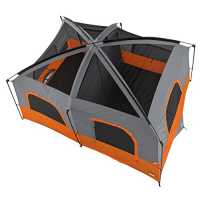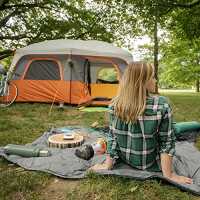 Our Take
If you want a total glamping experience, you need to get yourself a spacious and comfortable tent. Like the CORE 10 Person Straight Wall Cabin Tent which provides a very room shelter for at most ten people. It is so spacious that ten people can even be comfortable moving around the tent without feeling that it is too crowded. The vertical clearance of the tent is also very high so tall people won't even have to slouch when they are inside the room. It truly feels like a room rather than a tent.

Furthermore, this tent is very durable. It is made with high quality polyester material and is thermally sealed so you can make sure that it is not prone to tears and it is waterproof. You can still enjoy the comfort even in rainy nights and snowy afternoons. There's also an electrical access port that you can open and close when you need to feed a cable or extension cord to power your entire glamping tent. It really feels homey and comfortable - it's as if you are in a cool hotel room with nature as your backdrop! Impressive!
$219.99


Coleman Prairie Breeze Lighted Cabin Tent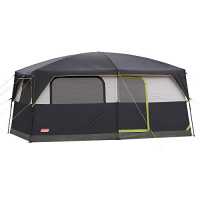 The Coleman Cabin Tent is a 9-person cabin tent that makes you feel at home with built-in LED lighting and fan system. Snag-free, continuous pole sleeves mean you only have to feed the poles once, shrinking setup time considerably. You can conveniently run an extension cord through the E-Port to bring electrical power into your tent. It is built with oversized widows that enhance ventilation and let you watch nature unfold before your eyes away from the bugs. It can fit 2 queen-size airbeds and lets you stretch out considering it has 7-foot center height. An illuminated wall switch lets you select between high, low, and nightlight modes on the integrated CPX 6–compatible LED lighting, which operates on 4 D-cell batteries or one CPX 6 cartridge. It will surely give you a comfortable place to rest with your whole family!
Pros
Has built-in LED lights and fan system inside
Durable and long lasting
Easy to set up
Has a lot of windows
Cons
Not stable for strong gusts of wind
Our Take
The main point of glamping is comfort and luxury while camping. That is why when you go with your family and friends on a weekend glamping trip, you need to have a tent that is not only comfortable but is also convenient and luxury. One of these glamping tents is the Coleman Prairie Breeze Lighted Cabin Tent which is comfortable enough to house up to nine people inside without feeling crammed. It also has a tall vertical clearance of 10 ft. which is enough height even for the tallest person in the world. The entire tent can even fit two queen-size airbeds and lets you stretch out considering it has 7-foot center height. However, what sets this tent apart from the rest is that it has its own LED lighting and fan system. There's nothing more luxurious than a tent with built in lights and fan!

Setting it up is not complicated as the continuous pole sleeves mean you only have to feed the poles once. You can also run an extension cord through the E-Port to bring electrical power into your tent so you can still enjoy watching the movie, play music, and feel relax while you are inside the tent.

So if you are looking for a convenient glamping tent, this one is a definite contender. You should check it out!


White Duck Outdoors Premium Luxury Avalon Canvas Bell Tent with Stove Jack
If you are looking for a premium tent that can be used in all weather conditions, this is what you should have. The material used is 100% cotton canvas because it is natural and sustainable. It also used Grade-A premium 10.10 oz, double Fill "Army Duck Canvas" fabric. These are all water repellent, UV, mold and mildew resistant yet breathable. It has an instant setup for it comes with a heavy duty galvanized center pole and door A-frame to give ample space to move your outdoor essentials in or out. The tent includes zip in/out heavy duty groundsheet which provides insulation against the cold ground, stops rain water or condensation, and makes it easy to pack away your tent in muddy or wet conditions. The tent includes a 5" stove jack with a weather flap designed to withstand extremely high temperatures, protect tent fabric from melting in direct contact with a hot stove pipe and keep warm during the winter season.
Pros
Has so much space (horizantal and vertical)
Has a stove jack
Breathable and waterproof material
Easy to set up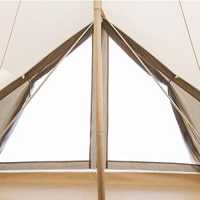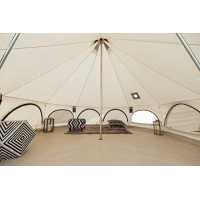 Our Take
There are different things that you need to be excited about the White Duck Outdoors Premium Luxury Avalon Canvas Bell Tent. First of all, this tent is not made with plastic fabric or polyester. Instead, it made with Grade-A premium 10.10 oz, double Fill "Army Duck Canvas" fabric. This fabric is water repellent, UV, mold and mildew resistant yet breathable. That means that this tent is perfect for all weather because it can withstand the summer heat because of the breath-ability of the fabric and it can also be used during rainy days and winters because it is waterproof. Win-win, isn't it?

This is a big tent, truly massive, with a diameter of 16.5 ft, it needs a big space to set up, and once you stake out the sides, it's probably double that. This tent is also heavy, not by comparison to other large canvas tents, but compared to typical synthetic material tents, the difference is considerable but definitely manageable by one person. The whole setup on this tent in fact is quite manageable by one person, as the majority of the 30 minute setup time is spent pounding in stakes. Zipping in the floor and erecting the center pole and door frame takes a total of 5 minutes with time to sip your beer in between.

Heaters and stoves stay nice and toasty in the tent and with quality wood, you can get a solid 6-8 hour burn through the night. Having a stove in the tent also means you can cook inside. In closing, this is a fantastic tent. Easy and quick setup and tear down, quality materials, and a dramatically elevated experience as compared to a traditional tent. This tent is the perfect upgrade for the family looking to take their outdoor living to the next level and above and beyond that, White Duck Outdoors has fantastic customer service, with knowledgeable and helpful staff excited to help you and yours with your next adventure.


The Original-Authentic Standing Room Family Cabin Tent
The Standing Room 100 Hanging Tent is the best family cabin camping tent and is an excellent shelter with vertical walls that anyone can stand straight up in. If you are tall and want a tent with headroom, this tent has 8.5 feet of clearance at the center, and the vertical walls allow use of the full floor space The tent and the gazebo come separately and nearly any 10'x10' (straight leg) canopy or gazebo with a vaulted ceiling can be used as a cover and the support for this tent. It is easy to set up with its attach to canopy hooks and easy-to-follow assembly instructions. It sets up in minutes and even the youngest campers can help. Allows easy enter from any side and ability to "stack" two or more tents together for additional rooms. Includes four convenient storage pouches located in the perimeter of this large tent for cell phones, toiletries, extra batteries, etc. Loop ties located in the perimeter of the tent for hanging towels, clothes. Etc. this would be your must-have for you next camping trip!
Pros
Large cabin area
Large doors and windows
Easy to set up
Not as expensive and heavy as canvas tents
Cons
Stakes, matching covers are not included in the package
Weak ties for the frame legs
Our Take
If you are looking for a good alternative to canvass tents that are less expensive and more lightweight, then the The Original-Authentic Standing Room Family Cabin Tent might be what you have been searching for. This one is quite large and has plenty of room in it. We can now camp in luxury without having to put half our stuff outside the tent. The floor is a big plus for camping since it will stop snakes from cuddling up next you while you sleep.

While this is not military quality, by any means, it kind does remind you of some of the military tents that your grandpa may have used while he was serving in the army back in the 90s. All in all, it has a very large cabin area with very large entryways, front and back. The windows for ventilation are also large enough to promote air circulation inside. It is also easy for one man to put up and even its floors are of high-quality. Highly recommended!
$139.99


Ozark Trail 10-Person 3-Room XL Family Cabin Tent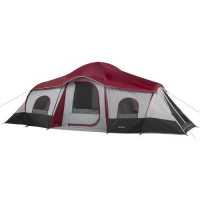 The Ozark Trail Family Cabin Tent can fit three queen size air mattresses with a room to spare. It has one center door and two side doors that offer separate entrances for added privacy. Six windows and two side doors for increased ventilation and panoramic views will make you enjoy your camping trip without being bitten by the bugs. The taped fly seams prevent leakage. It can fit 10 persons.
Pros
Huge horizontal and vertical space
Waterproof
Cheaper than others
Cons
The dividers are not great quality
Not durable
Not always available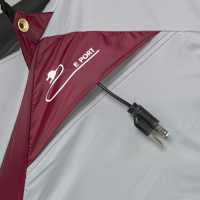 Our Take
The Ozark Trail 10-Person 3-Room XL Family Cabin Tent is a very spacious and roomy glamping tent that is perfect for you and your family. You will be able to fit a queen size bed on one end with 2 twins on the other end for the kids. You can also set up a nice 5 ft table in the center for setting our stuff on and keeping things clean. The little mesh bags by the bed for holding phones and stuff you don't want on the ground and the little ring in the middle top is great for hanging your light. The room dividers aren't that great but it creates a bit of privacy between adults and kids. Better than nothing. All in all, this is a great tent especially for a huge group of glampers. Very comfortable!

Coleman 8-Person Tent for Camping
You can instantly set up a home base with some extra sleeping space with the Coleman Montana 8-person tent. It is made of polyester and has welded corners and inverted seams to prevent water from getting in. The included rainfly offers extra weather protection. The extended door awning creates a dry space to store gear and enter the tent. If it rains, the included rainfly and the WeatherTec system with its patented welded floors and inverted seams will help you stay dry. Additionally, angled windows, which you can keep open in the rain, help keep the water out while allowing for extra air circulation. Setup is simple with snag-free, continuous pole sleeves and the patented pin-and-ring system. A hinged door makes for easy comings and goings. Inside, there's enough room to stretch out on three queen-size airbeds, and storage pockets help to keep small items organized. When it's time to head home, the tent easily packs up into an expandable carry bag with a rip strip until you're off on your next adventure.
Pros
Huge space
High quality
Easy to set up
Very affordable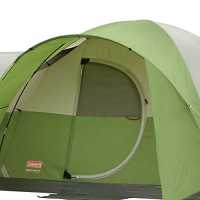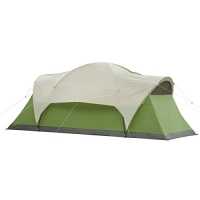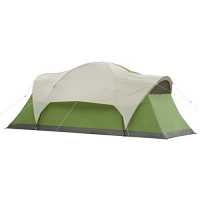 Our Take
The Coleman 8-Person Tent for Camping is one gorgeous clamping tent. Aesthetically, the mint green look exudes glamour and luxury and you can truly feel like you're one thousand bucks when you are inside this tent. But nonetheless, it still has not compromised on the most important aspects that makes a tent a good one. It is very roomy, yet a bit narrow and could have a slight ventilation problem during hotter and more humid days and nights. But overall, it is a solid, high quality tent.

If you have never set up a tent before I can see it being a bit overwhelming at first, but with more than one person, you should be able to get it. If you have set up a tent before, you will be fine with one person. The door is also awesome. With kids running in and out it's great...but you still have to zipper it each time and both kids should be able to handle the zipper door very well and the zipper to handle them well. It's tall so you can stand up in it. There may be better tents out there....but not many at this price.
$169.27


Ozark Trail 16x16-Feet 12-Person 3 Room Instant Cabin Tent with Pre-Attached Poles
The Ozark Trail 12 Person Instant Cabin Tent sets up in under two minutes. This 12-person tent requires no assembly because the poles are pre-attached to the tent, just unfold and extend. This three-room, cabin-style tent has large windows on all sides and room to stand up. It features a large front awning for relaxing under the shade. In addition, it comfortably fits three queen airbeds or up to 12 campers in sleeping bags on the floor. Two internal room dividers allow you to create separate sleeping and living spaces. Keep cool with the oversized ground vent that also fits an air conditioner.
Pros
High quality
Huge (can fit up to 12 people)
Easy to set up
Cons
Hard to clean
The poles are not replaceable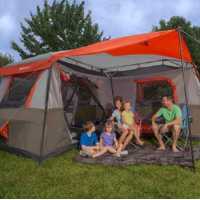 Our Take
If you are looking for a glamping tent that you can use party with your friends in, then this one is for you. Not only that this tent is highly durable and made of high-quality materials, it is also very room that can allow eight to 12 people to comfortable stay inside without feeling crammed or squeezed. This is one of the biggest tents in this list and it deserves to be here because it is more awesome than that.

This is an outstanding tent for the money. First, it is a breeze to set up. Set up the first time took about 10-15 minutes. Tear down was about 5-10 and the great thing is that after tearing down now four times I can get it to fit perfectly in the bag every time. The shaded corner is a plus as well, as is the large windows. The learning curve for set up is I think similar to other tents, once you get the hang of it, it's pretty easy. What's the best thing about this tent? In a torrential downpour, severe thunderstorms for hours the tent is still standing with not a drop of rain getting in. I am amazed at the quality of this tent! You should try it to believe it!

OT QOMOTOP Camping Tent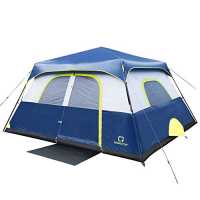 The QOMOTOP Camping Tent has instant fast 60-second easy setup. It only recommends two people to build a tent together, but one person also can set it up without any difficulty. It has PU taping for both rain fly seam, PE tube floor with welded corners, which keep the inside of the tent absolutely dry during heavy rain. Measures 8 x 8 feet with 4-foot 11-inch center height. Spacious interior has room for 1 queen airbed and other camping gear. You can connect the electrical cord easily, the port can be fully closed when not in use. Includes tent stakes, carry bag, mud mat, gear pockets and gear loft. Mesh roof and Ground vent guaranteed a much better ventilation compared to normal tents, this also ensured that no water droplets condense inside the tent at night.
Pros
Different size options
Easy to set up
Durable
Spacious
Very affordable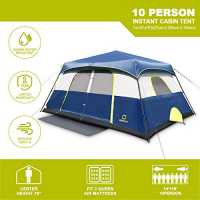 Our Take
The OT QOMOTOP Camping Tent is probably one of the tents in this list that is to be considered the best in terms of ease in set up. The tent prides itself by an instant and fast 60-second set up which can also be done by one person alone. The ads do not lie though, as experience will tel you that it really easy and fast to install. Same with taking it down which only requires minimum efforts for one person.

The poles are very strong, they withstood a super strong wind storm that lasted 2 days up in a high desert. Most tents on our campsite flew away, this one withstood it. I had to secure it with stones otherwise it would be impossible with any tent, but nevertheless the poles didn't bend. It would be perfect if a stake comes with the package to address this issue but stones are okay in doing the job of securing the tent in place. Nevertheless it is a very solid tent and you can even choose the size among a 4-person, 6-person, 8-person, or 10-person capacity. Great buy!
$119.97