9 Best Instant Tents
Once you hike to your destination, who wants to mess around with a tent that takes too long to set up? Or waste part of a good hiking day trying to dismantle a tent?
Nobody.
That's why instant tents are a camper's dream.
An easy assemble tent that's also convenient to carry makes it easy for hikers, backpackers and campers to make the most of their time in the wild.
The best instant tents for camping are easy to put up, even for one person, and quick to take down. But what else do you need to look for when choosing quick pitching tents? And which are the best choices in instant set up tents?
Size
One of the key decisions you'll have to make is about the size of your fast setup tent. If you're a lone hiker, your choice will be different than someone with kids or lots of hiking friends who is looking for an instant family tent or instant cabin tent.
Someone who hikes long distances will want something that's small and lightweight; in the same way that someone who camps alone, or a couple who camps on their own will choose a smaller tent.
Then there are those who may not need a large instant tent, but still like tents you can stand up in – in that case, the center height will be important. Or, a family may want an extra large camping tent that has the option of separate rooms for sleeping.
So size is not simply about the rated sleeping capacity of the tent. The floor size is what determines how many people can sleep comfortably, along with having room to store gear. The shape of the tent and the height of the tent are also size considerations.
Shape
As mentioned, shape is another factor in size and one that is important to many campers.
Some fast set up tents are shaped like a cabin, in that they're square or rectangular in shape and the walls are straight. Besides the extra sleeping space on the floor of a big tent, the square shape gives them even more room. That's because the high, straight walls mean adults can usually stand up inside, at the edges and not just in the center, and even walk around inside.
Another shape is a dome tent, which is just as the name implies. They are quite a bit smaller than a cabin-tent, but that also makes them easier to pack, carry and set up. The dome shape may be high enough for standing in the center, but usually is not high enough to stand at the edges or walk around inside. But that lower height also makes dome tents better in windy conditions. If you hike and camp in a windy environment, a dome tent may be the best choice for you.
The floor shape can differ too. Some tents are square, while others are a hexagon shape, which can provide a bit more floor space with the added corners.
Capacity
Somewhat related to size is capacity. If you're a family of four or more, you'll likely be looking for the best instant cabin tent. Or, if your kids are old enough, you could choose two tents, one for the adults and one for the kids. In fact, easy set up tents for camping would be fun for the kids to learn to set up and take down on their own.
But even those who camp alone or in groups of 2 or 3 will still want to carefully consider capacity. If you carry a lot of gear that you want to keep in the tent while you're sleeping, you'll need a tent that's bigger than the sleeping capacity. A 3-person tent that has 3 sleeping bags and a bunch of gear will be uncomfortable and inconvenient on a long camping trip.
Portability
Being able to hike long distances with your instant up tent in your backpack may be important to you, in which case the packing size will be an important factor.
There are easy set up tents that are cabin-style and large capacity, and fold into a rolling carrying case. Those would not be ideal for long hikes. In fact, that type of tent is more appropriate for car camping.
So how you'll be getting to your campsite will be a key component in choosing your quick setup tent, because portability may or not be important.
Ease of Use
The whole point of instant tents for camping is that they are easy tents to pitch. In fact, set up can be accomplished by one person. They're most often constructed with pre-attached poles that are inside the body of the tent. The poles fold down for storage and carrying, and then the tent is pitched on the ground.
This style is usually the easiest tent to set up by yourself, by simply folding out the material, unfolding the poles, and snapping them into place. Some have a hub at the peak of the tent to which the poles are attached, while in some you have to snap the poles together.
Other Factors
There are a few other components of instant camping tents that may or may not be important to you in your selection.
One example is a mesh roof, which is nice for star-watching, and more. It's also helpful for ventilation. With a rainfly over the tent, a ventilated roof will provide airflow even in wet weather. That can be a boon in hot rainy conditions, when a closed up tent can feel like a sauna.
Speaking of a rainfly, it is usually standard with instant setup tents, but you'll want to be sure to have one for rainy days and nights. Or sometimes when you want to use your tent as a sun shelter at the beach or at a music festival, you'll use the rainfly to be sure the roof is covered.
Doors and windows are another factor. You may want to have 2 doors instead of just one, which also helps with ventilation. You may want storage pockets inside to keep your gear off the floor. A lantern hook is a nice added feature. And some self pitch tents include a port for inserting an electrical cord.
So decide if there are other features that are a must in your tent before making the choice of the best quick setup tent for you.
Now, let's look at the instant up tents that we like.

Quick-Up – Instant Pop Up Tent
This dome tent is built for three adults. It has a hub system design making it easy to set up and take down, even by one person. You simply roll it out, lock the poles in place, and pull the drawstring.
Ideal for camping or as a shelter at the beach or at festivals, with a micro mesh roof and door door for air circulation. The eight pegs and four ropes to tie it down also help with wind resistance. It also has a rainfly and taped seams providing water resistance in inclement weather. Take the rainfly off in nice weather and enjoy the panoramic mesh windows and ceiling.
The center height is 43 inches (3.6 feet), and the size once set up is 82 x 74 inches (7 feet by 6 feet). The floor is square and slopes down from the peak. Total weight is 6.8 pounds. It comes with a carry bag for convenience.
Pros
East to set up.
Good for three people.
Cons
Probably more realistic as a two-person tent.
Our Take

Toogh – 3-4 Person Automatic Camping Tent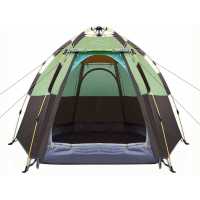 This tent is built for 3-4 people, but probably best suited comfortably for a family of 2 adults and 2 children, when you add gear into the tent. You can fit an air mattress of either a queen or king size, or 3 large sleeping bags.
Easy set up by laying it out, straightening the poles, and pulling the top top piece into place. Take down is just as simple.
The tent comes with 14 stakes and 8 guy ropes to add stability in the wind. It also has a canopy and 2 door poles, and a rainfly and taped seams for water resistance.
Two doors with strong mesh windows provide great flow-through ventilation. The hexagon shape gives you additional room inside by having a large floor.
A nice high center of 65 inches (5.4 feet) makes it comfortable for many adults to stand inside, although tall people will have to slouch over. Set up size is 95 x 82 inches (8 feet by almost 7 feet), and carrying weight is 7.5 pounds. Comes with a carrying bag.
Pros
Nice inside height.
Two doors for flow-through ventilation.
Cons
Likely not big enough for 4 adults to be comfortable on a longer trip.
Our Take

Core – 4 Person Instant Dome Tent
This is rated as a 4-person tent, although that's likely sleeping side to side without much room for gear. It holds a queen-sized air mattress.
It is a decent size, at 9 feet by 7 feet, with a smaller center height of 54 inches (4.5 feet).
The instant set up takes 30 seconds, as it features a pre-assembled steel pole system that serves as a frame. Unpack the tent, unfold the poles, and extend them until they click into position.
There is one D-shaped door that makes it easy to enter and exit the tent. It also includes a rainfly, sealed seams and a rain-resistant door that also serves as a window, plus a venting system with a mesh ceiling to keep you cool. Comes with stakes and a carrying bag.
It also has a gear "loft" in the ceiling, that includes a hook for a light and pockets to sort your stuff and keep it off the floor. There's also a port for an electrical cord that closes up fully when it's not in use.
Pros
Is a good size without being too big.
Has a handy gear "loft" to keep your stuff off the ground.
Cons
Probably not ideal for 4 people.
Our Take
These are all great choices, and with easy setup, they all serve as "instant" tents. We like the CORE 4 Person Instant Dome Tent the best, and here's why:


You can sleep 4 people if necessary.


The integrated frame makes for an easy setup, even if you're alone.


You can get a queen-sized air mattress into it if you like.


The size is decent, at 9 feet by 7 feet, with a nice center height of 4.5 feet.


The D-shaped is easy for entry and exit, and also serves as a good-sized window.


The mesh ceiling and venting system ensures good air circulation.


Includes a rainfly, sealed seams and a rain-resistant door for those wet camping days.


Comes with stakes and a carrying bag.


The bonus is the gear "loft" in the ceiling, which can hold your gear off the ground and also has a hook for a lantern.


Also features an electrical cord port that closes up fully when it's not in use.



Zomake – Automatic Hydraulic Dome Tent
This tent is rated as a 2-adult tent although it could accommodate 2 children as well. It's 89 x 91 inches (7.4 feet by 7.6 feet) with an inside center height of 45 inches (3.75 feet).
Like the others, it has a quick setup with a center hub where the poles are attached at the top of the tent. It's made of an oxford fabric that boasts water resistance, tear resistance, tamper resistance, and stitching reinforcement. It includes side storage pockets and a lantern hook.
Two doors make for good ventilation, and it includes stakes and ropes for extra stability in wind. The rainfly can be used on its own without the tent to serve as a shade pergola.
Pros
The rainfly can be used on its own for shade.
Has storage pockets and a lantern hook.
Our Take

Coleman Cabin 4 -10 Person Tent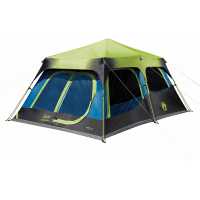 The Coleman Cabin Tent is quite a big tent. It can fit up to 10 people and four queen-size air beds. It's so spacious that it even comes with a room divider. This is a great feature to have for those who want to share tents but still have some privacy.
Even with its size, this tent is still quite easy to set up and take down with telescopic poles that make installation and storage manageable. One person can set the tent up in a matter of minutes.
The frame is strong enough to withstand winds up to 35 mph. Thick heavy-duty Polyguard fabric provides reliable protection from the elements. Like other Coleman tents, this also features the Weathertec system. A vented rainfly and protected seams keep rain away. Patented corner welds and tub-like floor ensure that you stay dry.
Late risers can sleep past sunrise in comfort with the Coleman's Dark Room Technology. Up to 90% of sunlight can be blocked, significantly reducing the temperature inside the tent even during daytime. A vent on the roof provides additional ventilation.
Another nifty feature of this tent is the patented hinge door for easy access in and out of the tent. It would have been better to have two such doors though.
Pros
Easy setup and takedown.
high ceiling and spacious.
Free standing.
Cons
One-side access only.
Too heavy for backpacking use.
Not reliable for extended rain periods.
Our Take

OZARK Trail – 12 Person 3 Room Instant Tent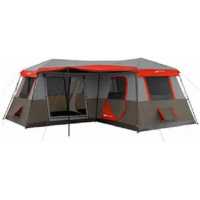 This is the granddaddy of instant tents, with a huge 16 x 16 foot size and the capacity to sleep 12 people. It can hold 3 queen-sized air mattresses, one in each of its 3 rooms.
Despite the size, it's still considered an instant tent due to its easy set up, including pre-attached poles that snap into place to create the separate but attached rooms. It's somewhat L-shaped with a large front awning that provides shade.
This is comfortable enough for adults to live in with a center height of 82 inches or almost 7 feet – making it more like a cabin than a tent!
It also has 7 fully closing windows, meaning you'll get full ventilation throughout. There are two internal room dividers that create separate living and sleeping areas. There's a ground vent that also fits an air conditioner, and a port for an electrical cord.
When it's put away, it fits into the included wheeled carrying bag, which is 52 x 12 x 12 inches.
Pros
Great for big families.
Adults can fully stand inside.
Cons
Make sure you need this much space, or lugging around a tent this big could become a hassle.
Our Take

Timber Ridge – 6-Person Instant Cabin Tent
This tent will sleep 6, with 5 people laying side to side and the 6th laying perpendicular to the others. It's a square shaped tent with slightly sloped walls.
It has a good size of 10 x 10 feet with a center height of 78 inches (6.5 feet). It has an integrated pole system that meets in the middle of the roof.
The door is a large O shape and there are 3 zippered mesh windows on the other 3 walls. There's also mesh in the ceiling for ventilation and a rainfly to protect you in storms. There's also a side storage bag to keep your gear off the ground.
Pros
A nice size that's big enough to stand inside.
It features a storage compartment inside for your gear.
Cons
Not ideal for 6 people if everyone has lots of gear.
Our Take

Coleman – Tenaya Lake Tent
The Tenaya Lake Lighted Tent has a built-in LED system with a fabric cover, and it gives a pleasant overhead light that makes in-tent activities much easier. The tent also has a built-in closet to keep your things organized throughout your trip, and it is dry and comfortable thanks to the WeatherTec system, protected seams and rainfly.
This tent looks the part with an aesthetically pleasing colour scheme, and it's incredibly easy to assemble thanks to pre-attached, color-coded poles and hub, fast-fit feet, and snag-free Insta-Clip suspension.
Pros
Built-in lighting gives an even light throughout – it's great for activities.
It has a built-in closet with shelves and a hanger bar to organize your belongings.
It withstands high winds well.
It is well ventilated.
The hinged door makes access easy.
There are storage pockets for your valuables.
Cons
It is a little smaller than some comparable tents, but fits 2 queen sized airbeds with space left.
Poles may be less sturdy than comparable tents.
It takes more than 2 people to set it up easily.
Our Take

Wenzel 8 Person Klondike Tent
Made from Weather Armor polyester fabric with a polyurethane water resistant coating, the Wenzel Klondike is a very efficient tent. It is truly spacious, at 16 x 11ft and can fit 8 people inside, with 5 in the interior and another 3 in the screen room, which has a zip-up wall. Even the tallest of people can stand up in it without issue – provided they aren't over 6ft 5". The screen room is also useful for storing luggage or getting out of the sun for a while.
The tent comes in tan or blue, and has a mesh roof and two mesh windows for adequate circulation while keeping out the critters. There's also a rear mesh vent to circulate air around the floor area. All seams are sturdy (double-stitched and lap-felled), it has a tub bottom, and everything including the zips is treated with water repellent, so there is no fear of water getting in.
Pros
The tent is super-spacious so can accommodate larger groups comfortably.
The attached screen room allows for a bit of privacy if needed.
Circulation is highly efficient, so you're unlikely to overheat.
There are double-staked power corners.
The screen room can be zipped up to prevent rain coming in.
It only takes between 10 and 20 minutes to set up.
Cons
There is no zipper on the top of the side windows.
The rainfly is on the small side.
It sometimes has a tendency to sag a little.
Our Take