6 Best Roof Top Tent Reviews
Picking out a perfect rooftop tent can be a tricky task, especially if you don't have any experience. Roof top tent is not your traditional camping tent, since they are usually more expensive than the camping tents, and in most cases, they are mounted on the roofs of different vehicles, including trailers or rigs.
When buying, pay attention to whether the tent or the tent annex is advertised. The most important thing is to be safe and protected while sleeping. If you make sure that the tent material is rugged and the size of your tent fits your roof like a glove, there shouldn't be any problems whatsoever.
Quality roof top tents should withstand different weather conditions and also be stable and perform well even in high winds. Go through the tent measurements and its features to see what works for you the best. For instance, aluminium poles are strong and durable but conduct electricity and are prone to corrosion over time. Is that a dealbreaker? Sometimes yes, sometimes no.
If we compare roof top tents to the tents that you set up on the ground, roof top tents are still spacious and roomy, but the space to move around is a bit limited. It is also more time consuming since you have to install the ladder, too.
Nowadays, ground tents have a pop-up mechanism and are erected within a few minutes, which is not always the case with roof top tents. Most cars have their dynamic weight capacities, which is basically, the weight your roof can hold. You have to stick to the prescribed rules if you want your trip to be entirely hazard-free.
Check out our list below and see what type of roof top tents should you consider for your next trip to nature.
Material
Similar to other camping tents, polyester, poly-cotton, cotton or polyurethane is used for the tent body.
Nylon is also a material that can be used for the tent body, because of its breathable features. However, it is thinner and sometimes can't perform well in severe weather conditions.
Cotton is a breathable fabric, but it gets very heavy when it's wet so it is not very practical, considering the fact that the tent will be set up on the top of your car.
Tents that are more expensive also come with a thick foam mattress, whereas you can find thinner and not so supported mattresses with cheaper tents.
Materials are supposed to be waterproof, water repellent or fire retardant in order for everything to function well.
Material used for poles is usually stainless steel, aluminium or fibreglass. Aluminium is lighter and more firm, and that is why it is a preferable material that manufacturers tend to employ.
Size
A tent annex can be added to a roof top tent in order to increase the storage space. Not only do you add more storage, this is also a great way to add more functionality to your tent.
When it comes to tent sizes, it is supposed to fit the roof of your car. If you have a roof rack, the clamps will stick to the rails with ease.
Standard size roof top tent means that it can easily fit almost any car, although you should check the width and the length of your vehicle's roof before making a final decision.
Tent sizes are directly related to capacities. A tent for more people will be bigger in size and will take up more space.
Weight
Since you'll be spending the night in the tent, pay attention to the load capacity. Depending on the number or people that will be in the tent, pick a tent accordingly.
Tents' load capacities can differ. Some tents' maximum load capacity is around 300 kg, which is more than enough for your gear.
Most of the time, aluminium is used for tent construction (for poles precisely), and polyester for the canvas, so the tent itself shouldn't be too heavy or bulky.
Ease of Installation
Most roof top tents have clamps and the process of installation is quite simple. If you're not too keen on reading the instructions, a pop-up mechanism tent will be the best option for you.
However, installing tents is almost always done by following the instructions from the manual.
The thing that differentiates roof top tents from regular camping tents, is that they are not placed on the ground but on the platform.
This means that you have to install the ladder if you want to have a functional tent.
It might seem that because of the ladder, the installation process is more complicated, this doesn't have to be the case.
Pay attention to the height of your car. Sometimes, it will be necessary to upgrade the ladder and extend the length for you to be able to mount the tent properly.
6 Best Roof Top Tent Reviews

ARB – Simpson III Brown Rooftop Tent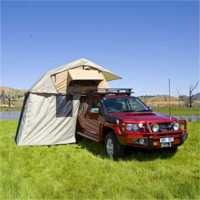 This is not a classic tent, but an annex or the lower half. Apart from sleeping, you can use this additional space as a changing room, a concealed location for your waterless toilet or you can have the kids sleep downstairs.
Furthermore, if you are packed full of gear, you can also store it in the annex. The top of the annex is open.
It has clamps so it is easy to set it up, since they easily connect to the roof rack. It doesn't come with a ground area or the floor, but you can use a foam tent floor instead.
The ladder that comes with it is designed for higher vehicles, such as a Jeep or another vehicle with a similar roof height.
The canvas material is fairly waterproof. It folds over and pops up when you need it. This is a tent with an attached lower skirt.
The lower privacy skirt zippers on so it is optional, and great for privacy or rainstorms.
Pros
Additional storage space
Comes with a ladder
Waterproof canvas materiaal
Easy to fold and stash when no longer needed
Beginner-friendly pop-up mechanism
Cons
The tent is sold separately and sleeps 2
Doesn't come with instructions
Our Take

TMB – Orange Pop Up Roof Overland Tent
TMB Orange Pop Up Roof Overland Tent is a tent that fits most vehicles that have roof rails or cross bars. It comes in different colours, so you can match it with the colour of your car.
The roof top tent closes with the aid of snap straps. It has a bungee net roof storage with side pouches.
In these side pouches, you can store your personal belongings or small accessories.
It's easy to open with shock assisted arms, and it's easy to close with the help of inner and outer zippers.
Once the tent is fully extended, it stays open even if the weather is windy. It also comes with a memory foam mattress that is pre-installed.
The interior of the tent is spacious, and it weighs around 80kg. The shell is made of plastic and polyester was used for canvas which is strengthened with Oxford PU Coating. The frame is made of aluminium.
Pros
6 month warranty
Comes with free accessories such as ladder and extra storage bag
Spacious interior
Pre-installed memory foam mattress
Aluminum frame
Cons
Comfortable, but thin mattress
Installation process isn't beginner friendly
Our Take

Smittybilt – Overlander Tent
Smittybilt Overlander Tent is a standard size tent that can accommodate 2 or 3 people. If you choose an XL size of this tent, there will be enough room for 3 or 4 people.
It comes with a fire retardant double foam mattress, but you can bring a sleeping bag or sleeping pad if you want to.
Load capacity of this tent is 300 kg, and the inside of the tent is roomy and spacious. It comes with a rainfly and a waterproof top, which also protects you from harmful UV radiation.
Side windows are designed not to let mosquitoes disturb your peace.
The ladder is made of lightweight and durable anodized aluminium, and the hinges were constructed from stainless steel.
Tent frame poles are made of aluminium, too. Removable floor can be attached with heavy duty zippers for privacy.
Pros
1 year warranty on the product
Mounting brackets included and a power adapter
Easy setup process
Extra wide ladder
Tested for extreme weather conditions
Cons
Within the more expensive range
Bulkier tent body
Our Take
Here are a few reasons why we selected Smittybilt Overlander tent as the winning product.
It helps you stay safe and secure while you sleep on your comfortable mattress.
You go on a trip to take the edge off your hectic life, and the last thing you need is not getting a wink of sleep because of a lousy mattress.
Even though it's within the expensive price range, this tent's features will definitely make you enjoy your trip even more.


You get a 1 year warranty on the product, to ensure your satisfaction.


The tent was tested for various weather conditions, which means you can sleep in peace knowing that you'll be safe.


Setup process is easy, and the tent can be up in a short period of time.


It comes with a high density double foam mattress, to ensure your comfort.


It comes with interior LED strips, mosquito nets, mounting brackets, power adapter and many other features necessary for your satisfaction.



Front Runner – Roof Top Tent
Front Runner Roof top tent is the lowest profile roof top tent on the market.
The construction of this tent is extremely lightweight, since it weighs only 40kg.
It comes with a mattress, but you have to have sleeping bags and pillows in order to ensure your comfort.
All windows and panels are zippered for extra privacy and .
The ladder is made of aluminium, and the tent is mounted to an aluminium base that is insulated to keep the cold out.
When it comes to storage space, there are two interior pockets to store extra gear.
There is also a fly-sheet cover (made from 200D Oxford weatherproof fabric) that you can remove if necessary.
It offers shade, decreases condensation in the morning, and you can freely leave the windows open even if it's raining.
Pros
Lightweigth tent
Aluminium ladder and base
Fly-sheet cover
Zippered windows and panels
Two interior pockets
Cons
You have to get your own sleeping bags and pillows
Need a Front Runner tent mount kit to set it up
Our Take

Tepui – Ruggedized Kukenam Rooftop Tent
Tepui Ruggedized Kukenam roof top tent is a tent that is convenient for all four seasons.
Even though it offers accommodations for 3 people, there are more spacious Kukenam tents that can meet your needs. So, it is available in different colours, styles and capacities.
There is an aluminium diamond-plate base for extra protection and durability.
It comes with a high-density foam mattress and an anti condensation mat. Tent fabric is water, UV and mold resistant.
The tent construction is made of aluminium and the internal frame is fully wrapped.
A great thing about this tent are built-in screened sky panels that provide an amazing view.
Pros
Suitable for all four seasons
Built-in screened sky panels
Different colours, styles and capacities
Aluminium base
Water, UV and mold resistant
Cons
Prior to installing, should watch a setup video
Two people set it up
Our Take

Yakima – SkyRise Rooftop Tent
Yakima Roof top tent is a smaller tent that accommodates 2 people.
It comes with a functional ladder, rain fly, mattress, and mounting hardware. The rain fly has a waterproof coating.
It goes without saying that your vehicle will need a roof rack or rails to which you'll need to anchor the tent mounting hardware.
It has mesh panels on the side and the one on the top for stargazing and to improve the tent ventilation.
If you go to Yakima website, you can see which rack they suggest for your particular vehicle. The designs of the tent falls into the lightweight category, with only 48 kg weight.
Pros
Lightweight design
Find rack suggestions on their website
Comes with a ladder and mattress
Zippered mesh windows
Waterproof rainfly
Cons
2 person capacity
Within the higher price range
Our Take