7 Best SUV Tent
An SUV tent is a type of camping tent that is designed to attach to your SUV. At first, the idea of tents that attach to SUVs may sound a little unusual. However, when you consider that this means you can take advantage of the air conditioning, heating and power supply of your SUV, it makes perfect sense!
Of course, SUV tent camping is quite unlike hiking or backpacking with a tent, so there are some different things to bear in mind when choosing your SUV truck tent. We're going to guide you through those points here, then take a look at some great options for you to choose from before revealing our choice of best SUV tent.
Design
An SUV camping tent is designed to utilise the cargo space of the vehicle for storage, and allow you to access the car's power. The main body of the tent will have a familiar design, most commonly a dome style, but one side has a funnel attachment which goes over the open tailgate of your SUV to connect the tent interior and car interior.
The attachment between the tent and SUV will have straps or fixings that enable you to create a tight seam that will prevent water from entering the tent. Many tents that connect to SUVs can also be used as a stand-alone tent. This is an important feature to look out for if you'll want to use your vehicle during your camping trip, for excursions or to go and buy supplies. On those occasions you'll need to be able to detach the tent from the car, leaving the tent fully sealed against any wet weather.
If you have an open bed truck, you can opt for a tent that actually sits in the truck bed, entirely lifted off the ground. These sometimes attach to the vehicle through the rear window of the truck's cab. There are also truck tents which attach to trucks which have a cap, to make a shelter which uses the existing soft or hard cap and extends the space.
SUV tents may be specific to a particular make and model of car. The SUV tent attachment will be tailored to that car's dimensions and the available places to fix hooks or straps. It's important to carefully check the details in an SUV tent review to be sure the tent you're buying is compatible with your own vehicle.
An SUV camper tent may also have other features, such as an awning or a screen room, providing further sheltered living space for relaxation.
Size
As with any tent, your first consideration when looking at SUV tents for camping is the number of people you need to accommodate. Tents for SUVs tend to sleep up to 6 people, making them better suited to a family group or a small group of friends, rather than large numbers.
Tent sizes will vary, but most have a main sleeping section a little wider than the vehicle. There may be other living space attached to this, such as a screen room, with or without a floor, which can be used for relaxing, and eating. Awnings are another useful feature, providing shade on hot days.
An advantage of a tent that attaches to a SUV is that they are taller than many regular tents. This is because the tent has to sit at the height of the open tailgate, which dictates the ceiling height. SUV tent campers typically have a slightly domed roof with straight walls, resulting in a ceiling height which can be around 7 foot at the centre and 6 foot around the edges.
Using an SUV tailgate tent means the tailgate is open, and the cargo area is accessible from the inside of the tent. This gives valuable storage space for your kit and supplies, and keeps the main sleeping area better organised and clear of clutter. Look out in our SUV tents reviews for tents which have mesh storage pockets or gear lofts so smaller items can be easily located.
Materials
The materials used for a tent that attaches to a car are generally the same as used for regular tents. They will typically use polyester rather than heavier natural materials such as canvas.
As a tent for an SUV is not designed to be taken hiking, weight isn't a consideration, so heavier steel poles may be used. Taller tents can be unstable in windy conditions, so using more robust steel poles helps to keep the tent in place.
Weather Resistance
Whatever type of tent you're using, a well-ventilated and waterproof tent is a basic requirement.
Ventilation is important to ensure that hot air does not become trapped in the tent. As the sun beats down on the tent during the day, if air doesn't have anywhere to escape it will create a hot and stuffy environment, making it uncomfortable to sleep.
The simplest way to improve the ventilation in a tent is through windows and doors. These should ideally have a mesh layer, allowing air to circulate freely in and out but without admitting any bugs. If it's a single layer tent, the windows and doors will need to have panels that can be closed if it rains, to keep water out. If it's a double layer tent, the rainfly should sit slightly lifted away from any windows so air can still circulate. There may also be vents at floor level, or ceiling height. Floor vents can help draw in cooler air from the ground, and ceiling vents allow warmer air to escape as it rises.
Having vents in a tent does mean it is harder to insulate the tent in cold weather. As an SUV tent camper is attached to your vehicle, you could use the car's heating to warm the tent (bearing in mind you need to ensure the exhaust is outside the tent). Generally, if a tent has lots of ventilation it will work best for you during warmer months.
Any tent also needs to be waterproof, or water-resistant. Polyester tent fabrics will usually have a waterproof coating, with a rating that tells you how much water pressure a tent can withstand before it starts to leak. The higher this number, the more water resistant a tent is. Think of water pressure as the strength of rainfall, with a low rating being equivalent to a shower and as the rating goes up, the strength increasing to heavier downpours and storms.
Seams can be weak points where water can enter, so look out for tents with sealed seams. The floor is another potential weak spot. Tub style floors are useful, as these continue the floor fabric part way up the walls of the tent, and have a seamed join with the wall material to keep water out.

Genuine Honda – Odyssey Pilot and Element
This dome style SUV tent has a simple, streamlined design to sleep up to 6 people.
The interior space is 10 foot by 10 foot, with a generous ceiling height of 7 foot making it easy to stand straight and move around. There's a rainfly which comes over the top of the tent and adds an awning for useful extra living space.
The tent is made in polyester, with waterproof protection to 1200mm, and a floor in ripstop polyethylene. Two mesh doors, three mesh windows, and skylight vents provide plenty of ventilation on hot summer days. The tent has an attachment connecting it to your SUV, but this can easily be removed to use the tent as a stand-alone if you want to venture out for day trips or to fetch supplies.
As well as having access to the full storage area of your SUV when the tent is attached, there's a gear loft inside the tent and some small mesh pockets for storing small items such as phones. There is also a handy lantern holder for putting up a nightlight.
The tent is made by Honda and specifically designed for use with certain SUVs in their range, so before purchasing, double-check the model and year of your vehicle to ensure compatibility.
Pros
Simple design with generous floor areas.
High ceiling height right around the space maximises use of the floor area.
Lots of ventilation, with two mesh doors, three mesh windows and other vents.
Good water resistance.
When the rainfly is on, it extends to form a useful awning.
Cons
Tent is only compatible with selected Honda SUVs.
Our Take

Napier – Backroadz Truck Tent
The truck tent creates a home away from home, on the road!
As this double layer dome tent sits inside the open bed of your truck, no special campsite or pitch is required. You can simply park up, flip the tailgate down and create your home for the night in no time. The fibreglass poles are shock-corded and colour coded to make assembly quick and easy, and the inner layer simply clips to the poles. When you take the tent down again, it packs into a compact carry bag.
The interior space has a ceiling of 5 foot 6 inches, making for a generous amount of headroom. You can comfortably sleep two people, and the tent will accommodate a queen air mattress. There's one large door at the tailgate end of the tent for access, and two large, arched windows for ventilation. The windows have a mesh cover, to keep bugs out.
The tent is made in polyester taffeta with 800mm coating for water resistance and a full, tub-style floor to stop any water from coming in. Once the rainfly is added, you'll be shielded against any rainfall. Inside, there's a gear loft for storing small items and a hook for hanging a lantern.
The tent is designed to fit most pick-up trucks, with a choice of sizes to find the best for your own truck. Bear in mind that you won't be able to drive the truck with the tent set up in the back, so this suits short trips, or trips where you're making any day trips on foot.
Pros
Gives you the ultimate freedom to just park up and camp!
Easy assembly with colour coded fibreglass poles.
Large windows for ventilation and a large door for easy access.
Comfortable size for two people and will fit a queen air mattress.
Comes in various sizes to suit different vehicles.
Cons
Needs to be taken down when you want to drive the truck, so better for short trips or as a base for exploring on foot.
Our Take
One of the great perks of an SUV or truck tent is being able to create a home for the night wherever you pull up. We especially like the flexibility that a truck tent offers, as you don't even need to look for a clear area or even ground – as long as there's enough space to park, there's enough space to camp! There's also the comfort of sleeping on a flat surface rather than on lumps and bumps under your tent floor. So, our chosen Best SUV Tent is the Napier Backroadz Truck Tent, for these reasons:


It offers the flexibility to simply pull up and camp.


Quick and easy assembly with colour-coded and shock-corded poles.


Fits a queen size air mattress for a comfortable night's sleep.


Good ventilation, with a large mesh door and two large windows to allow air to flow across the space.


The tent is well protected from rain, with a water-resistant coating and tub-style floor.



Rightline Gear – SUV Tent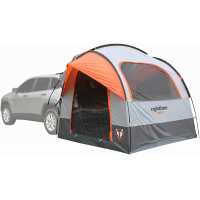 This is a sleek dome tent that is a universal fit to accommodate any size SUV.
You can comfortably sleep four adults in this SUV tent, with dimensions of 8 foot by 8 foot and a ceiling height of over 7 foot so you can stand up to change and move around with ease. The tent has large doors for light and ventilation, with mesh covers so you're not overwhelmed by bugs. We also liked the handy glow-in-the-dark zipper pulls so it's easy to open the door in the night. There are several large windows, which have covers that can be closed up from the inside for privacy when the rainfly isn't attached.
The tent is made in water resistant fabric (PU 2000mm) with tape sealed seams, and the bathtub style floor repels water at the tent base. The rainfly fits over the tent for protection in wet weather, and extends over the windows to ensure no rain comes inside. This tent is also fire-resistant, so there's some protection against any rogue sparks from your campfire.
Setting this tent up is easy, and the straps and buckles which secure it to your SUV are designed not to scratch the finish. If you want to use your vehicle, you can easily remove the sleeve which connects the tent. There's a zip up door to close the hole in the tent, and the sleeve can be rolled back and fastened until your return.
Pros
Plenty of headroom so you can stand to move around freely.
Large doors and windows for light and ventilation.
Easy to remove the sleeve which connects the tent to your vehicle, if you want to head out for the day.
Great water resistance with 2000mm fabric and bathtub floor.
Fixings which attach to your vehicle are designed not to scratch the finish.
Cons
Zippers can get caught sometimes.
Our Take

SportZ – SUV Tent
This is a roomy SUV tent which can be used as a stand-alone tent when you want to venture off to explore or to buy supplies.
It's a dome tent with almost vertical walls that gives a great ceiling height of over 7 foot at the centre, and 6 foot at the corners. The floor area is 9 foot by 9 foot, so it can sleep 4-5 people. An adjustable sleeve creates a link to your vehicle that lets you utilise the space for storage or, if you fold the back seats down, even a further sleeping area.
The steel and fibreglass poles make assembly straightforward and the tent can be put up by one person. The inner layer of the tent has two mesh doors, as well as a window and vents in the ceiling. These help air to flow freely through the tent, preventing condensation from building up during the night and letting warm air escape. This is a major benefit in warm weather, though it does make it a bit more difficult to keep warm on cold nights, so this tent wouldn't be recommended for use in colder fall or winter conditions.
The rainfly is full length and tape seamed to keep you well protected if it rains, or can be used to provide shade on hot days. One side of the rainfly can be used to create an awning, with two steel poles (included) to prop it up. This gives you a great shady space to relax. If you're not so lucky with the weather, the tub style floor will keep you dry on the ground while the rainfly protects you from above. Add a few extra features like a couple of storage pockets, a gear loft and a ceiling hook for a lantern and you have a great all-round SUV or van tent option.
Pros
Can be used as a stand-alone tent when you want to use your vehicle.
Spacious internal area, with 7 foot ceiling at the peak.
Easy to assemble, even for one person.
Plenty of ventilation with mesh doors, windows and ceiling vents.
Rainfly offers great rain protection when needed, and provides an awning in fine weather.
Cons
Not suited to colder weather.
Our Take

DAC Full – Size Truck Tent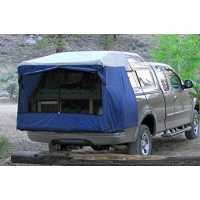 This truck tent offers an easy truck camping solution, for trucks with camper tops, hard shell caps or soft caps. It adds valuable extra space to your truck bed, giving you room to stretch out overnight.
Unlike SUV tents, which sit on the ground with an attachment to your vehicle, this truck tent sits like a sleeve around the back of your truck, so the design is very different to a stand-alone tent. It's quick and easy to set up, with poles that fit inside your truck to prop the outer corners of the tent in position. The tent fabric is held secure to the truck with bungee cords that can be fixed to wheel wells or running boards. This full size option should be used with tailgates that are 58 inches wide, or greater.
The walls and roof of the tent are made of coated polyester, to provide protection from the elements. The bungees keep the tent held close to the truck body, though there can be some gaps around the bottom corners of the tailgate which you may want to seal up to stop bugs from getting inside. There are two mesh doors for easy access and for ventilation. In warmer weather you can roll the outer rainfly layer of the doors out of the way, to let cool air into the tent during the night.
Set-up is quick and easy, so you can park up and have your bed for the night ready in just a few minutes. When you're ready to move on again, this tent packs down into a compact carry bag.
Pros
Easy solution to truck camping, ideal for one or two people. .
Quick and hassle free assembly.
Made in coated polyester for excellent water resistance.
Packs down to a compact package; keep it in your truck for spontaneous trips.
Cons
Can be difficult to completely seal the tent around the truck without any gaps.
Our Take

SportZ – SUV Tent With Screen Room
This is a 5-6 person tent with lots of additional living space.
The roomy main room of the tent measures 10 foot by 10 foot, with near vertical walls and a central ceiling height of over 7 foot. On the side of this is a floorless screen room, measuring 7 foot by 6 foot, which can be used for eating and relaxing in the shade, with mesh windows letting you enjoy the views and a cool breeze without bugs hassling you. If you're not using it, the screen room can easily be removed.
The inner layer of the tent has two large entrance doors and three large windows, all mesh covered, to let air circulate freely. There are storm flaps in the windows and doors for privacy and extra rain protection. When the full rainfly is added it provides complete rain protection, and a section of the rainfly can be staked out to provide an awning. The tent is made in high quality materials with a GoBe Dry rain protection system and a bathtub floor.
An elastic sleeve provides the connection with your vehicle and is adjustable to give a snug, weatherproof fit. You could use the cargo area of your vehicle as an extra sleeping area, or for storage – there's a gear loft and two gear pockets in the tent for small items. If you need to pop out for supplies or to explore, simply unzip the sleeve and you now have a stand-alone ground tent. It's easy to set this tent up in just 15 minutes, thanks to the simple design. Guy lines keep the tent stable in windy conditions.
Pros
Roomy tent with a 10 foot square main room and additional screen room.
Near vertical walls give headroom of over 7 foot.
Large mesh doors and windows for ventilation.
Easy to remove the vehicle sleeve and use the tent as a stand-alone whilst you explore.
Adjustable sleeve suits a range of vehicles.
Cons
No floor in the screen room, but you could purchase a tarp separately.
Our Take

KingCamp – Melfi Plus SUV Car Tent
This spacious SUV tent provides versatile, multifunctional living space thanks to an additional screen room and awning.
The main room of the tent can comfortably sleep four people, with a floor area of just over 9 foot by 7 foot and a ceiling height of over 7.5 foot, giving a spacious feel. Attached on this area is a large screen room, measuring around 9 foot square, with a removable PE floor. This is a great space for relaxing, eating, or for storage, if you want to use the cargo space in the back of your vehicle as another sleeping area.
There are three mesh doors for easy access to the tent, and mesh windows which help ventilation, letting warm air escape. The inner layer is made of breathable polyester for a comfortable night's sleep and to reduce condensation. The rain fly is made in lightweight and quick-drying polyester, rated 3000mm. When the rainfly is on you can stake out both the rear door cover for the screening room, and the side door cover of the main tent to create two awnings for extra shade.
The tent is easy to set up, with steel and fibreglass poles and straps to securely attach the sleeve attachment to your vehicle. If you want to head off for the day, you can remove the sleeve and make the tent weatherproof, ready to reattach on your return.
Pros
Lots of living space, with a large screen room.
Rainfly can be used to create two awnings for shade.
Three doors for easy access to all areas of the tent.
Can be detached from your vehicle if you want to drive off for supplies.
Made of breathable materials to give good ventilation.
Cons
The instructions can be tricky to follow - but it's easy to find plenty of advice online.
Our Take