7 Best Truck Tent
A truck tent offers you a quick and flexible way to set up camp when you're on the road. Whether you want to break up a long journey or you're exploring remote areas, a pickup truck tent means you'll have a bed for the night in no time. You'll also avoid any critters and creatures roaming around on the ground, which can be useful in some locations.
Camping tents for trucks are constructed differently to ground tents, and can have their own unique set of considerations. We'll look at some of those here, before considering the candidates for our choice of 'best truck bed tent'.
Size
Unlike a ground tent which can vary hugely in dimensions, tents that fit in a truck bed will always be limited by the size of the truck. Still, there's more of a range in the size of tents for pickup trucks than you might imagine.
The amount of space you'll get of course depends on the size of your truck, for one. The longer the flat bed area of your truck model, the larger the truck you can fit. Most tents for trucks are designed to be used with the tailgate open, creating additional length. The height can vary, depending on the style of construction, and a high ceilinged truck tent camper will usually feel more spacious.
Some truck tents even manage to expand the space on offer by creating an annexe alongside the truck bed, to accommodate additional campers or to use as a storage or living area. There are also ground tents that can attach to your pickup tent to provide more room.
Full Size Truck Tent
To state the obvious, a truck tent is a tent for the back of a pickup truck, so in most cases has to sit within the truck bed. When you're looking at pick up truck tents, you'll need to know the size of your truck. A full size truck tent will give you more room, but it will only be compatible with a full size truck, and won't work with a mid size. As well as being sure whether you have a full size or mid size truck, you'll need to know the length of your truck bed.
The exact design of a truck bed can vary from model to model, so before you invest in a tent, it's worth checking the manufacturer's advice on compatible truck models. Many will have a list of all the trucks that their tent will fit to help guide you.
Short Bed Truck Tent
A short bed truck is typically around 5.5 to 6.5 foot in length, with the tailgate closed. This limits the length of your tent, but in many cases you'll still be able to stretch out comfortably.
8 foot truck bed tent
An 8 foot long truck bed isn't going to add any width, but will give you more length for your bed and for storing your gear.
Seasonality
The best truck tent camper for you will partly come down to when you plan to use the tent.
If you'll use the tent in warmer months only, then you'll want to ensure that the tent has good ventilation, to keep you cool and comfortable during the night. You should look out for tents with windows, ideally on several walls, to let air flow through the tent. Windows with a mesh layer are ideal as these will keep bugs out. It's also handy if windows have covers which you can zip up from the inside.
If you want the tent to be able to stand up to windy conditions, then you'll need a sturdy frame. Steel poles are robust and won't break easily. As you'll not be carrying the tent, the added weight isn't an important factor.
Water resistance is important at any time of year. As tents for trucks are raised off the floor, they're protected from surface water. If you're choosing a tent with polyester or nylon walls, a water resistant coating should ensure you stay dry.
For a tent that is breathable in the summer and good for insulation in the winter, as well as being water resistant, you could consider a canvas truck tent. These can be a little more expensive, but they are heavy duty and durable, and for the extra investment you should have a tent that will serve you year in, year out.
Construction
The construction of a tent that goes on top of a truck will vary from one tent model to the next. In general, camper tents for trucks usually have a series of straps which attach the tent body to the truck bed and around the tailgate, which will be in the open position. These straps are adjustable, to hold the tent in place, and have buckles to clip them securely. This is effectively the equivalent of staking out a ground tent.
The tent height is created by using poles, which depending on the tent may be flexible fibreglass poles which the tent hooks onto, or which thread through the tent fabric, or steel poles which sit inside the tent as an internal frame. Some tents have clamp-on rails which you fit to your truck for the poles to attach to, which creates a more robust framework.
If you're looking for the simplest option, a dome style tent with fibreglass poles may be the closest you'll get to a popup truck tent.
Number of People
As we mentioned earlier, the size of truck tents for camping is restricted by the size of the truck bed, though there are some options to add additional space adjacent to the truck, or on the ground.
If you're looking at a basic pickup truck tent with no add-ons, you can sleep one or two people comfortably, perhaps squeezing in a third person if you really need to (we'd not recommend it!). Beyond that, you'll need to look at a tent with an annexe or an add-on ground tent. These options can usually up to four further campers.
If you want to camp in comfort, many trucks can fit a queen size air mattress or a camp bed, especially if you have an 8 foot truck bed.
Design
Truck tents tend to have a tunnel or dome design, to make the most use of the truck bed space. The more vertical the walls, the more usable space you'll have inside the tent. Some pick up truck tents have an integral floor and others are open for you to add your own. The entry door will be at the tailgate end of the truck, so you'll need to step up and down to access the tent.
Where individual truck tents can vary a lot is in the smaller details, such as the number of windows and their placement. A window that allows you to access the cab of your pick up can be really useful, so you can reach into the cab to power your phone or use it for storage, without having to leave your tent every time.

Napier – Backroadz Truck Tent
The truck tent creates a home away from home, on the road!
As this double layer dome tent sits inside the open bed of your truck, no special campsite or pitch is required. You can simply park up, flip the tailgate down and create your home for the night in no time. The fibreglass poles are shock-corded and colour coded to make assembly quick and easy, and the inner layer simply clips to the poles. When you take the tent down again, it packs into a compact carry bag.
The interior space has a ceiling of 5 foot 6 inches, making for a generous amount of headroom. You can comfortably sleep two people, and the tent will accommodate a queen air mattress. There's one large door at the tailgate end of the tent for access, and two large, arched windows for ventilation. The windows have a mesh cover, to keep bugs out.
The tent is made in polyester taffeta with 800mm coating for water resistance and a full, tub-style floor to stop any water from coming in. Once the rainfly is added, you'll be shielded against any rainfall. Inside, there's a gear loft for storing small items and a hook for hanging a lantern.
The tent is designed to fit most pick-up trucks, with a choice of sizes to find the best for your own truck. Bear in mind that you won't be able to drive the truck with the tent set up in the back, so this suits short trips, or trips where you're making any day trips on foot.
Pros
Gives you the ultimate freedom to just park up and camp!
Easy assembly with colour coded fibreglass poles.
Large windows for ventilation and a large door for easy access.
Comfortable size for two people and will fit a queen air mattress.
Comes in various sizes to suit different vehicles.
Cons
Needs to be taken down when you want to drive the truck, so better for short trips or as a base for exploring on foot.
Our Take
One of the great perks of an SUV or truck tent is being able to create a home for the night wherever you pull up. We especially like the flexibility that a truck tent offers, as you don't even need to look for a clear area or even ground – as long as there's enough space to park, there's enough space to camp! There's also the comfort of sleeping on a flat surface rather than on lumps and bumps under your tent floor. So, our chosen Best SUV Tent is the Napier Backroadz Truck Tent, for these reasons:


It offers the flexibility to simply pull up and camp.


Quick and easy assembly with colour-coded and shock-corded poles.


Fits a queen size air mattress for a comfortable night's sleep.


Good ventilation, with a large mesh door and two large windows to allow air to flow across the space.


The tent is well protected from rain, with a water-resistant coating and tub-style floor.



Guide Gear – Full Size Truck Tent
If you're looking for a quick and easy camping set up on the road, this tent could be a great choice for you.
This is a lightweight tent with straightforward assembly thanks to the shock-corded fibreglass poles. Tension straps anchor the tent to your truck and we found the construction to be robust enough to withstand reasonably strong winds. The tent body is made in 190T polyester with 1500mm water-resistant coating, and there's a full rainfly meaning it holds up very well in the rain. We also like the sewn-in polyethylene flooring which saves you from having to bring an alternative floor, or getting covered in dust and dirt from the truck bed.
It's a dome style tent which has over 5 foot 4 inches of headroom, and will fit an air mattress making for a comfortable camping experience. There's a large D shaped door for easy access and mesh windows on two walls that keep the tent well-ventilated, so you can enjoy a restful nights' sleep. The windows have covers that zip up from the inside so once you're settled in for the night, you can close them up without needing to leave the tent if the weather changes.
This tent should fit most trucks that have a 79 to 81 inch truck bed (with the tailgate open).
Pros
Lightweight tent with shock-corded poles for easy assembly.
Tent has a 1500mm water-resistant coating and performs well in the rain.
Good ceiling height of 5 foot 4 inches helps the tent feel more spacious.
Stands up well in windy conditions.
Good-sized windows on two walls for ventilation, with covers that zip up from the inside.
Cons
Not as robust as a canvas option.
Our Take

Kodiak Canvas – Truck Bed Tent
This is a durable truck tent with a great ceiling height of 5 foot to give a feeling of spaciousness.
A sturdy steel tube frame holds this tunnel style tent in place securely, with clamp-on rails meaning it remains stable in windy conditions. In fact, this tent can be used year round thanks to the steel construction and Hydra-Shield cotton canvas. The canvas has a silicone coating making it watertight and breathable, with five windows to let air circulate and cool you down in warmer months. Windows have a mesh layer to prevent an influx of bugs, and zip from the inside.
One of the windows gives access to the truck's cab, a really handy feature as this makes it easy to charge a phone or other gadgets, or for you to use the cab for storage. There's also a mesh pocket inside the tent.
The tent is used with your tailgate down to give extra space and access is easy through a large D-shaped door. There are small awnings at the front and back that extend over the door and the cab window to keep rain out in stormy weather.
The 5 foot ceiling height right through the middle of the space makes this truck tent feel much more spacious than others we tested. It feels robust and built to last, from the steel frame to the quality zippers. It can take a few attempts to get used to the set up, but you'll soon get the hang of it.
This tent is for full-size trucks, with an 8 foot long truck bed. To make sure it will fit, measure the length of your truck bed with the tailgate in the closed position.
Pros
5 foot ceiling height makes this tent feel more spacious than other options.
There's a cab window, so you can easily access the cab's power and use it for storage.
The sturdy steel frame stands up well to windy weather.
The tent is made in cotton duck canvas with a silicone coating for excellent water resistance.
This tent has a durable, high quality construction and is clearly built to last.
Cons
It takes a few attempts to get the hang of set up, but then you'll find it a breeze.
Our Take
A truck tent offers ease and flexibility, as you can create a home away from home wherever you park up. It's a bit different from camping on the ground, but the criteria are broadly the same – a durable, weather resistant tent that will keep you comfortable overnight. We've chosen the Kodiak Canvas Truck Bed Tent as our choice of best truck tent, for these compelling reasons:


This tent has a sturdy steel pole frame that means it can be used year-round, even in wind and snow.


The cotton duck canvas has excellent water resistance.


There's a cab window so you can access the cab for power or for storage, rather than having to leave the tent and walk around the outside.


The tent height is 5 foot which makes it feel roomier than other options.


This is a durable and high-quality tent that is built to last, for use year after year.



Tuff Stuff – Ranger Overland Rooftop Tent
This tent will add a penthouse to your truck, with a bonus annex room!
The big attraction of this tent is it's versatility, and the ability to add on extra space if you need it. Unlike other truck tents which sit in the trunk bed, this rooftop tent sits up on the roof or on top of the truck bed, so you can create extra space alongside and on the ground.
Before using this tent for the first time you'll need to install the mounting brackets to your roof rack or bed rack. Ideally, you want the tent to sit 76 – 78 inches above the ground to give the right height for the ladder and annex. Once you've got the mounting brackets and the tent in place, it will only take a few minutes to unfold the tent each time you use it. When it's not in use, it folds down and is protected by the included 1000D PVC zip on cover. Folding the tent away like this means you can leave your bedding inside, storing it for the next time you camp.
The tent itself is made in poly/cotton ripstop fabric with a waterproof polyurethane coating, which is breathable and UV and mould resistant. The rainfly is in a 420D polyester material which also has a polyurethane coating for water resistance, shedding water quickly. This main tent provides a sleeping area measuring 56 by 96 inches, which can comfortably fit two adults. There is a thick foam sleeping mat preinstalled, and two mesh windows and two doors for ventilation.
If you want to use the optional annex room, this zips on to provide floor space that could be used for additional campers, or as a living/dining area. With the annex added, your total living space is almost 100 square feet.
Pros
Once installed, setting up this tent each time you camp is very quick and straightforward.
After use, it folds down and is stored ready for your next trip.
Tent is made in quality materials, which are breathable and water resistant.
There's a thick foam sleeping mat preinstalled in the rooftop tent for convenience and comfort.
Optional annex room offers flexible extra space.
Cons
Annex works best with trucks in a certain height range.
Our Take

DAC Full – Size Truck Tent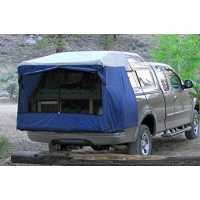 This truck tent offers an easy truck camping solution, for trucks with camper tops, hard shell caps or soft caps. It adds valuable extra space to your truck bed, giving you room to stretch out overnight.
Unlike SUV tents, which sit on the ground with an attachment to your vehicle, this truck tent sits like a sleeve around the back of your truck, so the design is very different to a stand-alone tent. It's quick and easy to set up, with poles that fit inside your truck to prop the outer corners of the tent in position. The tent fabric is held secure to the truck with bungee cords that can be fixed to wheel wells or running boards. This full size option should be used with tailgates that are 58 inches wide, or greater.
The walls and roof of the tent are made of coated polyester, to provide protection from the elements. The bungees keep the tent held close to the truck body, though there can be some gaps around the bottom corners of the tailgate which you may want to seal up to stop bugs from getting inside. There are two mesh doors for easy access and for ventilation. In warmer weather you can roll the outer rainfly layer of the doors out of the way, to let cool air into the tent during the night.
Set-up is quick and easy, so you can park up and have your bed for the night ready in just a few minutes. When you're ready to move on again, this tent packs down into a compact carry bag.
Pros
Easy solution to truck camping, ideal for one or two people. .
Quick and hassle free assembly.
Made in coated polyester for excellent water resistance.
Packs down to a compact package; keep it in your truck for spontaneous trips.
Cons
Can be difficult to completely seal the tent around the truck without any gaps.
Our Take

Napier – Sportz Link Ground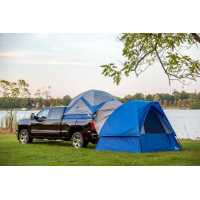 If you already have a Napier Truck Tent and you're looking for more space, this ground tent is your perfect solution.
This ground tent measures 8 foot by 8 foot, and can be used to accommodate up to four more campers, or you could use it as a living, dining or even storage space. There's a good centre ceiling height of 6.5 foot so you can stand in comfort. An attachment sleeve connects the ground tent to your Napier Truck Tent, so you can move between the two easily and without being exposed to any bad weather.
The ground tent has a large door for entry and three mesh windows to help airflow circulate. The walls and rainfly are made with polyester taffeta, and there's a polyethylene floor. It's a simple dome style construction, and installation is quick and easy, with shock-corded fibreglass poles for simple construction. If you're using this space for additional campers, they'll be able to use the gear loft and two gear pockets for storage, and there's also a lantern holder. One feature we would have liked to see are some covers for the mesh windows – if you want privacy, you'll need to keep the raincover on.
This is a handy option if you're looking to add on some space to your additional Napier Truck Tent, but remember that this is just the ground tent and sleeve; if you've not already got the truck tent, you'll need to buy that separately. This tent doesn't work as a stand-alone ground tent.
Pros
Great way of adding some additional space to your Napier Truck Tent.
Sleeve attaches this ground tent to the truck tent so you can move between the two easily.
Quick and simple to assemble, with shock-corded fibreglass poles.
Handy features if you're using this space for extra campers, with a gear loft, storage pockets and lantern holder.
Cons
No window covers for privacy.
Our Take

ARB – Simpson III Brown Rooftop Tent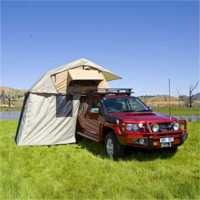 This is not a classic tent, but an annex or the lower half. Apart from sleeping, you can use this additional space as a changing room, a concealed location for your waterless toilet or you can have the kids sleep downstairs.
Furthermore, if you are packed full of gear, you can also store it in the annex. The top of the annex is open.
It has clamps so it is easy to set it up, since they easily connect to the roof rack. It doesn't come with a ground area or the floor, but you can use a foam tent floor instead.
The ladder that comes with it is designed for higher vehicles, such as a Jeep or another vehicle with a similar roof height.
The canvas material is fairly waterproof. It folds over and pops up when you need it. This is a tent with an attached lower skirt.
The lower privacy skirt zippers on so it is optional, and great for privacy or rainstorms.
Pros
Additional storage space
Comes with a ladder
Waterproof canvas materiaal
Easy to fold and stash when no longer needed
Beginner-friendly pop-up mechanism
Cons
The tent is sold separately and sleeps 2
Doesn't come with instructions
Our Take