5 Best Waterproof Tents
Camping is a fun and relaxing activity, but you can't always predict the weather. Rain can come out of nowhere, especially in the mountains, which is why I must insist on choosing the best waterproof tent before you leave for your trip!
It's the best way to make sure you will return happy and relaxed instead of cranky and with a cold.
Is It Really Waterproof?
Just because it says waterproof on the label, it doesn't necessarily mean the tent will stay bone dry if it rains. So, before we dive deeper into how to choose the best product, let me first explain how to identify the type of protection a tent can offer.
In most cases, you'll find two types of tents: with a rainfly and without. The rainfly is usually present in double-walled tents and represents the outer layer designed to provide protection from the elements (rain, sun, wind). For the single-walled tents, the rainfly is somehow integrated into the cover, which is thicker and sturdier, in order to provide the same level of protection.
Now, the cover is usually made of nylon or polyester, which are not exactly waterproof materials. To get them there, the fabric gets a polyurethane (PU) coating. So, if you see something like '3000 PU' in the specs, you should know it's about this coating.
Quick note: tent fabric can also be coated with silicone, but because the result is smooth, taped seams will not stick.
Furthermore, to give you an idea of the type of rain the tent will withhold, check the Hydrostatic Head measurement (usually expressed in mm). This ranges between 800mm and 10,000mm but there is no specific rating to say which is best. Still, it is commonly accepted that the fabric needs to have 1500mm in order to be deemed waterproof.
For instance, a rainfly of 1500mm will work in light, while for mid to heavy rain, you'll need 2000 – 3000mm and above. So should the floor, since it is in direct contact with the humid ground and supports more abuse.
How To Choose The Best Waterproof Tent
To make sure you'll be satisfied with your choice, below I listed the features to consider when choosing a tent for rainy days.
The Tent Floor
Since the floor is the part of the tent that gets in direct contact with the ground, it needs to be hardy. This is why they are usually made of polyester or nylon (hire mm ratings), but you may also find PE and PVC tent floors.
Now, for a design that will protect you from water, I recommend choosing a bathtub floor (the sides turn up at the edge, so the inner fly starts a few inches above the ground). This way, if there is water on the ground, it won't spill over the edges of the floor.
Taped Seams
The seams are among the weakest points in a tent. Furthermore, because of the pressure exercised by poles and pegs, the seams may come loose at the corners, which breaks the seal and lets the water inside.
To prevent this from happening, producers use tape to seal the seams and keep water at bay. Moreover, there are even seamless models that eliminate this problem completely.
Zippers
Just like with the seams, the zippers can leave water inside the tent if they are not properly sealed and protected. For this, make sure the tent comes with taped zippers and that they are covered on the outside, so the water would go over them.
Double Vs. Single Walls
As you will see in the examples below, tents can have one durable, coated fly, or they can come with an inner and outer fly. I prefer the double-walled tents because the inner fly lets the air move through, while the outer fly keeps the humidity away.
Now, depending on the type of tent and its intended purpose (day camping, backpacking, car camping, and so on) the rainfly can cover the entire tent, or it can cover only the top. This aspect is important for breathability. Windows and doors can stay open on the inner fly, while the outer fly covers the entire tent.
With Or Without A Footprint
A footprint is an extra piece of fabric that goes under the tent, increasing the level of protection.
Furthermore, in humid weather, the footprint decreases the chances of water going through the tent of your floor.
So, if you want a tent that will keep you dry no matter what, you may want to choose one with a footprint.

Night Cat Camping Tent 3-4 People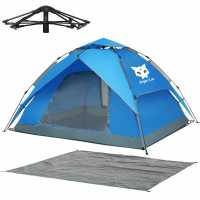 The Night Cat is a rather large tent (can fit 2 adults and 2 children) and comes equipped with a hydraulic pressure mechanism that makes installation a breeze.
I like the rainfly because it covers the top of the tent and the sides, but doesn't get to the ground, which allows the air to circulate. As a result, you won't get too hot during the night, and there's a neat upside: the rainfly can be used separately, as a pavilion.
The other aspect I absolutely love is the installation mechanism. The poles are already installed, and you only need to raise the system up and fix it in place. The entire activity takes about 1 or 2 minutes, whether you're installing it or taking it down!
However, you should keep in mind that this is not a compact, lightweight tent. So, I wouldn't recommend it for a backpacking trip.
In terms of design, the Night Cat is built with two doors, which create easy access and good ventilation. It also has windows secured with mesh fabric,to keep the creepy crawlies out when you want some fresh air during the night.
Overall, the tent is durable (made with 210D Oxford tent fabric) and features an abrasion-proof floor that helps keep the water out. Still, I wouldn't use it in rain that promises to get heavier, since it wasn't designed for windy weather and heavy rain.
Pros
Roomy enough for a queen size mattress.
Mesh fabric to keep bugs away.
Fiberglass poles for durability and reduced weight.
Fast setup and take down.
Rainfly is waterproof (190T PET fabrics).
Perfect for family camping trips.
Indoor pockets for extra storage.
Cons
A bit on the heavy side.
Not compact when packed.
The seams at the corners may wear faster.
Our Take

Hyke & Byke Yosemite 1-2 Person Ultralight Tent
This is the kind of tent I would love to have on my next biking trip!
It is lightweight (5.5 lbs.) and compact, so you can easily put it in your backpack without hogging too much space. Even though it doesn't look big, the tent is roomy enough so two grown adults can fit inside without any discomfort. Furthermore, there are two vestibules where you can deposit your gear and accessories. Inside, there are pockets at every corner, and a ceiling loft shelf for headlights and other items you may need during the night.
The 2 clip-on poles are easy to install, as you don't have to worry about putting them through the tent fabric. You just set the poles and clip the fabric on. Also, the Yosemite tent comes with aluminum alloy stakes and reflective guy lines with tension lock cord adjustments for increased safety and stability during windy days.
I like the bathtub floor, taped floor seams, and coated PU 2000 rainfly which will keep rain out even if you're caught by a storm. Furthermore, the tent comes with an 8-inch footprint (PU 5000 durability) that goes underneath the tent, increasing the level of protection from the cold and humidity. Still, you should know that the footprint doesn't extend to the vestibule area, where your gear should be.
Finally, the mesh walls encourage ventilation, keep bugs out, and maintain a constant temperature during the night. Since the tent is designed for two people, there are two doors (for easy access) which use YKK double zippers to open and close.
Pros
2 vestibules for gear & accessories.
Coated rainfly that withholds heavy rain.
Mesh walls for ventilation.
2 doors for accessibility.
Easy to mount.
Bathtub floor.
Cons
The carry bag is a bit thin and rips easily.
Doesn't come with instructions.
May be a bit heavy for backpacking.
Our Take

Abco Tech Pop-up 2- Person Tent The Abco Tech Pop Up tent is among the most affordable and easy to use tents in the market. It requires no complex setup process and just pops into shape in a few seconds without you having to exert much effort.
Its fiberglass frame is corrosion and rust proof. Heavy-duty ripstop nylon fibers are strongly stitched to prevent tears. The fabric offers UV protection and water resistance.
Air ventilation isn't a problem with two doors and two windows strategically placed around the tent. Both doors have two layers, an inner zippered screen for breathability and an outer zippered nylon layer for some privacy. The doors are placed on opposite sides, providing easy access. The mesh windows and doors are also great for keeping insects out in buggy campsites.
While the tent pops up in a blink, folding it for storage requires some skill. There are instructions given on how to fold it with ease, but it could be a struggle the first few times you do it. It becomes easy once you get the hang of it though. Once folded flat, it fits into a carry bag for easy storage and portability.
The Abco Tech can comfortably fit two adults or three children. It's not big enough to hold a queen-size air mattress though, so just opt for sleeping bags.
In terms of protection against rain, the nylon cover is thick and repels water, but I wouldn't use it in high-humidity conditions. Furthermore, due to its pop-up design, the wind can easily get under the tent, so make sure you use the provided stakes to pin it to the ground!
Overall, the Abco Tech is a nice tent to have around for an outing with the friends or family, or for kids' sleepovers, but it's not something I would recommend on a longer hiking trip.
Pros
Easy setup.
Better air circulation with double doors and windows.
Budget-friendly.
Lightweight and portable.
Cons
Flimsy fabric.
Not reliable during heavy rain.
Short iron pegs not ideal for beach camping
Our Take
At the end of the day, I find the Abco Tech tent to be my favorite because it's lightweight, easy to carry around, and ideal for a quick camping trip with friends and family. It's also well designed, and even though it is a single-wall model, the cover is thick and comes fitted with vents.
I also like that it pops up out of the carry bag and it doesn't need any other adjustments besides pegging. So, it's the easiest to install on the list!
Furthermore, if pegged correctly, the tent will withstand mild winds, and the entire structure is durable and sturdy. The zippers and seams are protected by cleverly-designed covers, and the floor is thick enough to keep everyone inside safe.

Coleman Cabin 4 -10 Person Tent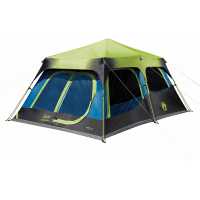 The Coleman Cabin Tent is quite a big tent. It can fit up to 10 people and four queen-size air beds. It's so spacious that it even comes with a room divider. This is a great feature to have for those who want to share tents but still have some privacy.
Even with its size, this tent is still quite easy to set up and take down with telescopic poles that make installation and storage manageable. One person can set the tent up in a matter of minutes.
The frame is strong enough to withstand winds up to 35 mph. Thick heavy-duty Polyguard fabric provides reliable protection from the elements. Like other Coleman tents, this also features the Weathertec system. A vented rainfly and protected seams keep rain away. Patented corner welds and tub-like floor ensure that you stay dry.
Late risers can sleep past sunrise in comfort with the Coleman's Dark Room Technology. Up to 90% of sunlight can be blocked, significantly reducing the temperature inside the tent even during daytime. A vent on the roof provides additional ventilation.
Another nifty feature of this tent is the patented hinge door for easy access in and out of the tent. It would have been better to have two such doors though.
Pros
Easy setup and takedown.
high ceiling and spacious.
Free standing.
Cons
One-side access only.
Too heavy for backpacking use.
Not reliable for extended rain periods.
Our Take

Wnnideo Instant Family Pop-up Tent
Up to 4 adults or 6 children can comfortably fit inside the Wnnideo Instant Family Pop Up tent. The tent features an easy open and fold mechanism that makes it perfect for quick family outdoor trips. The tent opens and folds like an umbrella and can be set up within a minute. Packing it away is equally fast and easy.
The Wnnideo Instant Family Pop Up is made of elasticized fabric. The inner tent material is made of durable 210T polyester and breathable mesh. The outer layer is coated with polyurethane for better protection and water resistance. The fabric offers UV protection, and taped seams keep rainwater out. For added protection, a removable cap with hooks shields the tent from sun and rain.
Redesigned poles anchor the tent firmly onto the ground. The continuous poles are made of strong materials and are designed for better wind resistance.
Large double doors enable easy access in and out of the tent. Mesh windows and ceiling protect the family from pesky bugs and provide good ventilation. A small inner pocket keeps your necessities safe and tidy.
Pros
Good ventilation and lighting.
Great all-around view.
Spacious enough for a queen-size air mattress.
Easy setup and takedown.
Easy access in and out the tent.
Cons
Can't withstand heavy rain.
Too bulky to bring on hikes.
Our Take
All 5 of these tents are considered "pop-up" tents, but there are some variations among your choices. For instance, if you want it solely as a sun shelter at the beach, your selection may be different than if you want to sleep in it.
Our top choice is the Wnnideo Instant Family Pop-up Tent.
Here's why we liked it better than the others:


It's big enough to sleep 2 or 3 people. It says it accommodates 6 people, but that would be crowded. However, the extra size means you have some flexibility if you are traveling as a couple, or you want to bring more gear.


If you're using it solely as a sun shelter at the beach, it can accommodate more people. You can even zip it up and eat inside without worrying about flies or other insects.


It has great doors and windows, and mesh panels on the roof. While it can be closed up, it can also be opened for viewing and ventilation.


Even with its larger size, it's still easy to pack up and transport.


Therefore, this tent includes the benefits of a pop-up tent with a little extra size, allowing you the flexibility to to use it for multiple purposes. It has a decent size, it's easy to set up, and it has some nice bonuses with the window and door design.


If you're looking for a pop-up tent, the Wnnideo Instant Family tent is a great choice.