9 Best Camping Chairs
Having a camping chair that is tailor-fit to your needs is the key to achieving what camping offers: fun, adventure, and relaxation. It is not just valuable when you are sitting around the campfire and making memories with your family and friends; it is also a device you can rely on after doing a tiresome task or activity. Most times, we forget how much comfort this little device gives us.
Do not wait for that unbearable back pain before replacing your underperforming outdoor chair. You can get one today with just a few taps on your phone screen. In camping.org, we curate the best products that are approved by consumers and experts to help you make the best purchase.

Kelty Low Loveseat
This camping friendly cuddle couch has a low base, with only 13.5 inches above the ground. Its slightly reclining design will make you, and another loved one feel relaxed. It offers 42 inches of cushioned, insulated, nearly indestructible 600D weight polyester fabric of seating space. The sturdy and durable steel frame is built for the outdoors. It can accommodate up to 500 lbs. of weight. An adjustable armrest on each side has an insulated beverage holder that will prevent your drinks from spilling while keeping them cold. This low loveseat can be folded neatly and placed inside the included roll tote for easy transport and storage.
Pros
Comfortable
Durable
Great for groups
Easy to use
Cup Holders
Cons
Takes effort to climb out of
Not particularly wide
Our Take
This chair is an excellent purchase. It gives optimum comfort because it is very well made. As potential buyers, you have to know its features that may or may not suit you. Firstly, it is a low chair. This is great for beach setups and camping by the fire. It takes a little bit more of effort to climb out of compared to a traditional chair, but it gives great support when you are seated. The back is not high, so you cannot take a nap on this chair. Certainly, it is made for the outdoors. On top of these, it can accommodate 2-3 people at a time. The pouch on both arms has two compartments on each. It makes storing easy and always reachable. You can put anything in them, such as your valuable belongings and some of your camping necessities. The double-layer fabric makes it durable and comfortable. I do not feel any bending when I sit on this chair because the frame is very strong and sturdy. It is a great purchase.

Trekology YIZI GO Portable Camping Chair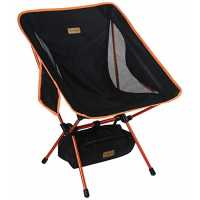 The newly designed YIZI GO is 1cm higher and 15% lighter than the older model. It is made to deliver superior lower back support with its new deeper seat fabric. The mesh panels on the side increase airflow during hot and humid days to make you more comfortable. Its unique design of the frame allows for easy setup. By just popping it open and attaching the fabric, you are already done. Made with high strength aluminum alloys, it can withstand up to 300 lbs. of weight. The total weight of the product is only 2 lbs. and can be easily packed in its durable 600D storage bag with pack tight straps for easy storage.
Pros
Ultra-lightweight
Compact and small
Our Take
This chair is lightweight, portable, durable, and reasonably comfortable for its size. It sits a little higher from the ground, so you will have no issues climbing out of this one. A remarkable feature is how lightweight it is. Compared to other chairs, you will not even feel this in your backpack. It is comparatively a little heavier than a 20oz bottle of water. Even its size is beneficial as it does not take up excessive space.

Setting this chair up just takes around 3 minutes the first time around. After that, all you need is a minute because it is just a few pops away. The frame of this chair holds up well. Even when you are around 200 lbs., you will not hear a squeak at all.

The package just takes a few days to arrive, and customer service is great enough to call you to ask if it has arrived. It is a worthy purchase overall.
$39.99


Coleman Portable Camping Quad Chair with 4-Can Cooler
This camping chair has a comfortable design with a convenient built-in cooler. It features a roomy 24 inches seat that would fit most sizes. With its fully cushioned design, it can provide full back support to keep you at ease. The built-in 4 can cooler pouch will retain the coolness of your drinks while keeping them at your reach. Its mesh cup holder will secure your drink so it does not spill, giving you free hands while relaxing. A side pocket is put in place so you have quick access to personal items. It supports anything up to 325 lbs. of weight. The collapsible design makes this chair portable and easy to store.
Pros
Durable
Made for heavier weight
Comes with a cooler
Cons
Not the smallest to pack in this list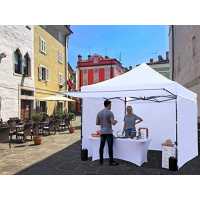 Our Take
This Coleman chair is designed to accommodate bigger individuals. It is very sturdy and well-balanced. The backrest features a unique angle, making it very comfortable as compared to merely straight, vertical designs. Its armrests are supportive of your arms as they are wide and sturdy enough as well. However, because they seem very sturdy, people are usually drawn to sit on them. If this happens often, you may be taking on a risk of breaking them earlier than their pre-supposed useful life.

The 4-can cooler is a useful feature. It can comfortably fit 3 cans, but it can be pushed to 4 if you put one right on top. Its mesh cup holder is deep enough to hold your drink securely without it spilling. It also fits most sizes. Additional storage space is offered by two pouches of different sizes.

Overall, this chair guarantees a long-time service and a comfortable experience every single time. I would highly recommend this.

Sunyear Lightweight Compact Folding Camping Backpack Chairs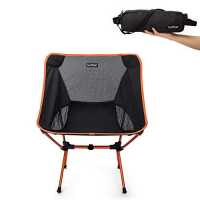 This camping chair is ultralight and compact. It weighs just 2.1 lbs. and has a compact size of 13.8x4.3x5.1 inches in its included stowaway bag. Its ergonomic design with a much larger seat provides optimum comfort to the user. The soft mesh panels give room for you to move and relax. Made with an aluminum shock-cord pole, it features a quick intuitive setup. The frame is made with an aircraft-grade 7075 Aviation aluminum alloy that has a load capacity of up to 250lbs. This chair fits in your backpack or can constantly stay in your car so you can use it anytime.
Pros
Excellent for backpacking
Lightweight
Easy to setup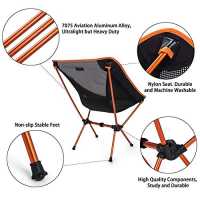 Our Take
I would highly recommend this chair for backpackers and those who want to travel light. It is easy to set up. By just unstrapping the velcro strap, the legs just effortlessly fall into their own places. I also had zero issues when it comes to inserting the aluminum tubes into their right places even on the first try. The material of the seat is thicker than what I expected when I saw the pictures. Because of that, it made sitting comfortable and stable.

What is great about this chair is it is not big and bulky. It is made to be carried around conveniently. Despite that, it can hold a weight of nearly 300 lbs. without having any problems.

It is also very easy to fold and pack. Usually, it takes me around 10-15 seconds. This chair is practical to bring in places where you cannot afford to bring on so much weight and sacrifice too much space. It is ideal for most camping trips, but especially for backpacking.
$38.99


G4Free Upgraded Lightweight Portable Camping Chair
This ultralight and compact chair weighs only 2.8 lbs. and folds down to 16x6x5 inches in its carry bag that is included in the package. It can if into your carry-on luggage or attach to your backpack. It is made of durable 900D oxford cloth and aircraft-grade high-strength 7075 aluminum alloy frame. With the combination of these materials, it can support up to 220 lbs. it easy to set up and fold down with its foldable aluminum pole and shock-cord structure. This chair is Orthopedic recommended and ergonomically designed as it is 17.7 inches wide, which makes it wide enough to support your back properly. A side pocket makes it easy to store some personal items or drinks. A one-year warranty covers this product.
Pros
Comes with a warranty
High-quality
Good reclining angle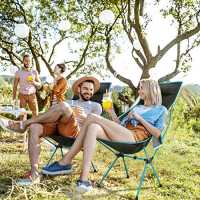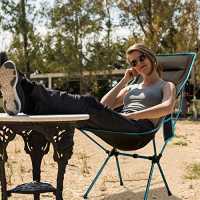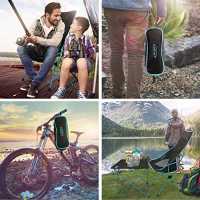 Our Take
This chair is recommendable for most of your outdoor activities. When folded, it is small enough to fit under the car seat. It weighs just a little over 2 lbs., which makes it easy to bring anywhere. This seat is simple to use as it takes only about 25 seconds to assemble it each time. By making sure that the sections fit perfectly, you will have nothing else to worry about this chair. Make sure that all four pole pockets on the seat fabric are attached to the frame before you test the seat.

The materials used on this chair are high-quality. The finishing layer of the frame is painted well. You will have no problems with inserting one pole to another.
When it comes to comfort, this model does not disappoint. The backseat is long enough for you to rest your neck without leaving a portion of your head hanging. Its angle is fantastic, as it is comfortable to sit on and easy to get out of. I will recommend this chair to those who want to relax outdoors. It does the job pretty well.
$43.98


Kijaro Dual Lock Portable Camping and Sports Chair
This portable dual lock chair will make your outdoor experience better with its no-sag seating. It is made of durable diamond ripstop polyester and breathable mesh on the back. Whether you are tailgating, camping, or watching your favorite sports teams, this chair will be a great companion as it is easy to pack and carry around. It can support up to 300 lbs. of weight while having dimensions as small as 6.9L x 4.7W x 45.7H inches when collapsed. There are 2 cup holders, an organizer with zipping & mesh pockets, and a carry strap attached to the chair for overall convenience. It locks open for extra stability and locks shut for easy transport.
Pros
Sturdy
No-sag sitting
Dual-lock feature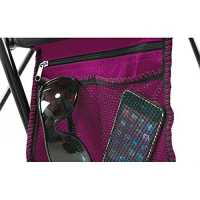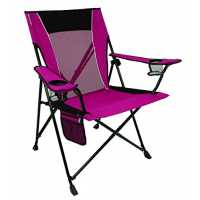 Our Take
What makes this chair very easy to use is the dual lock feature. When setting up and folding down, a locking mechanism secures the parts into place to make the process convenient. The quick-release button used for unlocking is such a deal maker.

The chair is ideal for car camping and watching sporting events. It is very comfortable to sit and relax on. Because the chair sits higher compared to most camping chairs, getting out of it gives no hassle. However, it might not be a great choice for smaller people as their legs might not reach the ground. The shoulder strap on the chair itself makes carrying an easier task. It is not the most lightweight camping chair, but you will have no issue carrying it in short distances.

It also has two cup holders and a small storage pouch on both sides. The best feature is its no-sag sitting, as it makes sitting comfortable and non-tiring. It will not sore your lower back even with long hours of sitting. If you are big on comfort and sturdiness, this chair is for you.
$42.90


MOON LENCE Outdoor Ultralight Portable Folding Chairs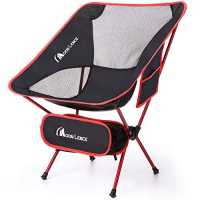 This seat is made of 600D Oxford cloth with a high-strength aluminum alloy frame. Weighing only 2 lbs., it is hassle-free to carry around. This seat has a Unique and ergonomic design to give you a relaxing feeling all day long. The Breathable and soft seat net made of mesh gives total comfort while you sit. Its Foldable mesh and metal poles make setting up and folding down fast and easy. When it comes to cleaning, all you need to do is do a little wiping or washing with soap and water. This portable chair folds down to a size that fits your backpack and carry-on luggage.
Pros
Fits in a backpack
Lightweight
Affordable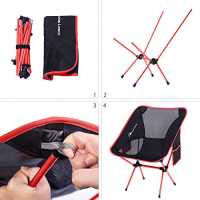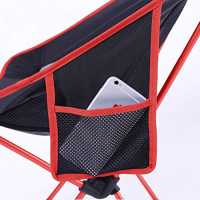 Our Take
If you are working on a tight budget but are still needing an outdoor chair, this product is a great choice. First of all, it is very easy to setup. It takes a bit of force for the pulling part, but it requires no excessive effort. Within a few minutes, you have a great chair waiting for you.

It weighs only 2 lbs. and that already includes the case. You can make it weigh less by taking it out, but I would recommend that you bring the case anywhere as it acts as a good layer of protection to the chair. Certainly, the entirety of the product can fit inside a backpack.

This product may not suit a beach setting as it needs a leveled land to stand on. It can still work on an area that is not flat, but it is not as comfortable when you use it on flat ground. If you plan to use this on camping, you will have no issues with it. For its price, the service you get is amazing.
$32.99


ALPS Mountaineering King Kong Chair
This ALPS Mountaineering King Kong chair has a sturdy powder-coated steel frame and 600D polyester fabric. It comes with 2 adjustable armrests with a cup holder on each so your hands are free as you enjoy the outdoors. A side pocket attached on the chair allows for easy and accessible storage. This chair is heavy-duty, accommodating up to 800 lbs. of weight. The seat measures 24.5 inches, making it wide enough for most sizes. This chair is extremely durable and will last you for years.
Pros
Heavy-duty
Durable
Can accommodate big individuals
High-quality
Cons
Compressed size is not small enough for backpacking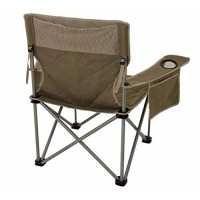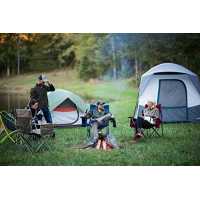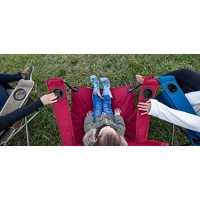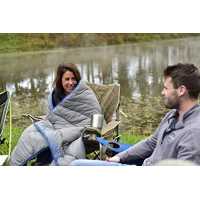 Our Take
Upon arrival, I thought this chair was too big for an average person. I am pleasantly surprised when I opened it as it is in a perfect size to be comfortable and foldable at the same time. The product description said it can support up to 800 pounds. Although I personally have not tried that, I think it is feasible. The fabric used is of high quality, and the frame is pretty sturdy as well. Even up to 400 pounds of weight on it, the chair does not make any sound, nor has any deformities. I also like that it is very roomy. Moving your body in different positions is effortless in this chair. The drink holders it comes with and the two pockets beside the arms make your outdoor experience convenient. The backseat also has a pouch on the other side which can be another extra storage space. This chair is ideal for big folks who want to go car camping or traditional camping. It is not the smallest chair in the list when it is compressed, but it is highly durable and heavy-duty. This is a great investment.
$59.99


Coleman Camping Chair with Side Table
The Coleman Aluminum Camping Chair with Side Table is designed to make eating and drinking in the outdoors easier. It is also pretty quick and convenient to flip the table away when you finish lunch. With its angled sitting position, cushioned back, and padded arms, you will always stay in a comfortable position wherever you set it up. It is made with an aluminum frame for easy transport, and a Fabric withstands all the seasons. The height of this chair is 17 inches, and it is 20.5 inches wide. It can support anyone that weighs up to 225 lbs. A one-year limited warranty covers this product.
Pros
Comes with a side table
The seat does not sag
Affordable
Our Take
This chair is an amazing alternative to bringing a separate table to put food and drinks on. It makes things very convenient because it already comes with a table. For something that is less than $30, it is versatile and reliable.

It is effortless to fold up and pack. For people who always have a hard time assembling outdoor chairs, this is a great option. It is lightweight enough to be portable. Take note, you are carrying a product that weighs like a usual camping chair, but this one already comes with a table. That is real convenience.

The seat does not sag. Its fabric is tight and sturdy. Your lower back will benefit most when you use this chair. However, the back is not long enough for your neck. This is great for camping, but may not be comfortable for sporting games tat will take hours. When it comes to packing, this chair is not very small, but it still fits in the back of a car. This is ideal for car camping and traditional camping.
$46.74