7 Best 4 Season Tents
Camping is a great escape from the hustle and bustle of everyday life. A first-hand experience with good old Mother Nature is like the ultimate chicken noodle soup to feed your weary soul — when done right, that is.
Braving the wild outdoors needs a lot of planning and preparation, especially in the colder months. There's some vital gear you'll need such as a fire starter, utility knife, flashlight, and some practical kitchen items.
And, of course, what's camping without a reliable four season tent to keep you safe in any weather condition? Here we're going to look at some of the important points to consider when you're looking to buy the best all weather tent.
Tents come in all shapes and sizes. Some tents are huge and spacious, others are compact and light. You need to plan ahead and decide which type to choose for your trip outdoors. A good tent should be able to protect you from all sorts of external hazards, such as insects, heat, cold, rain, snow, and harsh wind.
The best 4 season tent for you can depend on the following factors.
Space
Think of the number of people (and pets) that you need to shelter on your camping trip. If you're camping alone, then a small tent should suffice. If you're camping with your family, then you'll need a bigger tent to give everyone room.
Visualize your camping trip and how you'll be spending your time. It won't be fun if you're all crammed inside the tent, or if someone has to sleep outside on a cold night.
Weight
When deciding on the gear you're going to take with you on your camping trip, think about the distance from your drop-off point to your actual campsite. Consider that weight plays a big role in your journey.
A lightweight 4 season tent will make that trip much easier. Heavy equipment can take its toll on long hikes or climbs.
The materials used to make the tent will affect its weight. Tent poles that are made of carbon fiber, fiberglass, or aluminum are lighter and those made from steel are heavier. If you're looking for a winter backpacking tent, then an ultralight 4 season tent could be your best bet.
The weight of your tent will also depend on its size. As a general rule of thumb, the bigger the tent, the heavier it is.
Insulation and Ventilation
The best 4 season camping tents should keep you warm when it's snowing, keep you dry when it's raining, and keep you cool during the summer. A cold weather tent still needs to deliver a great experience in the summer.
The tent should also be well-ventilated. On a hot day, a tent without proper ventilation will trap heat inside the tent. This can make for an uncomfortable and unsettled nights' sleep.
Meanwhile, in the winter, a tent without proper ventilation can trap moisture inside it. You can be dry as a bone, but your breath will create moisture each time you exhale. If it's cold enough outside, that moisture will turn into frost and build up on the roof and walls of your tent, and then melt as soon as the tent gets warmer from your body heat.
Next thing you know, you're all wet — and so is your gear. Cold weather tents should have good ventilation, as even in the winter, it's important to eliminate some of that moisture.
Of course, you need to stay warm, so choose a tent with materials specifically designed to insulate it. The best winter tent options are designed to keep you comfortable regardless of the weather conditions. Take this with a grain of salt, though, as not all 4 season tents are fully weather-proof. It all depends not just on the quality of the materials, but the workmanship as well.
However, there are products that can help insulate your tent. You can grab some bubble or aluminum foil wraps to help with the insulation. You can also grab water-proof tent sprays to help avoid leaks when it's raining.
Durability
Tents are assembled and disassembled frequently, and this can eventually cause damage. The design and materials used in a tent plays a big role in the overall durability of that tent.
The walls of a tent are typically a combination of nylon and polyester. These materials are lightweight and water-resistant but gradually deteriorate due to how they react to ultraviolet light. Tent poles also break through time. Carbon fiber and steel are the most durable types of poles. Fiberglass poles, on the other hand, are among the least durable.
Design-wise, most tents are built to withstand wind. However, there are tents that are specifically designed to withstand harsher conditions such as shifting winds and snow. These tents tend to be more compact and therefore provide less space. Try to find a tent that's durable enough for your planned outdoor trip.
Ease of Use
There are different types of tents with varying ways to set up and dismantle. Larger tents take more time to build. Tents that are intricately designed to withstand harsher conditions also take some time to set up. Then there are pop-up tents, which are by far the easiest to assemble and store, but are the least durable.
What Are 4 Season Tents?
As the name suggests, a 4 season tent is a versatile tent that you can use in any season. Compared to other tent types, a 4 season tent is designed with the winter cold in mind. These tents are usually heavier, bulkier, and more insulated, but less ventilated. They are designed to do well in extreme weather conditions.
Going camping in the winter can be very challenging — but also quite rewarding. If you're interested in giving it a try this year, then a 4 season tent is a good fit for you.
We've looked at some of the best rated 4 season tent choices on the market, to find our best four season tent winner.

Coleman WeatherMaster 6-10 Person Tent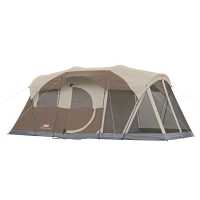 Coleman is no stranger to designing outdoor products, and this tent just shows how experienced they are at it. Designed to fit a family, this tent is robust and provides generous space for everyone.
This is a very spacious and durable tent. In fact, it feels more like a small room than a tent — we were able to fit a queen-sized airbed and a few chairs inside. The poles are made of heavy-duty steel, making this a really sturdy tent.
The tent sports a screened area where you can take off and store snow-covered clothing and gear. This way, you can keep the inner tent, or your sleeping area, dry. In the warmer months, it can serve as a space to relax and enjoy the breeze, away from any insects.
Pros
Spacious and durable.
Has a hinged door.
Has a huge vestibule.
Cons
Roof leaks over time.
Set-up is time-consuming.
Heavy.
Our Take

Flytop 4 Season 1-2 Person Tent
Flytop's 1- to 2-person 4 season tent is light, compact, and easy on the wallet. It's great for solo use when winter camping.
At 5.9 pounds, this lightweight tent has been specifically designed to be easy to bring along on long hikes or climbs. The aluminum poles offer a good balance in terms of weight and durability.
The high-density fine nylon mesh used for the tent walls provides great insulation. It has two doors for easy access and there are two pop-up ventilation windows in the flysheet, helping air to circulate even if you've had to close the doors because it's raining.
The tent has around 35 square feet of floor space, and it's about 4 feet in height. It is best suited for one-person use as we found it too cramped for two people of average size. This design is intentional, though, to provide better insulation. The compact design of the tent contributes to keeping the temperature just right. We used it one cold, snowy day and found ourselves quite warm inside.
When the flysheet is used, it creates a handy vestibule for storing your gear. There are some additional useful features, such as a carry bag for storing and transporting the tent, storage pockets, and reflective guide ropes designed so you don't trip over them if you leave the tent in the night. The tent has a very simple design, and took no more than 5 minutes to set up.
Pros
Lightweight enough to take hiking.
Well-insulated to withstand low temperatures.
Good ventilation, with ventilation windows on the flysheet.
Easy set-up.
Cons
Relatively small, making it tricky to house two people and their gear.
Our Take

Geertop 2-Person 4-Season Backpacking Tent
Geertop's two person backpacking tent has a simple dome design, and is easy to set up.
The breathable polyester inner layer of the tent can be used alone in the summer, and has two doors and mesh windows to help air circulate. The second layer is an outer wall made from anti-tear polyester. Once it's added, the tent is well-protected from the elements thanks to a water-resistant finish, built-in snow skirt and double stitched seams. There's also a waterproof tent floor.
As with many tents designed to withstand use during all four seasons, the internal space is compact. It's quite a snug fit for two people in individual sleeping bags, so could be more comfortable for just one person. Once the outer layer is added, this creates a vestibule area which can be used to store some of your gear. A built-in light hook and storage pockets help organise your essentials.
At 6.4 pounds, this tent is still light enough to take on hiking trips, and packs down into a compact storage bag that can be put into your rucksack or strapped to the outside.
Pros
Double layer design to withstand the elements.
Built-in snow skirt for use in snowy weather.
Good ventilation, with large mesh panels.
Vestibule area provides extra storage space.
Compact storage bag.
Cons
Limited space for two people.
Our Take

Naturehike Cloud Up 2-3 Person Lightweight Tent
Naturehike's Cloud-Up tent is available in a two person or three person model, with a choice of two colours.
Set up is quick and easy, making this a great choice for new campers. It takes less than 5 minutes to set up the double layer tent, which has a dome design. The inner wall is constructed in anti-scratch polyester and breathable mesh. Using the inner layer only will give you a well-ventilated tent in warm weather, whilst keeping bugs at bay.
The outer layer is water resistant and gives UV 50+ sun protection, so keeps you protected from the elements whether that's heat, rain or snow. This tent is robust enough to stand up to a range of weather conditions, including wind, hail and heavy rain.
The aluminium poles are durable and help keep this tent ultra lightweight. The two person option weighs just 4.7 pounds, making it perfect for taking on hikes. It packs down into a small compact compression bag so you can transport it easily.
The snug accommodation inside the tent means there's not a lot of space to move around, with around 28 square feet of floor space and a ceiling height of 3 foot 8 inches. However, this compact design helps to keep the tent insulated. When the outer layer is on, a vestibule area gives some extra storage space for your kit.
Pros
Can be set up in five minutes; ideal for novice campers.
Ultra lightweight option for hiking.
Stands up well to a range of weather conditions.
Supplied with a handy compact compression bag.
Our Take

Luxe Tempo 1-Person 4 Season Tent
The Luxe Tempo tent is perfect for a solo trekking expedition.
The lightweight tent is double layer, with a polyester breathable inner layer that can be used on its own during warm weather. There are two doors to give ventilation, with a mesh layer to keep unwanted insects out. The doors can be opened only from the inside, giving a sense of security and privacy.
The outer layer is made from rip-stop silnylon with a silicone coating for a water-resistant finish which quickly sheds rain or snow. Silnylon is lightweight but robust, and can withstand UV exposure and abrasion making this a durable choice.
Inside the tent, reinforced floor corners and taped seams help to ensure you remain dry, whatever the weather outside. A footprint is also provided. The windproof outer layer and the small size of this tent help to trap warmth in the colder months. Once the outer layer is added, dual vestibules are created giving storage space for your gear.
The poles are aluminium, which helps keep the weight of this tent down. It weighs about 4 pounds making it easy for one person to transport. It's easy to assemble, and packs down to a compact size to transport. Reflective spots on the rainfly help you easily find your tent if you leave it during the night.
Pros
Great compact design for solo expeditions.
Footprint included to protect the tent floor.
Offers good protection from the elements.
Dual vestibules for storage.
Cons
Some users report that the floor can leak in heavy rain.
Our Take

ALPS Mountaineering – Tasmanian 2-Person Tent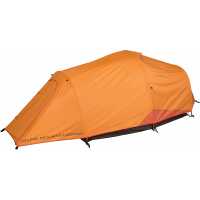 This two person tent has a free-standing pole system for quick and easy set up.
Assembly of this tent is simple and convenient, thanks to the aluminium poles which are linked with weatherproof shock cord. Simply click the poles into place and then attach the pole clips of the inner tent to the structure.
The inner tent is well ventilated with two doors, featuring zippered mesh windows to help air circulate but keep unwanted insects out. The polyester rainfly layer has a 1500mm coating to resist water and provide a shield from UV rays. The poly taffeta floor, weatherproof fly buckles and factory sealed seams also help to keep you dry inside.
The internal tent area of 34.5 foot square gives a comfortable amount of room for two sleeping bags side by side, and when the rainfly is added, a vestibule area gives another 13 foot square of storage space.
As well as the vestibule, there are multiple mesh storage pockets around the tent, and a gear hammock, to keep essentials such as your phone and flashlight close to hand.
This tent is backed by a lifetime warranty against any defects in materials or workmanship, giving you peace of mind.
Pros
Free-standing pole system allows for quick set up.
Inner layer is well ventilated for comfort in warm weather.
Vestibule creates generous storage space when the rainfly is added.
Handy storage pockets and gear hammock inside the tent.
Cons
Heavier than some items we've reviewed, at just under 8 pounds.
Our Take
Without a doubt, the winning product in the best cold weather tents category is the ALPS Mountaineering Tasmanian 2-Person Tent. Seeing the models against it competes, the following advantages truly make it stand out:


Versatile, friendly with your budget, 4-season tent.


Performs well in all four-season conditions, for camping all the way to the tree line.


Straightforward to pitch, with plastic clips and quick-to-assemble hubbed poles.


Great weight-to-strength ratio for a double-wall tent.


Provides above-average internal space with great length for taller sleepers.


Features twin hooped vestibules, one at each end of the tent.


Both the doors and the ceiling vents have mesh, for simple and adequate ventilation.


Provides great value for the money.



High Peak – South Col 4 Season Tent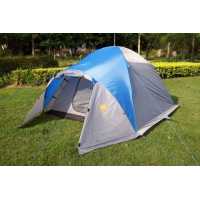 This four season tent can sleep up to three people, with quick and easy set up.
The tent has a clip pole design, with a ring and pin at the bottom of the shock-corded aluminium poles, meaning it can be assembled in a matter of minutes. The inner tent is made of breathable rip-stop polyester, and two large doors with mesh screening provide ventilation and privacy whilst keeping any bugs outside. The inner can be used alone in warm temperatures, if there's no threat of rain.
As well as the rip-stop polyester rainfly with polyurethane coating, there's also a polyurethane coated polyester floor that will help to keep you dry no matter what the conditions are outside. Seams are also taped and double stitched. For extra stability in windy conditions, you can stake out the guy ropes.
The internal ceiling height is 4 foot 5 inches, which is more generous than many of the tents we've tested. There are four gear pockets inside the tent for convenient storage of small items. When the rainfly is added, a vestibule is created which provides a useful dry storage area for gear such as walking boots and rucksacks.
This tent is backed by a one year guarantee against defects in workmanship and materials, meaning you can purchase this tent with confidence.
Pros
Designed for quick and easy set up.
Freestanding, but guy ropes can provide even more stability.
Performs strongly in wet weather conditions.
Vestibule provides useful storage when the rainfly is added.
One year warranty.
Cons
Heavier than some comparable tents (9.7 pounds).
Our Take
If you're going to buy a four season tent, you're probably looking to get the maximum year-round use whether camping in the sun, snow or rain. You need to be confident your choice will reliably stand up to a wide range of weather conditions, and not let you down in the middle of a trip. We've looked at some strong competitors here, but our pick for the title of Best 4 Season Tent is the High Peak South Col 4 Season Tent, and here's why:


Freestanding design with quick and easy set up.


Quality construction, with good water resistant materials and features.


A comfortable amount of space for two campers, with enough room for a third person.


Adding the rainfly creates a


storage vestibule for your gear, keeping the inside of the tent organised.


One year manufacturer's warranty against workmanship or material defects.