7 Best Tent With Screen Room
One of the joys of camping is enjoying the great outdoors. Fresh air, sunshine, and stunning views are some of the draws of camping.
If you tend to live in a rainy location, or you like to eat your meals inside away from pests, having a screen room is a bonus that allows you to be outside and inside at the same time. Enjoy the views even on a rainy day, and come inside to eat while still feeling the breeze and experiencing the outdoors.
Rather than carry a screen room that you set up separate from your tent, tents with screen rooms attached are the ideal solution.
So what do you look for when choosing a camping tent with a screen room? Let's look at some of the factors that will help you make your decision on a tent with a screen room.
Size
As with most tents, size has a number of components to consider when searching for the best tent with a screened porch for your needs.
The first consideration is how many people will be camping in the tent. Here are some examples.
If you're a couple who will always be camping alone, then a 2 room tent with a screened porch will be ideal. You won't have to worry about tents with removable dividers, for instance, that create one large space. You also won't have to worry about a large sleeping capacity. You can narrow your choices down to a tent with a sleeping space and an attached screen room for lounging, eating and more.
However, if you think your camping party will vary in size, or you know you will have a large group most of the time, you'll be looking for larger options, perhaps even cabin tents with a screened porch, to increase the capacity of the tent depending on who will be joining you. The best family tent is one that allows each family member to be comfortable and get a good night's sleep.
There are options for tents with room dividers, allowing you to create two distinct sleeping rooms at night, for instance, and then opening the space for added living space during the day. Dividers provide some flexibility in case your camping needs change.
Size of the screen room is a consideration as well. Some people simply want a small vestibule where they can fit a chair and enjoy the view without the annoyance of bugs. Others want a large enough space for a table and chairs, turning the screen room into a games room, dining room and more.
Tip: See our hiking chair guide here.
Your needs will determine what you want for floor space, sleeping capacity and number of fixed or adjustable rooms.
Weight
The weight of your multi room tent becomes important if you plan to be backpacking or hiking and will be carrying the tent. Even with car camping, you may be parking a long distance from the campsite.
In those instances, a lighter packing weight will be important. Generally, the smaller the tent, the lighter it weighs when packed up. But there are some options for roomy tents that are still lightweight.
The larger tents are often heavier, but in return you usually get more living and sleeping space, and perhaps a larger screened room as well.
Height
Height is a factor for some campers. If you're tall, or you plan to spend a lot of time in the tent, you may want a center height that allows you to fully stand in the middle of the tent. Or, you might want to look at cabin tents with screened porches, which allow you to fully stand anywhere in the tent.
Taller tents can be an issue in windy environments, however, particularly if the wind comes up with the windows all open. In that case, a tunnel tent that sits low to the ground might be a better choice.
Ease of Use
Setting up and taking down a tent may not be a big issue if you're an experienced camper, or you know you'll always have help. But if you want speedy setup and takedown, or you'll often be working alone, an instant tent with a screened porch may be your best choice.
These types of tents often have a pre-assembled frame or a hub with the poles attached, so you simply unfold the tent and pop it into place. The trade-off with these is they're usually heavy compared to tents that set up in a traditional manner.
A bonus of some tents with a screened porch with a floor is a removable floor, which comes out easily for cleaning debris off the floor.
Now that you have a good idea what to consider when shopping for one of these tents, let's look at the best camping tent with a porch.
7 Best Tent With Screen Room

Gazelle – Pop Up Portable Camping Hub Tent
This tent is fully assembled and easy to put up, with a frame that allows you to "pop" it up and into place in just a few minutes. A metal hub with fiberglass poles provides a solid structure to resist wind and inclement weather.
The tent also includes a rainfly with integrated poles that insert into each corner of the tent before you pop up the roof. Taped seams help resist rain and keep you dry, or you can leave it off in dry weather and enjoy the view through the roof.
A bonus removable floor in each section allows you to take it out to clean it, such as shaking out dirt and sand. A hook and loop tape on the interior of the tent holds the floor in place, and its bathtub design keeps rain out.
This 8-person tent can actually be used several ways – sleep 4 in one section with a separate screen room; sleep 8 using both sections of the tent; or a combination depending on the size of your party, such as sleeping 2 per room.
The size is 14 x 8 feet, or 110-square feet of space inside, and a height of 6.5 feet. The convertible screen room can be used as a living area or a sleeping area. The packing weight is 47 pounds. It features 5 windows and 2 doors – one large main entrance and a second D-shaped door.
There are 2 removable gear lofts for storing your stuff, along with 2 large side storage nets and 3 wall mounted pouch pockets. Also included are stakes and guy lines to stake the tent in place.
Pros
Removable floor makes it easy to clean without dismantling.
Easy pop-up design makes setup a snap.
Cons
At 47 pounds, it's too heavy for backpacking, so it's best for car camping.
Our Take

Core – Lighted 10 Person Tent With Screen Room
This instant tent can be set up in just a few minutes, with poles that are pre-attached to the tent. You simply unpack the tent, unfold it, lift the poles into position and extend them until they click into place.
A water repellent rainfly is included, and can be removed to allow views through the mesh ceiling. An advanced ventilation system features an adjustable air intake vent that brings in cool air near the ground. The mesh ceiling completes the flow by allowing hot air to escape.
This tent is somewhat unique in that it has a built-in LED lighting system in the roof poles. A wall mount allows you to choose from 3 brightness settings, and you can turn it on from the inside or outside of the tent. The switch is even lit to allow you to find it easily in the dark.
Each brightness setting has a different run time, from 50 hours for the highest setting to 250 hours for the night light setting. A diffusion panel disperses the light throughout the tent, rather than a single source blinding glare from the light.
The tent is 14 x 10 feet with a center height of 7 feet. A room divider is included to allow you to create two rooms if you want, or leave the space open. It sleeps 10.
The tent comes with a battery compartment for the LED lighting, but 4-D batteries are not included. There's also the rainfly, the room divider, tent stakes and a carry bag.
Pros
The lighting system is a nice bonus.
Instant setup is easy with its pre-attached poles.
Cons
The lights are nice to have, but you'll have to be sure to carry batteries every time you go camping.
Our Take

Coleman 6-person Dome Tent
This dome tent is very waterproof, with WeatherTec™ System patented welded floors and inverted seams. It is spacious inside, and you can stand up in it even if you're 6ft 1" tall. The pole sleeves are well made for easy set up and the rainfly is adequate. Internal storage pockets keep your gear organized and an E-port makes it easy to charge your electronics.
The tent is windproof and comes in pleasant colors – you can get one with LED lighting or dark room technology.
Pros
There's no fear of water leakage thanks to the WeatherTec Polyester construction.
The tent has an awning for shade from the sun and storage.
Simple and sets up quickly and easily – it should be up in 10 minutes.
It is well ventilated with floor vents and large windows.
Lightweight.
Cons
The awning is on the small side and doesn't close.
It can be a little tricky to get back in the bag.
Replacement poles are not available so you'll need a repair kit.
Our Take
To conclude, my firm favourite is the 6-person Coleman dome tent. I love the LED lighting and dark technology options, and the tent is of very high quality. You'll never get wet and winds won't take it out without a fight; it has reasonable space (and height), lots of storage.
It is well ventilated and won't break your back or your bank – it should be affordable for most budgets. Best of all, the warranty means you're covered for any issues for at least a year.

NEMO – Wagontop Camping Tent
This tent combines a large living space with a relatively light weight of 24 pounds, making it ideal for different kinds of camping, including hiking or car camping.
A unique pole structure features poles that lock together at a hub and connect to the tent body, ideal in windy conditions. The screened porch has large windows on all sides for ventilation and views, and a rain fly that covers the porch completely, rolling over the windows to protect you from the elements.
Inside the sleeping space, large windows on all sides provide light and ventilation, and interior covers provide protection and privacy. A door separates the screened porch from the sleeping space. Interior gear pockets keeping items off the floor.
The tent is 11.6 x 8.3 feet, with a square footage of 97 feet. The screened porch area is 27 square feet. The standing room height of 6.5 feet throughout the tent makes the living space seem even larger.
Pros
High ceilings throughout the tent.
Light weight is ideal for different types of camping.
Cons
The screen room is somewhat small and separate from the sleeping space.
Our Take

Outbound – 8-Person Dome Tent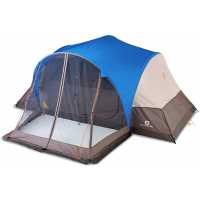 This is an ideal tent for backpacking, with a packing weight of only 18 pounds and a zippered duffle bag for carrying and storing. Also comes with tent stakes and guy lines for wind resistance.
The tent features an "easy up" technology with a fiberglass frame system, making for simple setup and take down of the dome tent, which actually resembles a tunnel style tent without the fly.
The living space of the tent is 14 x 8 feet, and the porch sits in front at 14 x 5 feet. The inside height of the tent is 6 feet 4 inches. The porch has an extra pole for support and a removable floor. The tent can sleep 8 across its bathtub style floor, but that likely wouldn't leave much room for gear.
The screen room has a zippered opening, and the tent itself has a D-shaped door, 2 windows and mesh roof panels for ventilation. It comes with a rainfly with a front canopy for protection from the elements.
Pros
Its light weight makes it ideal for backpacking.
That light packing weight combines with a nice size to make it ideal for families or groups.
Cons
It might be crowded to sleep 8 in this tent, or there wouldn't be room for much gear.
Our Take
These are all great camping tents with a screened porch, and the selection is often based on personal preference. But we like the Outbound 8-Person Dome Tent the best, and here's why:


It's a great size, with a living space of 14 x 8 feet and an inside height of 6 feet 4 inches, meaning you can spend time comfortably in this tent.


The porch with a removable floor adds another 14 x 5 feet. You can also leave the porch open and the sides pulled back.


The tent can sleep 8 if necessary.


It's perfect for any type of camping, including backpacking, with a packing weight of only 18 pounds. Even with car camping, it will be easy to transport to the campsite.


The fiberglass frame system makes it easy to set up and take down.


The screen room has a zippered opening, and the tent itself has a D-shaped door, 2 windows and mesh roof panels for ventilation.


The rainfly and front canopy provides protection from the elements and the stakes and guy lines provide wind resistance.



Wenzel – Eldorado 8 Person Tent
This versatile tent has a sewn in divider curtain that can create two rooms or open up to make one large space. The screen room side has large windows and a large entrance, and the living/sleeping space has a large, D-shaped door and windows.
This cabin-style tent sleeps 8, with the option of two separate rooms for sleeping, one room for sleeping and one as a screened in living space, or one large room.
Relatively easy to set up with a fiberglass main frame featuring steel uprights and corner elbows.
The tent is 14 x 9 x 6 feet, with a sloped roof that goes to a center height of 7 feet. Packing weight is 29 pounds.
Pros
You can use this tent several different ways thanks to the sewn in room divider.
Large windows all around make for excellent light and ventilation.
Cons
Packing weight isn't ideal for backpacking.
Our Take

Chinook – 6 Person Fiberglass Pole Tent
This tent has two domed rooms, each of which provide 6 feet 9 inches of standing height.
One side is a sleeping dome and the other side is a screened room that has a heavy duty removable floor, making cleaning a breeze.
This tent sleeps 6 with a full size of 13 feet 8 inches x 9 feet 4 inches, and a packing weight of 28 ½ pounds. It features two D-style doors.
The two rooms provide flexibility for using the tent in various ways at different times. Use one as a bedroom and one as a living area or dining room. The screen room, at 14 square feet, is big enough to fit a table and chairs. Or, use both domes as bedrooms. Depending on how many are camping at once, the domes give you the flexibility for different uses.
A full coverage fly keeps the tent dry in rainy weather with two large doors on the fly that can serve as rain and sun awnings. A gear loft keeps your gear off the floor.
The tent comes with tent pegs, guy lines, and storage sacks for the tent, pegs, and poles.
Pros
Screen room has a removable floor for easy cleaning.
Both rooms have a great center height of 6 feet 9 inches.
Cons
Two rooms aren't as flexible as models with removable dividers.
Our Take